The Cocktail Service launches subscription box
By Alice Brooker
Drinks agency The Cocktail Service has released a monthly at-home cocktail subscription kit.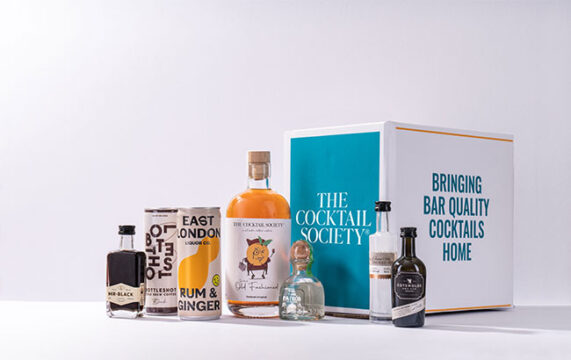 The Cocktail Society is a new drinks subscription from hospitality consultancy The Cocktail Service, delivering a range of bottled cocktails to consumers' doors.
During the pandemic, the drinks brand 'spotted a gap in the market' following a 50.2% spending increase on subscription services (Barclaycard data). It launched a range of bottled cocktails, kits and hampers online in 2020, and has now boxed its offerings up for delivery.
The service offers a monthly choice between six seasonal cocktails, including one 500ml bottled cocktail, two 250ml ready-to-drink (RTD) cocktails and one DIY cocktail. The box also includes snacks and The Cocktail Society's magazine, Drink Up.
Co-founders of The Cocktail Society, Tom Bronock, Casey Small and Nick Ford, commented:"Our team has meticulously developed every product, working closely with top spirits and drinks producers to create extraordinary drinking experiences.
"Cocktails are about good times and we want to embody that. We won't be preachy or too serious.
"It's about our members having the best experience with us and becoming raving fans of both The Cocktail Society and cocktail culture."
The debut box from the brand includes options of a Smoked Old Fashioned, Coconut & Kaffir Lime Leaf Daiquiri, Oak Aged Sloe Negroni or Salted Caramel Espresso Martini; its RTD selection includes Slingsby Marmalade & Apricot Gin Fizz and East London Liquor Vodka & Rhubarb.
The menu's DIY selection offers a rum-based Mai Tai or gin-based Bees Knees.
The subscription service also allows access to a virtual service connecting consumers with The Cocktail Society's bar team, who will be at the ready to answer drinks-related questions.
The Cocktail Society Discovery Box can be purchased for £40 (US$56.57) a month, which includes delivery.
It is only available to UK consumers. For more information, visit thecocktailsociety.uk.
Find our picks of the best cocktail subscription services here.