SB meets… Cesár Martí, Eminente rum
Cesár Martí, Cuba's youngest maestro ronero (master rum distiller), tells us about the inspiration behind Eminente rum, and the challenges facing the industry.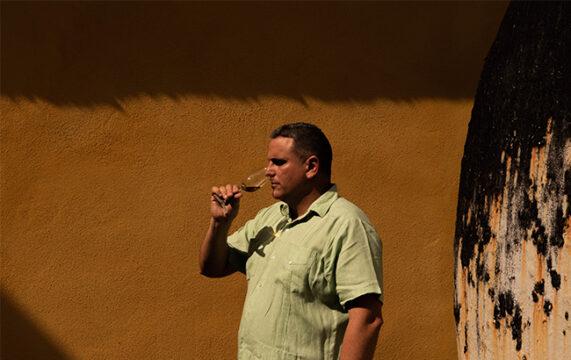 What are your earliest memories with rum?
I am a kid of the sugarcane, and grew up around sugarcane fields. My grandfather was a director of a sugar transformation plant – I was very close to him and saw him work a lot.
I went on to study chemical engineering, and from the age of 18 completed internships in the distillery where Eminente was born. Here, I would see the transferring of that knowledge into a process that creates a product I love, with different steps of fermentation, distillation, and ageing.
After four years of working I was able to enter the process of becoming a rum master, maestro ronero. It took me nine years to get the title, which is quite short because most of the maestros have to be trained for a longer time. 
How does it feel being Cuba's youngest maestro ronero?
In December 2020 I was named primer maestro [first master], and I have a sense of pride to have been able to reach that level – not only becoming a maestro, but a first maestro.
It was a great joy for me to be able to recreate a style of Cuban rum that was forgotten for many years – what it was in the 19th and early 20th century. To keep that identity [of the rum] is a challenge.

In what sense is the rum category becoming 'increasingly dynamic and diverse', as labelled by brand ambassador Max Helm?
The category has been extremely dynamic in the past 10 years. We know that rum has perceptions of being a pleasure drink more than others – some are more serious in the mind of the consumer, for example whisky. Some drinks are considered even less serious than rum, maybe Tequila for its party-feel. One of the challenges for me is to see rum and premium rum being appreciated as much as a premium whisky or a premium Cognac. I want to keep delighting consumers with the real identity of Cuban rum. 
The brand describes itself as 'challenging the perception of Cuban rum' – how are you challenging it?
I am trying to dignify the work done by the maestros, and that heritage I carry with me. We want to keep reflecting the identity of Cuban rum in the bottle. We want to offer the utmost experience to the consumer of Cuban rum. It is a continuous challenge.
The bottle label tells the story of the brand in your words – how personal is Eminente to your experience?
My identity is in the more wild and natural Cuba. Cuban people have a way of living that can be extremely simple, but not in a way that is small. They create very authentic experiences and direct relationships. This is an identity of rum that can provide the multicultural identity of Cuban people. The brand tries to showcase a different image of Cuba – one that is really off the beaten track, which is how I consider myself. 
Are there plans for line extensions for the brand – have you been experimenting at all recently?
We have been experimenting recently. It took us a few years to develop two products – the flagship and three-year-old. I am really interested in gaining influence from other types of rums, and seeing how that can translate into a new product. We have sessions where we analyse and push tradition, and source inspiration from other rums. We're working hard as a young brand, but I believe by 2022 we can add another product. 
SB recently spoke to the founders of Eminente, Camille de Dominicis and Briac Dessertenne.