Moffat's first legal distillery to open in 2022
Dark Sky Spirits has broken ground on a new whisky distillery in the Scottish town of Moffat, which is due to open next year.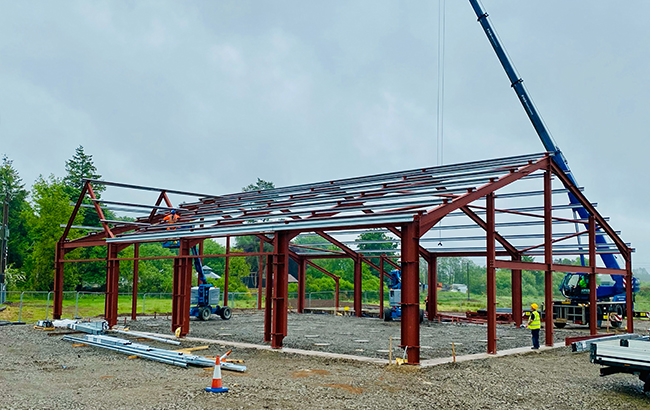 In January 2020, Dark Sky Spirits founders Nick and Erin Bullard received planning permission to build the site, which will be called The Moffat Distillery. Dark Sky received £320,000 (US$415,000) in funding to build the facility.
The new distillery, nestled in the hills of Moffat, is due to open in spring 2022. It is thought to be the first legal distillery to operate in Moffat.
The producer is named after Moffat's status as Europe's first dark sky town, a title awarded to Moffat due to the installation of eco-friendly street lighting that keeps light pollution to a minimum.
The construction of the new site will allow the business to produce its first single malt. Dark Sky currently makes The Moffat blended malt whisky.
Distillation is expected to begin in early 2022, and the single malt will be matured for seven years before it is tasted. The name of the inaugural whisky is yet to be revealed.
In the meantime, the distillery will continue to blend whisky, and develop other spirits and liqueurs.
It will also offer new expressions under its Local Dram brand, including Doonhamer and Muckletoon, as well as whiskies from every corner of the country.
"We live and breathe Moffat," said Nick Bullard. "We want to focus on community. We believe in having genuine, high-quality interactions with people, telling the story of our culture and heritage and exploring the flavours of our local area.
"Each whisky we make is developed in consultation with the community it represents, and this approach is at the heart of Dark Sky Spirits. Each dram, each experience reflects who we are as a community and as a region."
The distillery will operate what it claims is Scotland's only direct wood-fired still, which will offer a signature flavour for the whisky and create a sustainable production process, according to the founders.
Furthermore, Dark Sky Spirits plans to create a 'makers marketplace' on its site, a dedicated creative space for local producers to work together and share ideas.
The Dark Sky Spirits team hope to offer 'hard hat' tours in late 2021 ahead of the public launch.
Once open, the new site will offer tours, tastings, workshops and a whisky bar.