Dictador and Niepoort partner on new rum
Colombian rum producer Dictador has teamed up with Port maker Niepoort for the latest release in its cask-finished Two Masters series.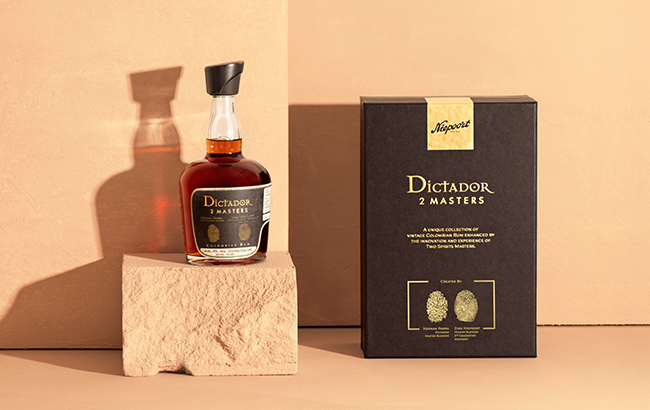 The new limited edition Dictador Two Masters Niepoort is the ninth bottling in the Two Masters range.
It was the result of a collaboration between Dictador master blender Hernan Parra and winemaker Dirk Van der Niepoort.
The new bottling is made with four vintage Dictador rums from 1971, 1974, 1978 and 1980. It was aged for 12 to 16 months in 550-litre pipa barrels, with only 620 bottles of the 48% ABV rum available.
Van der Niepoort explained: "Today, all Port is shipped in bottles, but in the olden times they sailed the world in 'pipas' or pipes. Smaller sized barrels were called hogsheads, which was a half pipe, quarters and octaves.
"Wealthy individuals would order a 'pipe of Port' from their wine merchant, either for their own consumption or to lay down as a gift for a young relative.
"A pipe should not be confused with a cask, which is a larger type of barrel used for ageing. Casks are always made from oak, but shipping pipes could be made of either oak or chestnut."
Dirk is the fifth generation of his family to produce Niepoort Port, which was established in the Douro Valley in 1842.
Parra said: "Port is a symbol of rich flavours and intense maturity. To me, Niepoort is the symbol of merging family traditions, high quality products and ever-evolving creativity. Combining this, it symbolises what this project stands for: the synergy of Two Masters."
Tasting notes for the rum include rich leather, cherries and dark chocolate on the nose, along with hints of dark chocolate, coconut husk, bitter orange, fennel, plums, figs, quince jelly and cloves on the palate.
Furthermore, Dictador has created 'robust' security features for the bottle, including 11 layers of protection, guillochés, gold paint with UV glowing protection, micro-text and typographical numbering.
In addition, the armoured glass uses fingerprint technology for unlocking. Dictador believes it is the most protected bottle in the world.
The rum producer has previously teamed up with Royal Tokaji, Hardy Cognac, Glenfarclas Distillery, Champagne Leclerc Briant, Château d'Arche Sauternes, Vignobles Despagne, Laballe Armagnac, and Barton 1792 for the Two Masters series.
Dictador Two Masters Niepoort is available from Farr Vintners for RRP £828 (US$1,151).
Sustainability efforts
Dictador has sought to use sustainable packaging across its portfolio, including the Wixarica collection, which is made with bottles that are nearly 100% plastic-free.
The brand also supports local environmental causes through its Dictador Art Masters project, which turns a former Columbian rum distillery into the world's largest graffiti museum.
Dictador will soon launch the third instalment of its Dictador Art Masters project.