Amber Beverage Group opens new office
By Nicola Carruthers
Moskovskaya Vodka producer Amber Beverage Group has opened a new office in Riga, Latvia.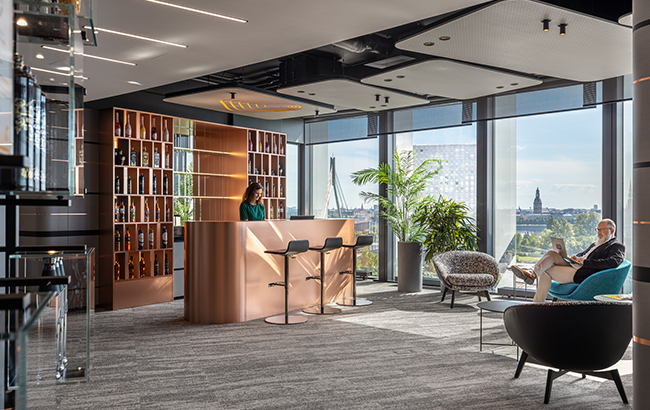 The new office is located on the fifth floor of Z-Towers, one of the tallest buildings in the Baltics.
Luxembourg-headquartered Amber Beverage Group said the new office had been designed to embody the company as a 'progressive, development-oriented and dynamic' firm.
The company previously had two offices in Riga, based at the Latvijas balzams distillery.
The design is inspired by the nature of the northern region, featuring colours that represent Icelandic moss, oak bark and Baltic amber.
The lobby area of the new office can also be adapted to include a bar for corporate or informal events.
In addition, the site includes 'comfortable' workspaces, individual seating areas, three meeting rooms and several open plan workspaces.
"When designing the new space, it was important for us to involve our employees in the development of the office concept, with the main priorities being an ergonomic, comfortable and aesthetic work environment, as well as suitable lighting, acoustics and ventilation," said Jekaterina Stuģe, CEO of Amber Beverage Group.
"Employees from several departments have already started working in the new office. Returning to work in offices is very uplifting, although we still take special caution in common areas.
"We believe that working in the new environment will be especially motivating and will bring us continued success in the long run."
Last month, Amber Beverage Group saw organic sales increase by 11% last year, boosted by its strong presence in the Baltics.
The group recently renamed five of its distribution companies to strengthen the firm's corporate identity.