Havana Club and Ms Banks collaborate on video series
Rapper Ms Banks has partnered with Havana Club on a new campaign to showcase the brand's Cuban Spiced spirit drink.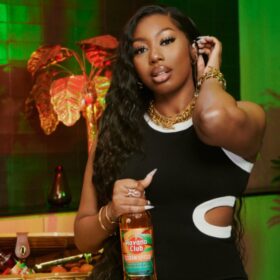 The Raise One campaign aims to celebrate people spreading positivity across creative industries and the wider community.
The campaign centres on a digital video series in which Ms Banks and Havana Club spotlight three people who are bringing 'spice' to their respective fields.
The series will be aired exclusively on music and culture platform GRM Daily, before being made available on the Havana Club UK Instagram TV page (@havanaclubuk). The first episode will be broadcast on Friday 14 May.
Havana Club Cuban Spiced is the first spiced expression from the Pernod Ricard-owned brand. Launched in March this year, the spiced variant is bottled at 35% ABV and retails for RRP £22 (US$30.50) per 700ml.
Ms Banks said: "I have had the best time working with the Havana Club team on spotlighting three companies which I love and am passionate about.
"They have been spreading so much positivity over the past year, I just hope everyone enjoys the episodes (and Cuban Spiced) as much as I do."
Ms Banks, who released her album The Coldest Winter Ever in two parts in 2018 and 2019, will host each weekly session.
Every episode will focus on dance, food and drink, and music, beginning with Chop Daily, a social media platform dedicated to afrobeat dance videos.
The second video will look at Trap Kitchen, an independent chain of three restaurants in London, Manchester and Birmingham, established by Prince Cofie Owusu.
The last instalment will feature No Signal, a radio station created during lockdown, which celebrates Black music and artists.
Anne Martin, global marketing director at Havana Club International, added: "We launched Havana Club Spiced as a product to appeal to a growing audience of spiced drinks fans.
"This new product is all about flavour, fun and creativity, which is why we've partnered with Ms Banks to celebrate emerging talent across a variety of industries.
"Ms Banks is the embodiment of the attitude and energy Havana Club Cuban Spiced stands for and she will be at the heart of our campaign."