Islay to welcome first dedicated rum distillery
By Nicola Carruthers
Independent bottler the Vintage Malt Whisky Company has partnered with an Islay startup to open a rum distillery on the Scottish island.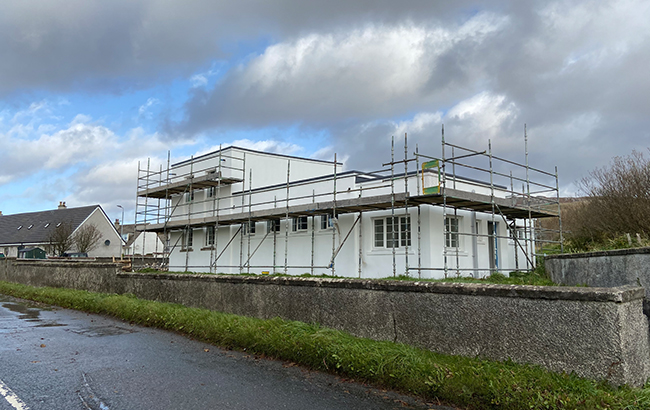 Islay Spirits, a subsidiary of the Vintage Malt Whisky Company, has entered into a joint venture with The High Road Rum Company to open the new distillery in the former Hastie's Lemonade Factory and Dunn's Depot in Port Ellen. The project received planning permission in January 2020.
The two firms aim to refurbish the building and turn it into a distillery for rum production.
Work is nearly complete on the site, which is expected to be operational by late autumn 2021. A pot and twin retort still has been ordered, and other equipment is gradually being sourced.
The business will be run by Ben Inglis, of The High Road Rum Company, who has been developing his own rum recipe for several years.
The venture will be funded initially by Vintage Malt, which will also provide support across administration, sales and marketing.
The construction work has been carried out by a new company run by Scott Hastie, the grandson and great nephew of the factory's original owners.
Andrew Crook, managing director of the Vintage Malt Whisky Company, said: "Islay is the spiritual home of our company and we owe our success in a large part to the land and its people.
"We now have an opportunity to put some investment back into the island and we hope that the local community will enjoy seeing a business emerge and hopefully develop over the years.
"We still have a long journey ahead but we are delighted to be working with Ben and Scott and very encouraged by all the informal support and help we and they have had along the way so far."
Independent bottler the Vintage Malt Whisky Company has produced Islay malt whisky for more than 28 years.
The firm produces the Finlaggan single malt brand, which is named after the famous Islay home of the Lords of the Isles.
In October 2019, the businessmen behind Islay Ales revealed plans to build a combined brewery and distillery, which will produce the Scottish island's "first" rum.