Bimber plans Scotch distillery
By Nicola Carruthers
English producer Bimber Distillery has submitted plans to build a new Scotch whisky distillery in Dunphail, and is considering moving to a bigger site in London.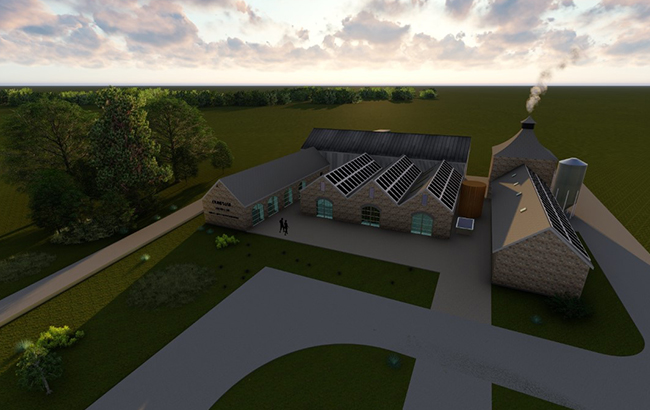 The team behind Bimber Distillery, which produces English single malt whisky, has submitted the planning application to Moray Council.
The proposed site in Dunphail, south of Forres, would involve the conversion of a farm steading into a small 'craft' Scotch whisky distillery that 'combines tradition and modernity' through its appearance and production. The site would have the capacity to produce 200,000 litres of alcohol per year.
The Dunphail Distillery will include a floor malting facility and a traditional kiln designed to process the distillery's locally sourced barley, alongside blending rooms, dunnage warehousing, and a 'cutting-edge' visitor centre.
Bimber founder Dariusz Plazewski said: "We're tremendously excited by the prospect of opening Dunphail Distillery – whisky making has been a lifetime passion for us – and that enthusiasm both originated and has continued to grow from our love for the quality and diversity of Scotch.
"We are aiming to create whiskies with distinctive profiles that have been shaped by traditional production processes. At the same time, we are committed to building a distillery that encourages people to act, think and drink different – and for us to lead the way by reducing our environmental footprint."
Furthermore, the new site will incorporate sustainable production methods, energy efficiency and water conservation. Ingredients and plastic-free packaging will also be sourced as locally as possible. Bimber plans to create a new forest on the grounds of the site, which would see the producer plant a tree for every cask purchased.
Relocation plans
Bimber is also looking to expand production capacity at its current facility in Park Royal, west London, and is exploring new sites across the city for a relocation.
Plazewski added: "It's an incredibly exciting time for us. We are aiming to expand our production capacity at Bimber by exploring potential London sites for a relocation – at the same time we are thrilled to be looking to Scotland to establish a new distillery that will be distinctive from and run separately to Bimber.
"Drawing from our experience and knowledge, we intend to combine our traditional outlook to production with a forward-looking innovative approach to whisky education and appreciation. Our vision for Dunphail is to craft truly exceptional, world-class spirit born of the techniques of the past – but with its focus firmly on the future."
In June last year, Bimber Distillery launched seven new whiskies, including six single cask expressions.