Benriach unveils Cask Edition Collection 2021
Speyside distillery Benriach has revealed Cask Edition Collection 2021, comprising 19 single malts matured in 11 different cask types.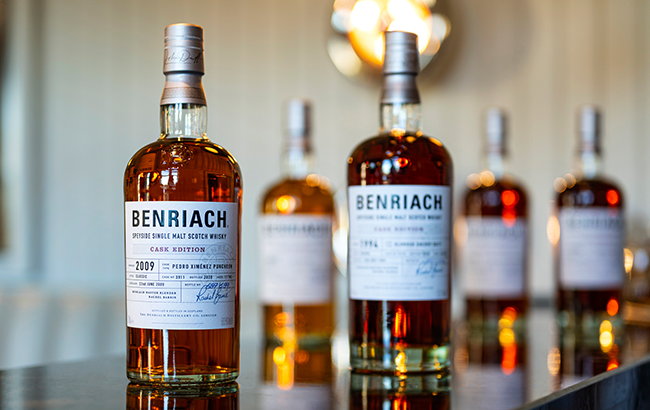 Each expression has been created to celebrate different cask styles, and explores a 'different facet' of Benriach's multi-layered, fruit forward' profile.
Featuring both peated and unpeated whiskies, each bottling was selected at its 'optimum' maturation point by Benriach master blender Rachel Barrie.
The 11 different cask types include Madeira, Moscatel hogsheads, rum barrels and Port pipes. Each expression was distilled between 1994 and 2009.
Barrie explained: "When it comes to experimenting with flavour through our rich inventory of cask types at Benriach, it is important to appreciate the individuality of the cask and its back story to tease out its full potential. Benriach Cask Edition Collection 2021 offers an insight into this journey, capturing unique moments in time at our Speyside distillery.
"Exploring cask maturation at this specific level continues to excite me about the flavour possibilities of Benriach. From the honey, apricot and stewed plum of the sauternes barrique to the smooth barley cream of the rum barrel, it's a true joy to savour the palette of flavour in these cask edition releases."
Benriach Cask Edition Collection 2021 is available to buy from specialist retailers in select markets globally.
More details on each cask and their availability are below.
The casks earmarked for Europe are:
1997 Cask #7420 – Aged 23 years, virgin wood barrel, unpeated, 51.6% ABV (France and Belgium)
1998 Cask #10298 – Aged 22 years, Marsala wine hogshead, unpeated, 52.2% ABV (Italy)
2005 Cask #2569 – Aged 15 years, oloroso butt, unpeated, 59.8% ABV (France, Belgium, Netherlands, Denmark and Ukraine)
2005 Cask #1867 – Aged 15 years, rum barrel, unpeated, 55.9% ABV (Benriach Distillery visitor centre, Scotland)
2007 Cask #3944 – Aged 13 years, Pedro Ximénez puncheon, peated, 56.2% ABV (France)
2008 Cask #4052 – Aged 12 years, Pedro Ximénez puncheon, peated, 60.5% ABV (Belgium, Cyprus, Greece, Malta and Poland)
2009 Cask #4833 – Aged 11 years, Port pipe, peated, 60.8% ABV (UK)
2009 Cask #1642 – Aged 11 years, Madeira hogshead, peated, 60.6% ABV (Andorra, Poland and Portugal)
2009 Cask #8562 – Aged 11 years, oloroso puncheon, unpeated, 58.9% ABV (Nordics and Eastern Europe)
2009 Cask #8748 – Aged 11 years, Moscatel hogsheads, unpeated, 53.9% ABV (the Netherlands)
2009 Cask #3911 – Aged 11 years, Pedro Ximénez puncheon, unpeated, 56.5% ABV (Germany, Austria and Switzerland)
The casks destined for Asia Pacific, Australia, New Zealand and Canada include:
1994 Cask #1851 – Aged 26 years, Pedro Ximénez puncheon, peated, 51.5% ABV (China)
1994 Cask #1272 – Aged 26 years, oloroso butt, peated, 53.2% ABV (China)
1997 Cask #16004 – Aged 23 years, Bourbon barrel, unpeated, 51.1% ABV (Israel)
1998 Cask #2803 – Aged 22 years, Pedro Ximénez puncheon, unpeated, 52,7% ABV (Southeast Asia)
2006 Cask #5303 – Aged 13 years, Pedro Ximénez puncheon, unpeated, 61.2% ABV (Australia)
2007 Cask #8736 – Aged 12 years, muscatel hogshead, unpeated, 58.1% ABV (New Zealand)
2008 Cask #5813 – Aged 12 years, sauternes barrique, unpeated, 61.3% ABV (Canada)
2008 Cask #2014 – Aged 12 years, Pedro Ximénez puncheon, peated, 60.5% ABV (China/Southeast Asia)