Teremana Tequila eyes one-million-case sales
By Owen Bellwood
Dwayne 'The Rock' Johnson's Teremana Tequila brand is expanding its production capacity as it targets one-million-case sales.
Launched in March 2020 by the Fast & Furious actor and his business partners Dany Garcia, Ken Austin and Jenna Fagnan, Teremana is a 100% Blue Weber agave Tequila.
Teremana is currently produced at the brand's own distillery, which is attached to a larger, family-owned facility in the highlands of Jalisco, Mexico. The brand is expanding its production capacity to meet "unprecedented demand" for its Tequila since launch.
Fagnan, co-founder of Teremana Tequila, said: "We have had significant out of stocks during our launch year due to the unprecedented demand.
"Since Teremana is made in a small batch style, we can only increase production so quickly and have not been able to keep up with demand. We are building more brick ovens and copper pot stills as we speak.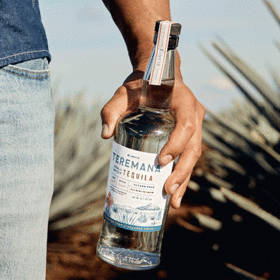 "If we continue to do what we are doing, the right way, we clearly see Teremana being a million-case brand and beyond."
Fagnan said the team had been "blown away" by the response to Teremana following its launch. In 2020, the Tequila maker said it was on track to sell 300,000 cases in its first year.
As Johnson and his team target growth for the brand, Fagnan said Teremana has "bullish" expansion plans to hit its objectives.
She added: "Obviously, the US, Mexico and Canada are key markets, however, we see Teremana being a strong global brand and we are planning in the near future to focus on Europe, Asia, etc.
"Tequila is just getting started globally and we are bullish on expansion and educating the consumer around the globe about great Tequila."
Only six Tequila brands currently sell more than one million cases, according to the Brand Champions 2020 report.