Macallan unveils Folio 6
By Nicola Carruthers
The Macallan has expanded its Archival Series with a new whisky that pays tribute to an advertising campaign from 1984.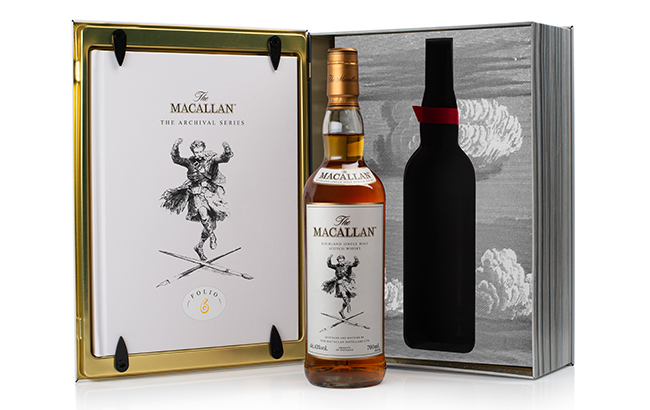 Folio 6 is the sixth release from The Macallan Archival Series, which celebrates the Scotch brand's early advertising campaigns. The Archival Series was first released in 2015 to commemorate print, press and film advertising campaigns for The Macallan from the 1970s, 1980s and 1990s.
The latest release highlights a Macallan campaign from 1984, which tells the story of the brand's chairman at the time, Allan Shiach. The chairman had asked the creative team to deliver a memorable campaign for the brand.
As Shiach was a devoted writer and advertising enthusiast, the resulting campaign featured an image that depicted the chairman doing a sword-dance above a crossed brush and pen. The advert featured a headline with the words 'ever keen to keep his publicity advisers on their toes'.
Polly Logan, whisky maker at The Macallan, said: "Crafted to pay tribute to the playful sword-dancing chairman advert of the 1980s, Folio 6 is a captivating single malt whisky which truly reflects the iconic status of the artwork it celebrates.
"Offering a fruity nose of orange and poached pear, along with notes of vanilla and warming cinnamon and nutmeg spice, a lovely hint of rich milk chocolate develops before giving way to a long, ginger finish. With its warming flavours, Folio 6 offers a unique way to experience The Macallan and its world-famous advertising campaigns of days gone by."
Shiach was also honoured in the brand's new Red Collection, which was launched in tribute of the tradition and craftsmanship of The Macallan. The former chairman was one of three key characters celebrated in the collection.
The Macallan Folio 6 is available in domestic markets and the brand's boutiques in Dubai International, London Heathrow and Taiwan Taoyuan airports from the first quarter of 2021. It is priced at RRP £250 (US$341) and comes with a booklet and a book-shaped tin.