Complaint against Silent Pool's CBD-infused gin upheld
Industry watchdog the Portman Group has upheld a complaint against Silent Pool Distillers' CBD-infused gin for its links to illicit drugs and therapeutic qualities.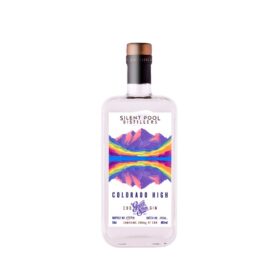 A member of the public complained about the product to the Portman Group, the social responsibility and regulatory body for alcohol in the UK.
The complaint alleged Silent Pool Distiller's CBD-infused gin, Colorado High, breached two rules, one that prohibits associating alcohol with illegal drugs and a second that states there should be no link with therapeutic qualities.
The Independent Complaints Panel (ICP) found Colorado High to be in breach of both rules.
While the panel noted that cannabis was an illegal drug in the UK, but CBD was not, it found the product's packaging created an 'indirect association' with illicit drugs. The bottle was adorned with the Colorado mountains – described as 'hallucinogenic' by the complainant – along with the use of the word 'high' in the reference to Colorado, which was one of the first US states to decriminalise recreational cannabis.
Furthermore, the back of the label made statements such as: "A sensory infusion of wellness-enhancing CBD and refreshingly complex gin," and, "Colorado High is a spirit that supports your body's natural balance and tastes great doing so."
Nicola Williams, chair of the ICP, said: "After careful consideration, the panel decided that Colorado High was in breach of two of the code's rules.
"We would urge producers to think carefully about how they place a CBD descriptor on their product's packaging. It is important that CBD is viewed as an ingredient, rather than a suggestion of therapeutic or health benefits."
Silent Pool Distillers decided not to work with the Portman Group's Advisory Service to revise the product. As such, the Portman Group has been forced to issue a Retailer Alert Bulletin (RAB).
The RAB will be sent to more than 130 signatories of the code, including major supermarkets and distributors. This means retailers can sell any remaining stock, but will not be allowed to re-order Colorado High in its 'problematic form' after 21 April 2021.
As a result of this case, the Portman Group is developing guidance to help producers with using CBD in alcoholic beverages.
Silent Pool Distillers responds
Silent Pool Distillers said the company was "disappointed but not surprised" by the result, which felt "pre-determined".
Ian McCulloch, director of Silent Pool Distillers, said: "[The Portman Group] consistently linked CBD to cannabis despite being told that we don't even use the word on the packaging and that CBD is completely legal and can be purchased by anyone, it's not even a product that you have to be over a certain age to consume.
"We have sold thousands of bottles and not had a single complaint and now these customers are being treated like children by an outfit that has failed to grasp the reality of the CBD market.
"Based on the pricing and who we see purchasing, this is consumed by adults; we don't patronise our customers, we treat them like adults and we believe, and the evidence shows, that they completely get what Colorado High is and they are very happy.
"This is a 'regulator' that is funded by the big drink companies that clearly feels like it needs to regulate, even if there is no known, reported or obvious public harm; since when is one 'complaint' within thousands of happy customers a threshold to intervene?
"Portman has managed not to consider the wider context, not considered the actual purchaser, not considered an actual public harm and not considered what this could do to our ability to sell great UK products overseas."