McConaughey and Wild Turkey celebrate local legends
By Melita Kiely
Wild Turkey and actor Matthew McConaughey have honoured everyday heroes as part of the Bourbon brand's latest 'With Thanks' campaign.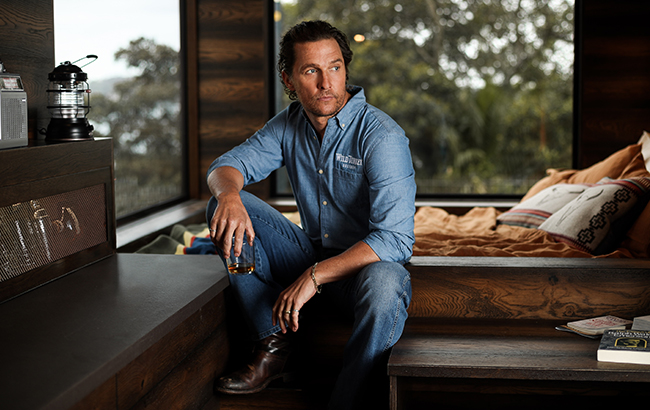 McConaughey, who is Wild Turkey's creative director, surprised four 'selfless individuals' from Austin, Chicago, Dallas and New Orleans in recognition of their service during the Covid-19 pandemic.
For this year's campaign, With Thanks – Local Legends, McConaughey surprised four 'local legends' with a virtual chat and rewarded them with a personalised token of appreciation. Each video can be viewed on the Wild Turkey Instagram page: @wildturkey.
The four local legends were: Austin singer/songwriter Nakia Reynoso, who helped pass the Austin Music Disaster Relief Fund to support local musicians; Chicago activist Tanya Lazano, who is providing free Covid-19 testing, grocery deliveries and personal protective items to underserved communities in her area; Dallas-based non-profit founder Shawana Carter who is providing emergency nappies, wipes, food and clothing to families in need; and New Orleans artist Devin De Wulf, who is collaborating with local restaurants and farmers markets to hire and feed New Orleans artists and musicians.
Each local legend received a contribution to their charity based on their needs.
McConaughey said: "The pandemic has affected all of us, so it felt more important than ever to recognise the unsung heroes who have consistently and steadfastly supported their neighbours and their communities."
McConaughey has been creative director for Wild Turkey since 2016. In 2018, the Dallas Buyers Club and Interstellar star collaborated with master distiller Eddie Russell to release Longbranch Bourbon inspired by his Texas roots.
Last year, McConaughey and Wild Turkey thanked first responders for their rescue and relief efforts in relation to the wildfires in LA. Together, they delivered 800 turkey dinners to firehouses in partnership with non-profit Operation BBQ Relief.
The previous year, McConaughey teamed up with Wild Turkey to deliver 4,500 turkeys to people in Lawrenceburg, Kentucky, ahead of Thanksgiving.
"It's often during the most challenging times that you see extraordinary acts of kindness and a commitment to help those in need," said Eddie Russell, Wild Turkey master distiller. "Wild Turkey was founded on community, and we're grateful to work with Matthew to celebrate and lift up those who go above and beyond for their hometowns.
"These four local legends made an impact when it mattered the most and we're thrilled to honour them."
Thanking The Drinks Trust
As part of the global campaign, Wild Turkey and McConaughey have also extended personal thanks to The Drinks Trust. The UK-based charity provides care and support to people in the drinks trade, and former members of the industry, including vocational, practical, emotional and financial support.
In 2020, The Drinks Trust has helped more than 4,000 people who have fallen into financial hardship – a 400% increase on 2019.
As such, Wild Turkey and McConaughey have recognised the charity as one of their 'local legends'.
Ross Carter, CEO of The Drinks Trust, said: "We are honoured to be recognised as 'local legends' by Wild Turkey. Here at The Drinks Trust, we hold community close to our hearts too and we believe that nobody should be left behind during times of hardship and need.
"Our work couldn't have been possible without the overwhelming support of drinks companies, donors and fundraisers, without whom we couldn't have helped so many individuals in need. These joint efforts exemplify the real spirit of the drinks and hospitality sector, demonstrating how the industry supports its own community, and for this we are immensely grateful. Thank you to Wild Turkey for this acknowledgement and your continued support of The Drinks Trust."