Laphroaig Opinions Welcome campaign returns
By Owen Bellwood
Beam Suntory-owned Laphroaig has launched a new film as part of its Opinions Welcome campaign, which sees consumers taste the Islay Scotch whisky for the first time.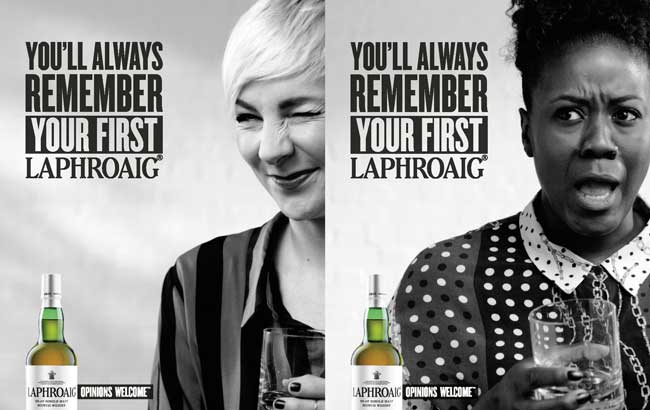 Initially launched in 2014, when comments under the hashtag #OpinionsWelcome were featured in print and digital marketing for Laphroaig, the latest iteration of the campaign features a film titled 'You'll Always Remember your First Laphroaig'. 
Rolling out across TV and social media in the UK with 30- and 15-second edits, the film showcases members of the public tasting Laphroaig for the first time.
Each video begins with the subjects trying to pronounce the whisky's name and then sampling the liquid. The film concludes with two drinkers proclaiming their newfound love for Laphroaig.
Nick Ganich, head of brands at Edrington-Beam Suntory UK, said: "The idea that Laphroaig isn't for everyone is what makes it such an iconic and inclusive brand. You may love or indeed dislike the taste, but what is certain is that drinking Laphroaig is a deeply personal experience that elicits great emotion and often debate amongst our customers and consumers."
Developed by creative agency Warp & Woof, the campaign will run across video on demand platforms including Sky Go, ITV and All 4, as well as Facebook and Instagram.
Jim Robinson, managing director of Warp & Woof, said: "Bringing this core part of the brand's personality to life through the campaign has been a lot of fun and something we believe will encourage thousands of soon to be die-hard fans to discover Laphroaig."
Last week, Islay Scotch brand Laphroaig released its second limited edition whisky as part of the Ian Hunter Story range.
The new Laphroaig advert is available to watch below.