Bacardi taps into at-home cocktails with Twistails pods
By Nicola Carruthers
Spirits producer Bacardi has simplified the cocktail-making process at home with the launch of Twistails pods, which can make Mojitos and Daiquiris.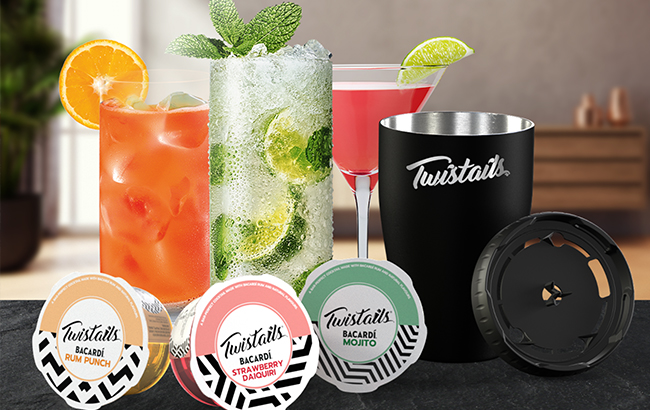 Described as an "innovative solution" for making "bar-perfect cocktails" at home, the Twistails Starter Kit comes with a Twistails shaker, a strainer, two 50ml Bacardi Mojito cocktail pods, two 50ml Bacardi Strawberry Daiquiri cocktail pods, and two 50ml Bacardi Rum Punch cocktail pods. Each cocktail pod is made with Bacardi Carta Blanca rum and 'natural' flavours.
To make a cocktail, consumers add water and ice to the Twistails shaker, then attach the strainer and your pod of choice and twist, then shake well. The recyclable pods use an "innovative" dual chamber to provide a "fresh cocktail experience".
While the pods can be purchased separately in packs of six, the Twistails shaker and strainer is needed as the pods are designed to fit on the strainer, which has spikes to pierce the film on the pod.
'Bar-quality cocktails'
"With more and more people seeking convenience and home entertainment solutions, we asked ourselves how Bacardi could use its expertise as one of the world's top spirits companies to create a product that would address this gap; and this is how Twistails was born," said Ankush Manchanda, digital and e-commerce director for Bacardi.
"With the launch of Twistails we wanted to provide a solution that will show people you don't need an elaborate set up or countless ingredients to produce bar-quality cocktails at home – it can be as easy as a twist and a shake."
Bacardi is planning to release additional pods using its portfolio of spirits soon.
The pods range from between 38.1% to 43.7% ABV depending on the cocktail. Once made, the complete 120ml cocktails have an ABV of between 9.5% and 10.9%.
Bacardi said the Twistails pods can be used for occasions such as home and garden parties, barbecues and picnics.
The Twistails starter set and pods are available to buy in the UK from Amazon and in Germany. The Twistails 50ml pods can be purchased in packs of six for £22.99 (US$30) each, while the starter set is priced at £26.99 (US$35).
A number of drinks firm have sought to tap into the trend for at-home cocktail making in recent years.
In November last year, Brown-Forman partnered with beverage innovation company Drinkworks to create cocktails that can be made using an at-home alcohol dispenser.
In 2017, Pernod Ricard planned to launch its "connected cocktail library" system Opn the following year, however the project has since been scrapped.
A Pernod Ricard spokesperson said the concept was discontinued "in order to prioritise other projects with greater added value for the business" in line with the firm's Transform & Accelerate three-year strategic plan.