Diageo Bar Academy to host cocktails to-go webinar
The Diageo Bar Academy will host an online masterclass next week on how venues can incorporate an effective cocktail delivery and takeaway service, which will be presented by Dutch bartender Tess Posthumus.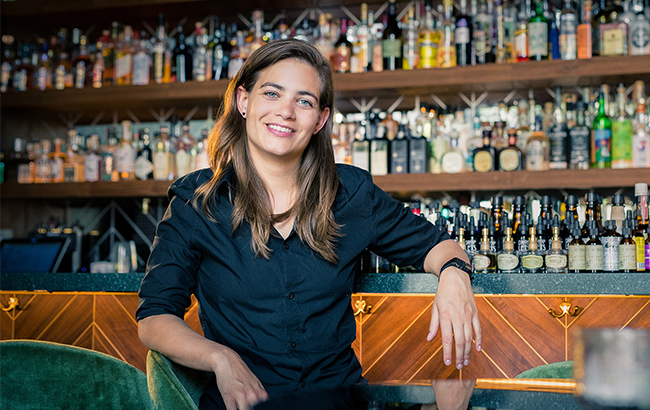 Founded in 2011, educational platform Diageo Bar Academy (DBA) provides training, bar news, cocktails trends, and a global network of industry experts who deliver insights and expertise within the on-trade.
The Diageo Bar Academy will host a free masterclass next Wednesday (21 October) at 2pm BST, which will look at driving sales and incorporating a takeaway service within venues.
Posthumus, owner of Amsterdam bars Flying Dutchmen Cocktails and Dutch Courage Cocktails, will host the online webinar, along with special guest, bar owner Vijay Mudaliar. Posthumus was a former World Class winner in the Netherlands heat in 2015. Mudaliar is founder of acclaimed drinking den Native in Singapore, which was recently named Best International Cocktail Bar at Tales of the Cocktail's 2020 Spirited Awards.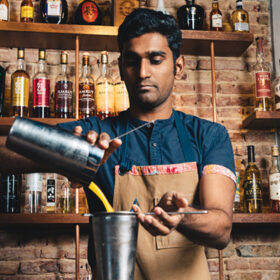 The digital session will look at how businesses can integrate takeaway cocktails into their service model profitably.
Posthumus and Mudaliar will also offer their do's and don'ts of running a successful cocktail delivery service through their own experiences. There will also be an opportunity to ask the hosts questions during the session.
Attendees will also receive a checklist for successful cocktail delivery and an official Diageo Bar Academy Certificate, free of charge.
Furthermore, Portuguese and Spanish speakers will be able to view the masterclass in real-time translation to their native languages.
To sign up for the masterclass, click here.
The next Diageo Bar Academy masterclass is due to be held on 25 November, called 'Leading Well'. It will be hosted by London Cocktail Club founder JJ Goodman, Iain McPherson, owner of Panda and Sons in Edinburgh, and Madeleine Geach, head of culture at Hawksmoor.
To see some of Posthumus' top tips for successful takeaway and delivery cocktails, click through to the next page.
Tess Posthumus' 10 tips for successful takeaway and delivery cocktails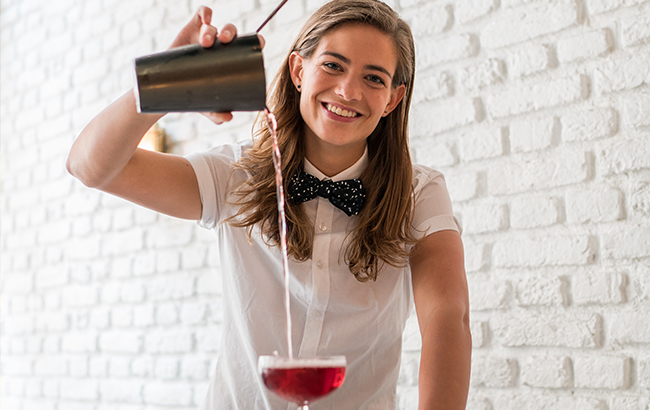 Plan your menu – Make a list of your most profitable serves and filter them by margins. Select those that will generate most profit that will also travel well. For example, drinks with egg white are often a no go.
Keep it fresh – Aside from your set menu, you can keep things exciting by offering a 'Cocktail of the Week' to tie in with cultural moments or themes, or to even use up any extra stock you may have.
Profitable pricing – Set a realistic price that covers costs and generates profit. To-go cocktails are generally priced lower than in-house so bear this in mind. Keep an eye on competitor prices too for some market insight. 
Practical packaging – It's important that you choose fit for purpose packaging to protect serves during delivery but consider using the packaging to help your products stand out. For example, branded packaging or functional packaging that can be reused.
Delivering the goods – When it comes to delivery take time to consider all options available. If you need to use a third-party provider, research a few to get a grip on the costs. The aim is to find a reliable delivery solution at a price you can afford.
Promotion platforms – Decide where and how you will promote your service, such as social media, local media, partnerships with other brands or bars. Using paid advertising can be an effective way of reaching new customers and growing your market share.
Seamless ordering and payment – Don't make customers jump through hoops to complete an order. If you have an online store, minimise steps to purchase with simple, clear navigation. If you sell through social channel make it clear exactly how to order, for example call or direct message to place your order.
For click and collect customers, give them the option to pay online in advance or have contactless facilities set up where they will collect their order.
Unique at home experiences – Help customers recreate the in-bar experience at home through personalised packages. Give customers the option to add items to their order like coasters, glasses, jiggers, etc or even collaborate with cool brands to offer merchandise too.
Tempt customers back – Give customers a reason to return. Include promotional offers, discount codes or vouchers to use with their next purchase. Track how effective certain promotions are to gauge what influences buyers' behaviour to inform future promotions.
Seek feedback – Connect with your guests to gain feedback through surveys, personalised messages or reviews. Find out what customers like, what they don't and areas you can improve on. Then make the changes that you can.