Top cocktail recipes using Black-owned spirits brands
By Melita Kiely
Shakers, jiggers and bar spoons at the ready – we've compiled a range of scrumptious serves using some of the best Black-owned spirits brands on the market, so you can recreate bartender-quality cocktails at home.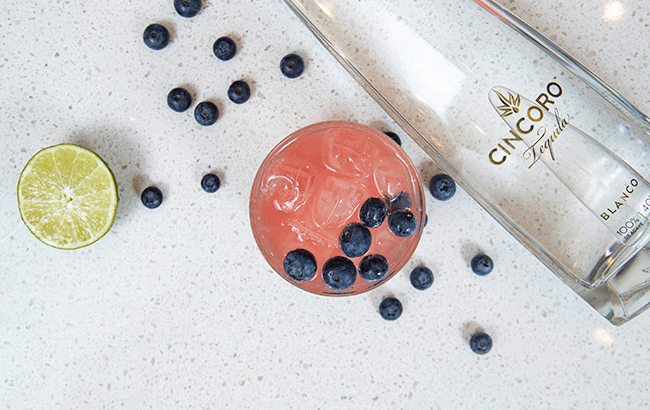 Whether you're a Tequila lover or have a particular penchant for gin, we've got all bases covered with this list of cocktail recipes showcasing some of the best Black-owned spirits brands available.
Plus, it doesn't matter if you're a cocktail-making novice or something of a connoisseur, we've asked each brand to provide step-by-step instructions on how to create their signature serves at home.
You'll find everything from twists on classic concoctions, such as the Old Fashioned and Dark 'n' Stormy, to innovative, playful recipes over the following pages.
There's also a bar-quality, ready-to-drink (RTD) option for those looking for something delicious with minimal fuss.
Click through to the following pages to discover a vast assortment of cocktail recipes using Black-owned spirits brands.
HH Bespoke Spirit's Dark & Stormy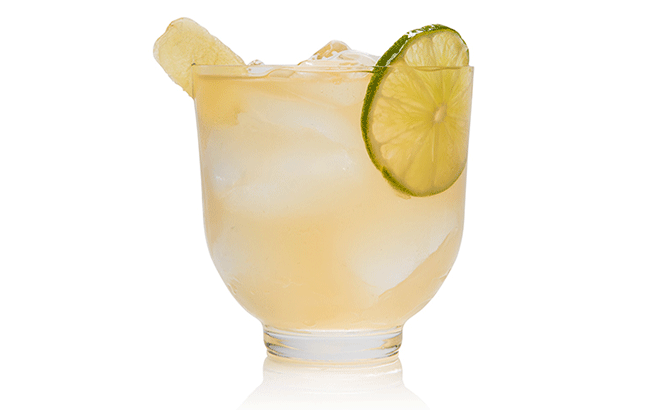 Ingredients:
45ml HH Bespoke Rum
7.5ml Lime juice
120ml Ginger beer
2 dashes of Angostura bitters
Method: Pour the rum, lime juice and ginger beer into a rocks glass with ice, then stir the drink. Top with ice as needed. Add the bitters and garnish with a slice of lime and candied ginger.
Description: "A favourite of the family behind HH Bespoke Rum – it gives you a tropical vibe to anywhere you are – even your kitchen or living room at home. This is a favourite of the partners, especially husband and wife Guy and Sharene Wood."
About HH Bespoke Spirits: From the creators of black-owned fashion boutique Harlem Haberdashery, HH Bespoke Spirits' portfolio comprises a gin, vodka and rum. Harlem Haberdashery Bespoke Vodka is made in small batches using locally grown corn, while Harlem Haberdashery Bespoke Gin is described as a 'remix' on the traditional London Dry style. The gin offers juniper flavours combined with an infusion of lavender, rose hip, beach plum and cranberry. Completing the range, Harlem Haberdashery Bespoke Rum is made from molasses and aged in both new American oak and ex-Bourbon barrels to create a 'rich and complex' rum with tastes of butterscotch and vanilla.
Stars 'n' Stripes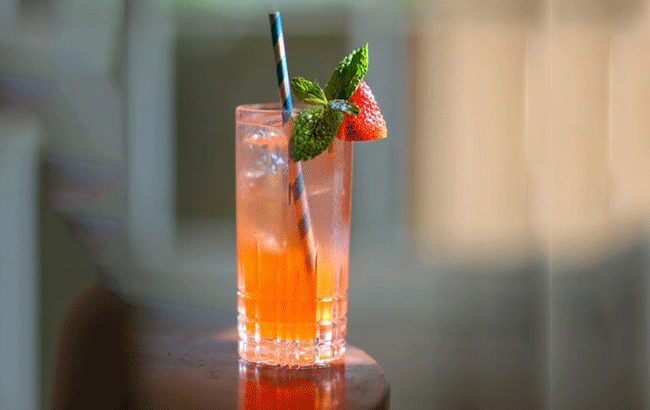 Ingredients:
60ml Revel Avila Blanco
30ml Lime juice
22.5ml Strawberry and mint syrup
Soda water
Method: To make the simple syrup, heat four cups of sugar with three cups of water. Steep 15 strawberries (with their stems removed) and an entire bunch of mint in the syrup for 48 hours.
Shake all ingredients, except soda. Strain into a collins glass and top with soda water. Garnish with a sprig of mint.
Description: "There are plenty of seasonal flavours in this play on the classic Rickey cocktail. We wanted a syrup that emulated a light and fresh summer salad, and knowing that mint and strawberries pair so well together, it was a no brainer. The effervescence of the soda water brings it all together just like a traditional Rickey, resulting in a super refreshing and balanced drink."
About Revel Spirits: In 2018, Revel Spirits created a new agave-based spirit category, called avila. Revel Avila is made from 100% Blue Weber agave grown in the Morelos region of Mexico. The brand was founded by former music executives and colleagues Micah McFarlane and Jacqui Thompson, who teamed up with Susan Clausen and Héctor Ruiz to create the agave-based spirits. The Avila range comprises three expressions: Avila Blanco, Avila Reposado and Avila Añejo.
Uncle's Garden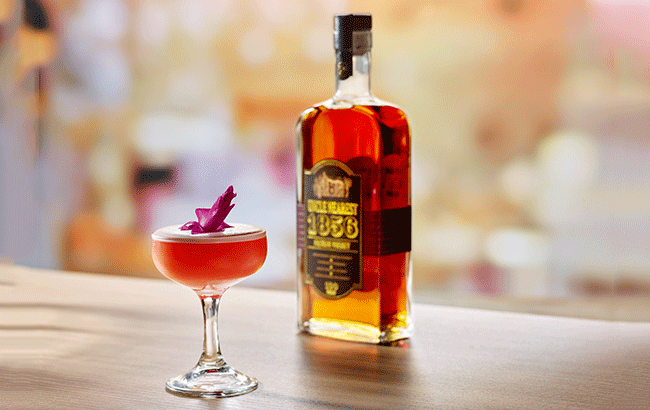 Ingredients:
45ml Uncle Nearest 1856
15ml St-Germain liqueur
15ml Grenadine
45ml Pineapple juice
1 Egg white
Method: Combine all ingredients in a cocktail shaker with ice and shake well. Strain into a coupe glass, garnish with pineapple leaf or edible flowers and enjoy.
Description:"Created by mixologist Khadka Anjan in Tokyo, Japan, Uncle's Garden is an easy-to-make, handcrafted cocktail that combines premium aged Tennessee whiskey with the sweet flavours of pineapple juice and grenadine to make for a light, refreshing mix."
About Uncle Nearest Premium Whiskey: Inspired by the first-known African-American master distiller, Nathan 'Nearest' Green, Fawn Weaver launched the Uncle Nearest whiskey brand in 2017 to celebrate his memory. Uncle Nearest's portfolio includes an assortment of age-statement whiskeys, including an 11-year-old single barrel expression and a seven-year-old small batch bottling. The whiskey is filtered through sugar maple charcoal, a process that was brought to Tennessee by enslaved people and a technique taught to Green.
Adaka Passion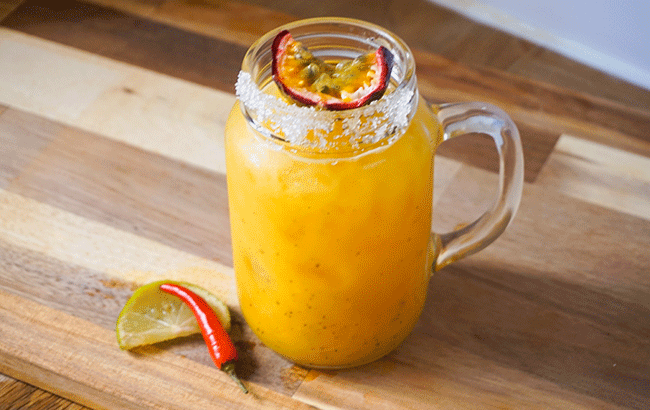 Ingredients:
60ml Adaka Original Vodka
100ml Apple and mango juice
25ml Lime juice
1tsp Agave syrup
1 Passion fruit
Handful of frozen mango chunks
Method: Slice one passion fruit in two and scoop out the contents of one half into a blender. Add roughly the juice of half a lime into the blender along with the Adaka Vodka, fruit juice, agave syrup and frozen mango chunks into the blender and blend until smooth. As an option, rim one side of the glass with lime juice and roll the glass on a plate filled with chilli-infused sugar. Pour the contents of the blender into a glass filled with crushed ice, serve and enjoy. Garnish with the other half of the passion fruit if you wish.
Description: "Given the warm weather we've been having we wanted to create a drink that would be a real thirst quencher. We wanted to draw upon the African inspiration of the brand and give it a tropical finish."
About Adaka Vodka: Adaka is an African-inspired vodka that believes in cultural cohesion. Founder Chris Adaka grew up in London but wanted to incorporate his Nigerian heritage into the brand, as well as his European lifestyle. The vodka is distilled in the Cognac region of France, but its flavour comes from Africa. The range currently consists of two flavours: Adaka Vodka, which is infused with a hint of African spices, and Adaka Savanna, a toffee liqueur.
Greenwood Peach Smash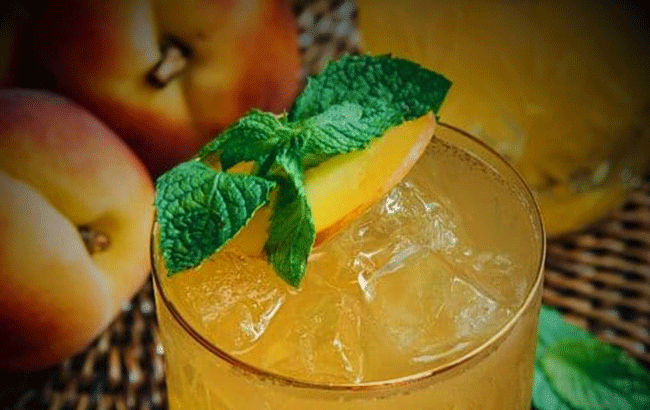 Ingredients:
60ml Greenwood Whiskey
15ml Brown sugar simple syrup
Half a large peach diced (about half a cup)
3-4 Large mint leaves
Splash of ginger beer
Fresh mint and peach slices to garnish
Method: Add peaches, mint leaves and simple syrup to the bottom of a cocktail shaker. Add the whiskey, fill the shaker with ice and shake until well chilled. Strain into a rocks glass filled with fresh ice. Top with ginger beer. Garnish with fresh mint sprigs and a peach slice.
Description: "Greenwood Peach Smash is a bold, savoury cocktail perfect for a summer night or autumn afternoon. Grab a glass, take a sip and let's celebrate together."
About Greenwood Whiskey: Premium African-American-owned Greenwood Whiskey aims to symbolise and celebrate community, success, entrepreneurship and excellence. These qualities were a key part of the historic Greenwood District neighbourhood in Tulsa, Oklahoma, which was also known as 'Black Wall Street'. In 1921, the Greenwood community bustled with 600 African-American-owned businesses. Greenwood Whiskey strives to be a celebration of 'Black Wall Street' and the entrepreneurs of that era. The whiskey is matured for two years and is made from a recipe of 51% rye and 49% corn, before being bottled at 42% ABV with flavours of butterscotch, cherry wood and a hint of citrus.
Henry Gatz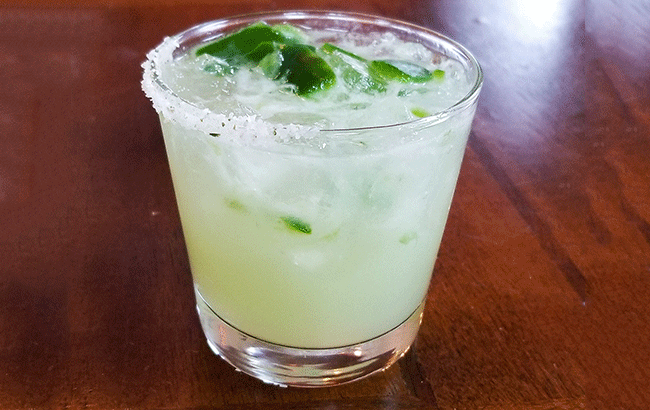 Ingredients:
45ml Fitzgerald Gin
30ml Lime juice
15ml Simple syrup
3 Jalapeño slices
Method: Partially rim a lowball glass with salt (homemade jalapeño salt works well). Muddle ingredients in a shaker. Shake with ice. Pour into the lowball glass. Adjust the number of jalapeño slices to your heat preference.
Description: "This cocktail is bright and refreshing, while still providing a complex drinking experience. The botanical, citrus and crisp green pepper flavours of each sip give way to a lingering heat that carries through the whole drink, without overwhelming the palate. The salt rim offers drinkers the opportunity to modify their cocktail between sips with a savoury hit that elevates the other flavours."
About Fitzgerald Gin: Award-winning Fitzgerald Gin is created by Du Nord Craft Spirits in Minneapolis, US. Founded in 2013, Du Nord Craft Spirits is owned by Chris Montana, former president of the American Craft Spirits Association, and his wife, Shanelle Montana. Fitzgerald Gin is a hybrid between a classic London Dry style and an 'old world' gin. It is said to have strong juniper flavours, leading to citrus, angelica root and liquorice root.
Cincoro Blueberry Margarita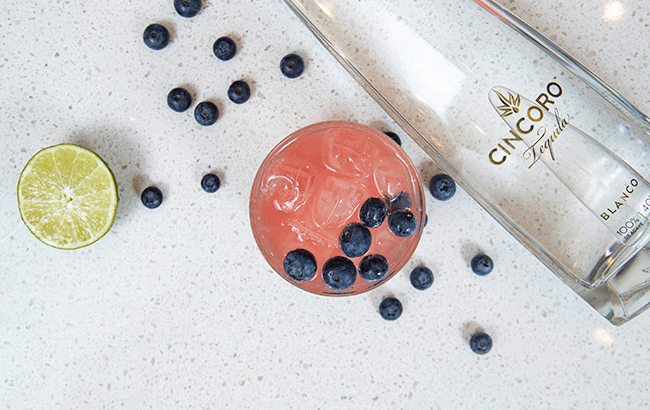 Ingredients:
60ml Cincoro Blanco Tequila
10-15 Blueberries
15ml Fresh lime juice
7.5ml Cointreau
7.5ml Agave nectar
Method: Mix and shake all ingredients vigorously. Strain over fresh ice into a half-sugar-rimmed double Old Fashioned glass. Garnish with fresh blueberries.
Description: "Enjoy Cincoro's delicious new twist on the classic Margarita, using Cincoro Blanco alongside flavours like blueberries and fresh lime juice. The combination of flavours brings to light Cincoro's smooth finish and pleases the tasting palate."
About Cincoro Tequila: Partially owned by former professional basketball player Michael Jordan, Cincoro Tequila first came to market in September 2019. Distilled from 100% Blue Weber agave, the Cincoro Tequila range features four expressions: blanco, reposado, añejo and extra añejo. Mark Smith, vice president of innovation special projects at Nike, was commissioned to design the bottle and packaging, which was inspired by the shape of an agave leaf.
Raspberry Picante Paloma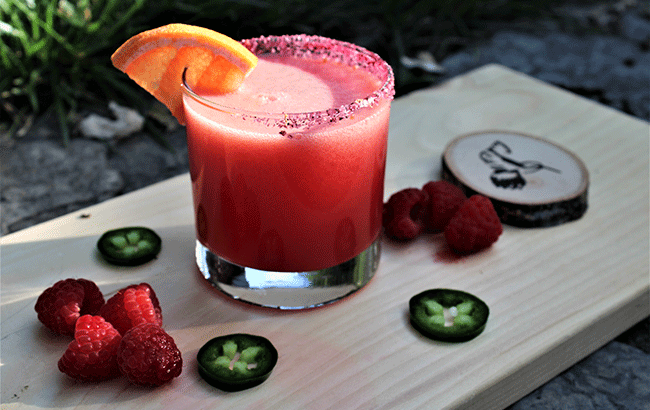 Ingredients:
60ml Anteel Reposado Tequila
5 Jalapeño pepper slices
1/3 cup Fresh raspberries
120ml Freshly squeezed grapefruit juice
1tbsp Freshly squeezed lime juice
30ml-60ml Chilled citrus sparkling mineral water
Blueberry lemon sea salt for glass rim
Grapefruit wedges or fresh raspberries to garnish
Method: In the bottom of the cocktail shaker, divide the raspberries and jalapeños. Muddle well until you have a raspberry-jalapeño pulp. In a cocktail shaker, add ice, grapefruit juice, lime juice and Tequila. Shake vigorously until blended well and chilled. Rim glass with blueberry lemon sea salt (half or full rim). Add ice to cocktail glass. Using a mesh cocktail strainer, slowly strain into a cocktail glass. Top with chilled citrus sparkling mineral water and stir well. Garnish with a small wedge of grapefruit or raspberry.
Description: "It's a unique twist on the Paloma, one of our favourite classic Tequila cocktails."
About Anteel Tequila: Thought to be the world's only coconut lime blanco Tequila, Anteel is made by infusing premium blanco Tequila with natural flavourings from coconut and lime. The range also includes a reposado expression, which is aged for eight months in ex-whiskey barrels, said to impart 'wonderful soft tones of caramel, vanilla and a whisper of hazelnut'. The brand was co-founded by Nayana Ferguson, chief operating officer, Don Ferguson, co-CEO, and Mike Rowoldt, co-CEO.
Ten to One Old Fashioned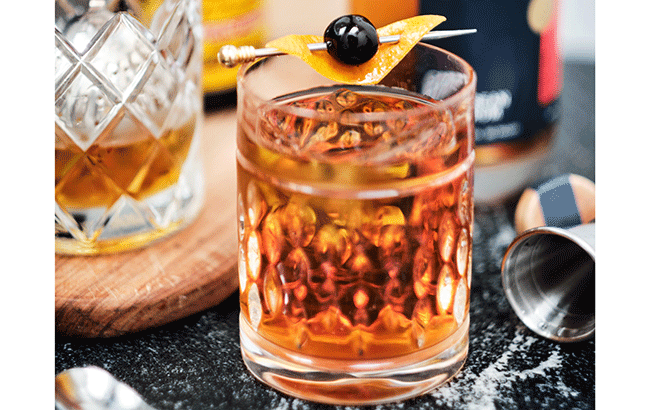 Ingredients:
60ml Ten to One Dark Rum
7.5ml Demerara syrup
2 dashes Angostura Bitters
2 dashes Orange bitters
Orange zest twist and maraschino cherry to garnish
Method: Stir ingredients over ice in a mixing glass until chilled. Strain into a rocks glass over a large ice cube. Express oils from orange zest over drink and use as a garnish with a maraschino cherry.
Description:"This is a Ten to One twist on the classic whisky cocktail. When whisky lovers try an Old Fashioned with Ten to One Dark, they are truly blown away by its rich flavour; they never go back."
About Ten to One: Founded by Marc Farrell, Ten to One was designed to be a contemporary blend that challenges the expectations of rum drinkers and reinvigorates how people taste, experience and talk about rum. Farrell aims to celebrate the heritage of rum and the 'broader role that it plays in contemporary Caribbean culture'. Ten to One offers a dark rum and white rum for fans to enjoy.
Matugga Spiced Clandestino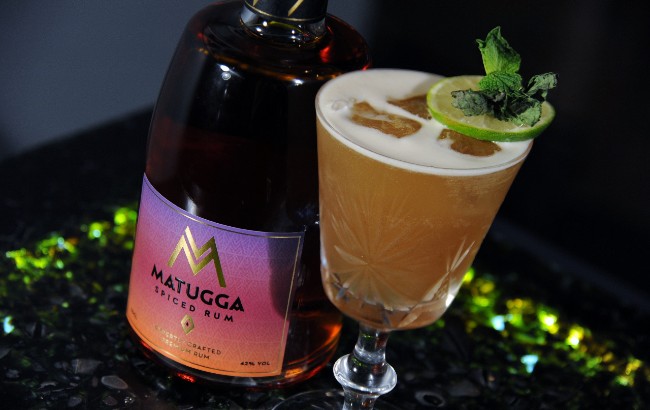 Ingredients:
50ml Matugga Spiced Rum
20ml Pineapple juice
20ml Champagne syrup
10ml Fresh lemon juice
5ml Balsamic vinegar
2-3 pieces of fresh pineapple
Fresh lime and a sprig of mint to garnish
Method: Place the Matugga Spiced Rum and ingredients into a cocktail shaker and shake well to combine. Fine strain into a chilled wine goblet or cocktail glass. Add two or three fresh pineapple pieces and garnish with a slice of lime and a sprig of mint.
Description: "A spiced rum twist on a simple and sophisticated cocktail."
About Matugga Rum: Husband-and-wife team Paul and Jacine Rutasikwa are the power couple behind Matugga Distillers, which creates Matugga Rum. Jacine is CEO and Paul is the company's master distiller. Matugga Rum launched in October 2015 as the first UK-made, Black-owned rum. The range comprises cask-aged gold and spiced rums.
The company now also makes a second rum brand, called Liv Rum. Launched in June 2020, Liv Rum offers a range of white and spiced rums, plus a selection of flavoured rum liqueurs.
Courage + Stone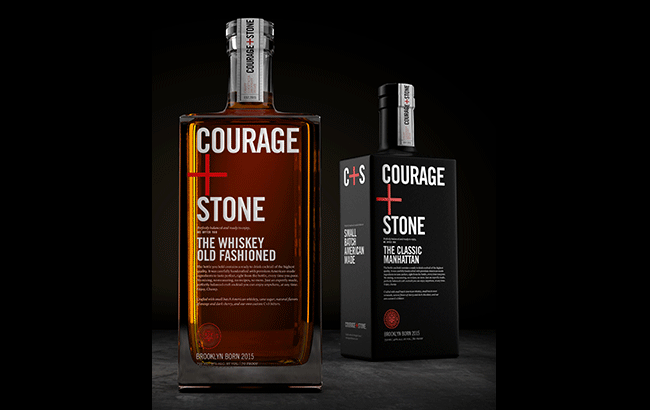 For those with a lack of time on their hands or who simply want to enjoy a ready-made, bartender-quality cocktail at home, Courage + Stone has the solution. Officially launched in January 2020, Courage + Stone is the brainchild of actor Aisha Tyler, best known for her roles in Friends and Criminal Minds.
The range comprises two cocktails: the Classic Old Fashioned and Classic Manhattan. Both cocktails are made at Brooklyn-based New York Distilling Company in the US.
The Old Fashioned is said to have notes of orange and dark cherry, while the Manhattan offers hints of cherry and dark chocolate.
Available in 200ml and 750ml bottles, Courage + Stone is available in select retailers in New York and California in the US, with online shipping available to 40 states.
For an in-depth interview with Courage + Stone founder Aisha Tyler, see the August 2020 edition of The Spirits Business magazine, out now.
Interested in learning more about Black-owned spirits brands? We compiled a list of 10 brands to show your support to: Ten Black-owned spirits brands to support.