Ten Black-owned spirits brands to support
By Melita Kiely
There are myriad Black-owned brands delivering a vast array of top-quality spirits that would make a fine addition to any at-home bar. In light of recent events, we've highlighted 10 brands worth checking out.
In the midst of the global Covid-19 pandemic, another pandemic has been rightly highlighted, one that has been a worldwide issue for hundreds of years: systematic racism. The issue of institutional racism was violently brought back into public consciousness following the death of African-American George Floyd, who died in police custody in May.
The anger at yet another Black life lost as the result of police brutality has amplified the 'Black Lives Matter' movement on a global scale not seen before, and reiterated the need to create an actively anti-racist society.
While we are not in a position to explain first-hand the multiple challenges that have affected the Black community for so long, what we can do is provide a global platform to support, elevate and highlight Black-owned spirits brands doing brilliant work across the industry.
The list of Black-owned spirits brands you will find on the following pages is by no means exhaustive – but a snapshot into some of the top-quality offerings out there.
We intend to continue creating a more diverse selection of articles going forward, and will create additional round-ups of brands and businesses owned by people of colour from here on in.
The Black Bourbon Society said it far better than we could in its open letter to the Bourbon and American whiskey industry: "As protests and demonstrations continue to happen across our world, it is safe to say that this is not just a moment; this is a movement. One that you must be part of."
Du Nord Craft Spirits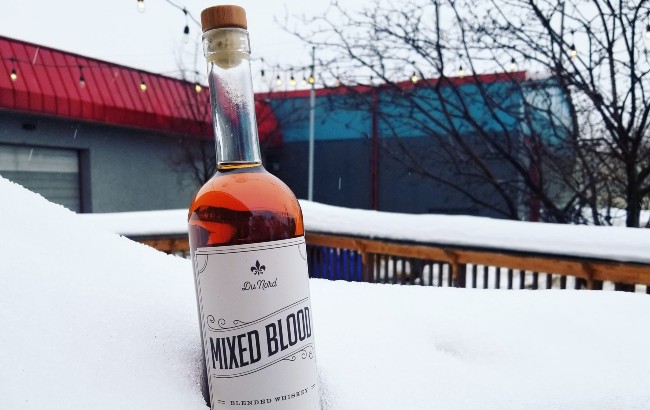 Founded in 2013, Du Nord Craft Spirits is owned by Chris Montana, former president of the American Craft Spirits Association, and his wife Shanelle Montana. The distillery, based in Minneapolis, US, creates a range of award-winning spirits including L'Etoile Du Nord Vodka, Fitzgerald Gin and Mixed Blood Blended Whiskey.
Du Nord Craft Spirits has partnered with Tattersall Distilling and Brother Justus Whiskey Company to form All Hand MN, a collaborative effort to create hand sanitiser for those in need during the Covid-19 pandemic.
At the end of May, Du Nord Craft Spirits' warehouse was "severely damaged" during the Minneapolis protests in response to the death of African-American George Floyd. A Go Fund Me Page was set up to raise money to help the distillery rebuild its warehouse, which was subject to several fires. Du Nord Craft Spirits in turn set up its own Go Fund Me Page to support others in the area, called the Du Nord Riot Recovery Fund. To date, the fund has raised US$549,220 of its US$1 million target. To donate to the fund, click here.
Uncle Nearest Whiskey
This American whiskey brand was inspired by the first known African-American master distiller, Nathan 'Nearest' Green. The brand is wholly owned by Uncle Nearest Inc, an all-minority-led company.
Uncle Nearest's portfolio comprises a wide assortment of age-statement whiskeys, including an 11-year-old single barrel expression and seven-year-old small batch bottling. Its whiskey is filtered through sugar maple charcoal, a process that was brought to Tennessee by enslaved people and a technique taught to Green.
Uncle Nearest opened its Nearest Green Distillery in Tennessee in September last year, which features the Welcome House, a tasting area with a custom-made horseshoe-shaped bar, and the Copper Skied Experience, which allows guests to watch the sun set from rocking chairs. The covered patio is also connected to Toppy's, a bar named after the CEO's own horse.
Last November, Uncle Nearest named Victoria Eady Butler master blender – thought to be the first African-American person to hold the title.
Bleu Vodka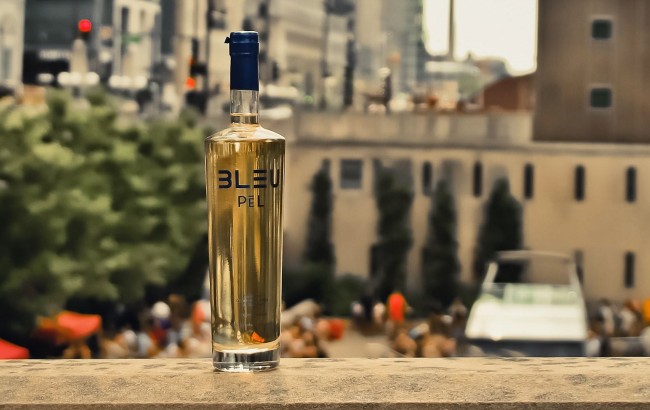 Founded by Alizbeth Jetter, her husband Britt Jetter and business partner Dr Tony Vanden Bush, infused fruit liqueur brand Bleu Vodka first hit shelves in 2016.
The range currently comprises two flavours: Bleu Original, a wild blueberry vodka liqueur, which is described as "a vibrant, delectable flavour explosion which tantalises the palate". Made from grain vodka and wild blueberries, it has an ABV of 30%.
The second expression in the collection is Bleu Pel Vodka Liqueur, said to deliver "a burst of citrus" on the palate. Made from grain vodka and citrus zest. Bleu Pel has been bottled at 30% ABV. The brand is currently available in select retail stores across Illinois and Iowa in the US.
Revel Spirits
Revel Spirits endeavours to push the boundaries of spirits and in 2018 the company created a new agave-based spirit category, called avila. Revel Avila is made from 100% Blue Weber agave grown in the Morelos region of Mexico.
Revel Spirits was founded by former music executives and colleagues Micah McFarlane and Jacqui Thompson, who teamed up with Susan Clausen and Héctor Ruiz to create the agave-based spirits. Supporting the local community and environment where Avila is made is at the core of Revel Spirits' ethos, and as well as making delicious spirits, the brand works to build infrastructure, create jobs, support entrepreneurs and help farmers provide for their families.
The award-winning Avila range comprises three expressions: Avila Blanco, Avila Reposado and Avila Añejo. Last month, This Is Us actor Justin Hartley acquired a minority stake in Revel Spirits.
Shadow Ridge Spirits Company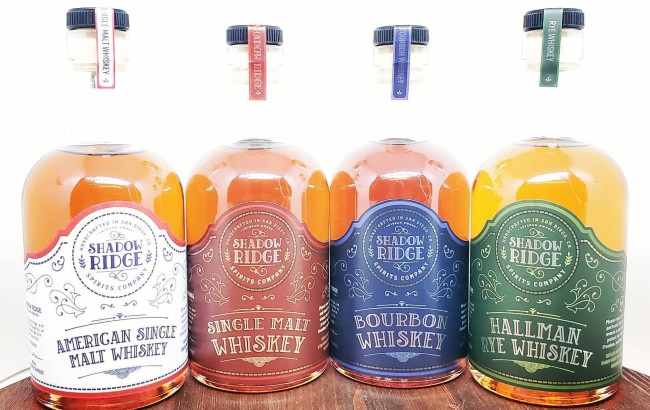 Former navy surface warfare officer Sean Hallman and his wife, Lisa Ireland, are the team behind Shadow Ridge Spirits Company. The distillery is a "part-time venture" for the couple – Ireland is a secondary school teacher and Hallman is a federal civilian employee for the Department of Navy – but they're evidently passionate about spirits.
Shadow Ridge specialises in small batch spirits, offering a selection of 100% grain-to-glass whiskeys aged in American white oak barrels, including Bourbon, rye, peated single malt and American single malt. They're said to have tasting notes of vanilla, caramel and cinnamon.
The brand has also created a selection of aged and white rums and is currently working on creating Shadow Ridge Spirits Gin. The range is available in 375ml bottles at the Oceanside Distillers Tasting Room, alcohol retailers and bars in California.
Victor George Spirits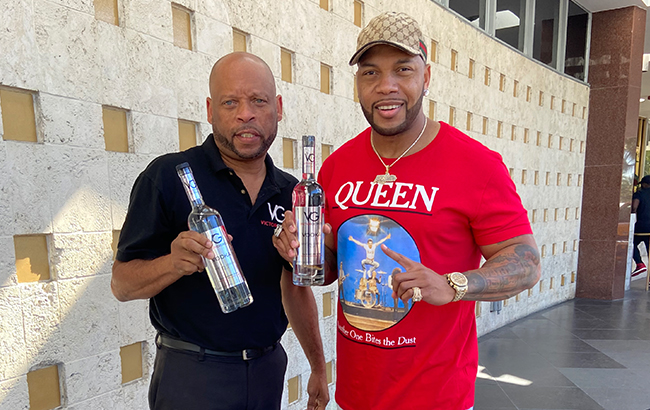 Victor George Harvey is the man behind the Victor George Spirits brand. The brand produces Victor George Vodka – but there are big plans brewing.
In January this year, American rapper Flo Rida (real name Tramar Dillard) became an equity partner of Victor George Spirits and will work with CEO Harvey to build a 13,000-square-foot distillery in Sistrunk Boulevard in Fort Lauderdale. At the time of announcement, the distillery had been scheduled to open in late 2020 or 2021. Once up and running, the site will house a cigar bar, wine bar, lounge and restaurant. The expansion will enable Victor George Spirits to grow its spirits portfolio to include whiskey, gin, Tequila and speciality liqueurs.
Victor George Vodka is described as "clean and smooth" and is made with "all-natural ingredients". It is made using a patented combination of filtration and oxidation methods that remove congeners and free radicals from the spirit.
Hidden Spirits Cocktails
RTD (ready-to-drink) fans should take a look at Hidden Spirits Cocktails, founded by Pam Davis, which offers a selection of three pre-mixed options.
The brand was launched in 2016, starting with Hidden Spirits Lemonade. The expression is said to offer the "sweet refreshing taste of freshly squeezed lemonade infused with premium Tequila".
Following the success of Lemonade, Hidden Spirits introduced two more flavours: Hidden Spirits Strawberry and Hidden Spirits Apple Spice. The collection is bottled between 19% and 21% ABV. For those who like to dabble in a bit of at-home mixology, Hidden Spirits has shared a selection of cocktail recipes on its website.
www.hiddenspiritscocktails.com
Mayine Gin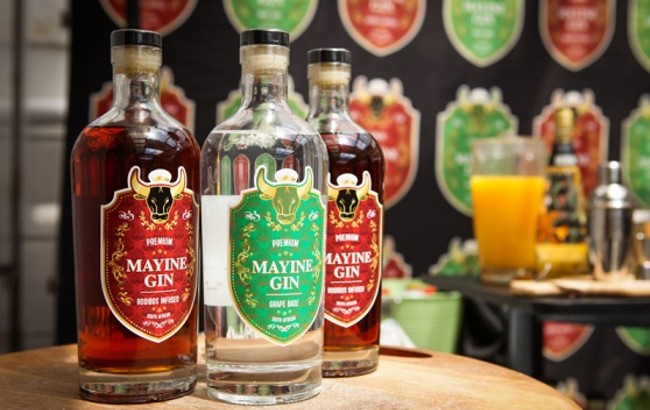 The phenomenal growth of the gin category is no secret – but Mayine Gin was truly ground-breaking when it launched. Founded by gin enthusiasts Luvuyo Jongile and Nodumo Jongile, Mayine Gin became the first Black-owned gin brand in Africa.
Mayine, which means 'let it rain', currently consists of two flavours: Grape Based and Rooibos Infused. Botanicals used in both expressions include classic ingredients such as juniper, angelica root, coriander, as well as buchu, a plant native to the lower mountains of western South Africa, and rooibos.
Mayine Grape Based is said to be "very smooth with a slight hint of jasmine and coriander on the palate. Light tones of buchu, rooibos and a hint of citrus can be picked up in the after taste." Meanwhile, Mayine Rooibos Infused Gin is described as offering "unique African flavours" thanks to the infusion of rooibos and honeybush botanicals, which are added post-distillation.
Brough Brothers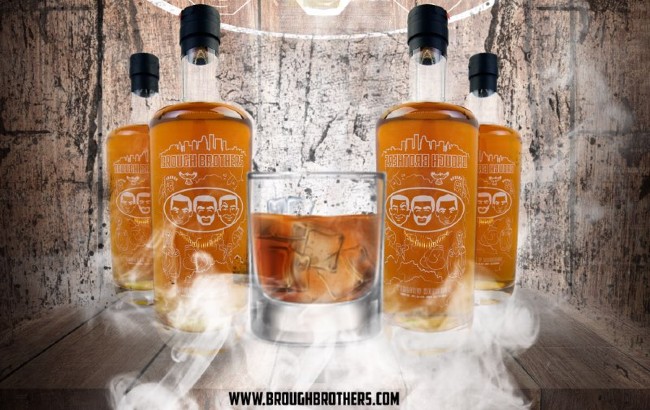 As the name suggests, Brough Brothers was founded by entrepreneurial siblings Victor, Chris and Bryson Yarbrough in Louisville, Kentucky, in the US. Inspired by time spent travelling the world, the brothers channelled what they had learned along the way and a desire to make a "positive and lasting impact on both our local and global communities" in the form of their very own Bourbon.
Launched in February this year, Brough Brothers Bourbon is described as having aromas of rose and nutmeg, leading to flavours of green apple, pear and hint of nutmeg on the palate. It has been bottled at 41% ABV and is now available to purchase on Master of Malt.
44° North Vodka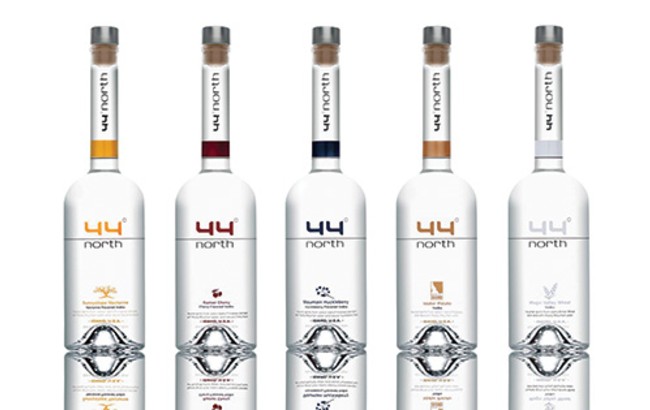 Founded by Ken Wyatt and Ron Zier, 44° North Vodka was designed to showcase Idaho agriculture and American craft distilling at its finest. The brand aims to create the "purest vodka possible" using 100% Idaho potatoes of Brundage winter wheat blended with Rocky Mountain Spring Water. The brand also has a selection of flavoured vodkas, which again use natural infusions such as Idaho Mountain huckleberries, Rainier cherries and Sunnyslope nectarines.
Proud of its Idaho roots, 44° North Vodka works to give back to the local community annually through sponsorships and donations of merchandise and products. Each year, the brand accepts solicitations for donations and sponsorships throughout January, and assesses which organisations will have the biggest impact on the community.
All 44° North Vodka expressions are available from numerous retailers across the US, including Astor Wines & Spirits in New York, Ace Spirits, Kessler Wines and Spirits, Bevmo and Drizly.