Top 10 award-winning Irish whiskeys
By Nicola Carruthers
The Irish whiskey category has witnessed phenomenal growth in recent years, boosted by premium offerings and innovation. We present some of the best award-winning expressions from our recent blind-tasting competition.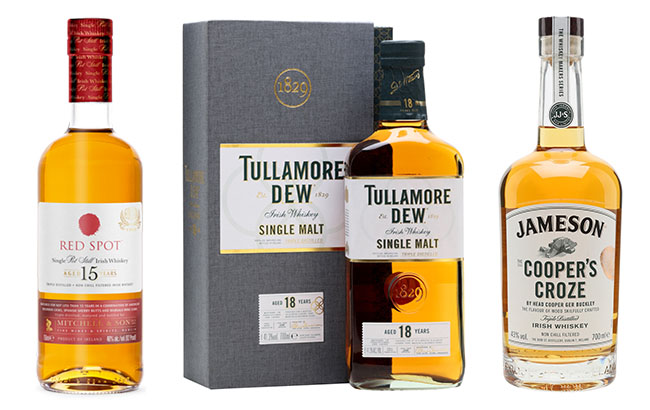 The Spirits Business held its annual Irish Whiskey Masters last month in a new format due to the Covid-19 crisis. Judges tasted the bottlings, which were packed and delivered anonymously by Wine Sorted, in their homes and discussed them via Skype to maintain physical distancing measures in the UK. The competition was judged by Melita Kiely, editor of The Spirits Business, and Karen Taylor, co‐founder of the Whisky for Everyone blog.
Looking across multiple categories, from blends to single pot still, a wide range of whiskeys were awarded the top accolades of Master and Gold medals for their quality and complexity.
The individual scores of each entrant have not been revealed, however these are 10 of the highest rated medallists in the competition, in no particular order.
While some expressions are more expensive than your average bottle, our judges have given each Irish whiskey listed here the seal of approval for offering excellent quality within their respective price categories.
Click through to the following pages to view the top 10 award-winning expressions from this year's Irish Whiskey Masters.
Teeling Small Batch
Price: £35 (US$45)
Teeling Whiskey Company's Small Batch was the only Master medallist in the Blended – Premium round.
One judge noted: "It was the palate that did it for me, the fuller mouthfeel, redcurrants, peaches. But I also got real levels of complexity, freshness of those berries and rich fruits, and chocolate and baking spice. There's some subtlety as well, and floral notes underneath coming through."
The 46% ABV expression is a blend of grain and malt whiskey aged for 12 months in ex-Bourbon barrels then finished in central American rum casks for an additional 12 months.
Redbreast Lustau Edition
Price: £45 (US$58)
Redbreast Lustau took home a Gold in the Single Pot Still – Premium round, lauded for its "rich and fruity" palate.
Initially matured for between nine and 12 years in a combination of ex-Bourbon and ex-oloroso Sherry casks, the liquid was vatted before undergoing a year-long finishing period in first-fill butts seasoned with oloroso Sherry.
Writers' Tears Mizunara Japanese Oak Cask Finish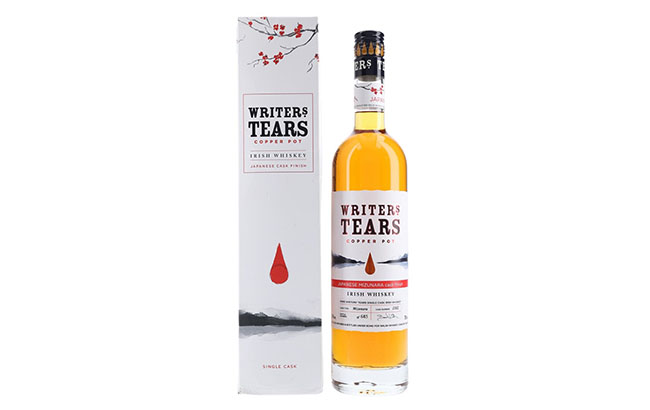 Price: €90 (US$106)
Winning a Gold medal in the Blended – Premium round was Walsh Whiskey Distillery's Writers' Tears Mizunara Japanese Oak Cask Finish.
The expression is a blend of single malt and single pot still whiskeys finished to a cask strength ABV of 55%. It was first aged in American oak Bourbon barrels before being finished for nine months in two "extremely rare" Japanese mizunara oak barrels.
Jameson Cooper's Croze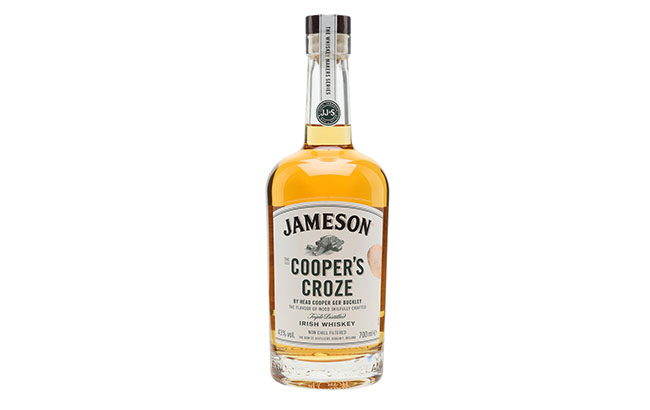 Price: £50 (US$65) 
Jameson Cooper's Croze took home a Master during the Blended – Ultra Premium flight, impressing judges with its flavours of "vanilla pods" and "orchard fruits".
The expression also secured the top title of Taste Master following a retaste of the Master medallists.
Cooper's Croze is part of the Whiskey Makers Series and celebrates the craft of Jameson's head cooper, Ger Buckley.
Grace O'Malley Rum Cask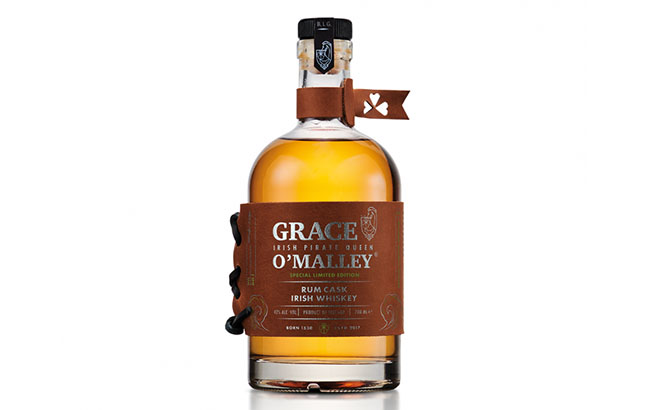 Price: €65 (US$77)
In the Blended – Super Premium flight, a Master was awarded to Grace O'Malley Rum Cask. The bottling is a blend of whiskeys aged for up to 10 years and finished in Caribbean rum casks.
"This was the whiskey I've been waiting for," said one judge. "It has classic Irish notes, but beautiful amounts of delicacy and a really clear, honest character. When you're tasting, you get this lovely progression; you get to explore the whiskey as it develops and evolves. It keeps giving you something more."
Midleton Barry Crockett Legacy
Price: £165 (US$216)
Irish Distillers' Midleton Barry Crockett Legacy won the judges' approval in the Single Pot Still – Ultra Premium flight, attracting a Master medal for its efforts.
Named after Midleton's former master distiller, it is aged in both Bourbon and new American oak barrels.
One member of the panel said: "It's got this lovely orange, maraschino juiciness to it. There's this level of woodiness, really tempered sweetness, dark chocolate, which evolves to some waxiness and then some marmalade. The thing for me was it kept giving me more and more."
Roe & Co
Price: £30 (US$39)
Diageo's Roe & Co Irish whiskey grabbed a Gold medal in the Blended – Standard category.
The UK drinks group announced its return to the Irish whiskey category in 2017 with the launch of the Roe & Co brand. Diageo exited Irish whiskey with the sale of Bushmills to Jose Cuervo's parent company in 2015.
Roe & Co combines hand-selected stocks of Irish malt and grain whiskies, aged in Bourbon casks. The brand pays homage to George Roe, who is credited with building the golden era of Irish whiskey in the 19th century.
Red Spot
Price: €115 (US$130)
Irish Distillers' Red Spot also secured a Master medal in a tasting of ultra-premium single pot still whiskeys.
In November 2018, Irish Distillers reintroduced Red Spot to its range of single pot still Irish whiskeys after a 50-year hiatus.
The reimagined Red Spot is a triple-distilled, single pot still Irish whiskey that has been matured for a minimum of 15 years in a combination of casks pre-seasoned with Bourbon, oloroso Sherry and Marsala fortified wine.
Five-year-old Bourbon cask-matured single pot still Irish whiskey was put into the Marsala wine casks from Italy in 2004. This liquid was then blended with ex-Bourbon cask and ex-Sherry cask whiskeys.
Pearse Founder's Choice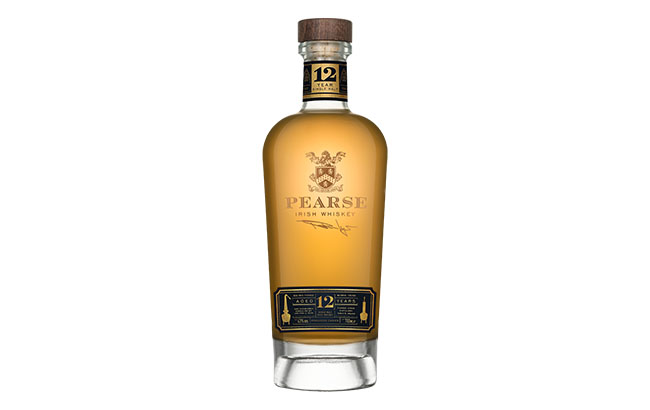 Price: €75 (US$98) 
Pearse Founder's Choice received a Gold medal for "orchard fruits" on the nose, leading to "fresh and bright citrus" on the palate.
The 12-year-old single malt was aged in ex-Bourbon barrels from Pearse Lyons' sister site, Town Branch Distillery, in Lexington, Kentucky.
Tullamore Dew 18 Years Old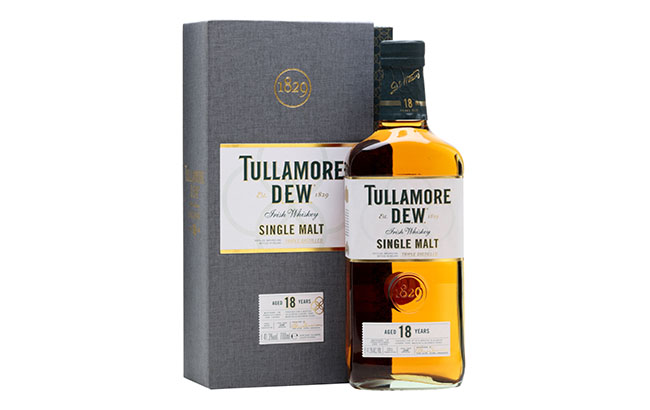 Price: £90 (US$118) 
Gold medallist Tullamore Dew 18 Years Old was hailed for its "lovely maltiness" on the nose and "soft fruit, some orange peel" on the palate.
The triple-distilled single malt whiskey was aged in ex-Bourbon casks for up to 18 years and then finished in four different cask types for six months, including old oloroso ex-Sherry butts, ex-Port pipes and ex-Madeira drums casks.