Aisha Tyler: Courage + Stone
While there has been a never-ending parade of famous stars putting their faces to spirits brands, actor and talk-show host Aisha Tyler lives and breathes her RTD label, Courage + Stone. She tells SB about her passion for cocktails and bold ambitions for the future.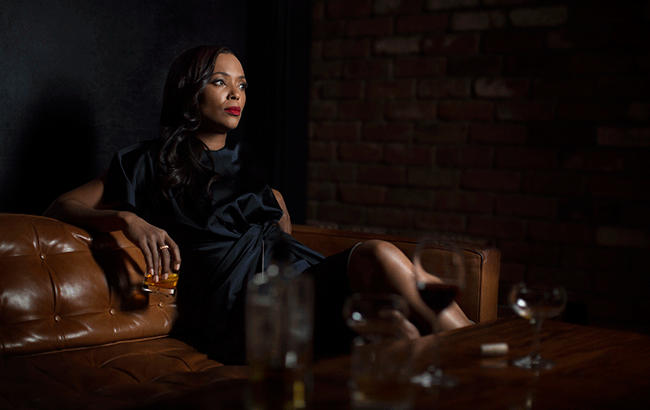 If you thought Courage + Stone was just another celebrity-endorsed brand, think again. From a stint working as a bartender through her university days, to discovering craft beers that piqued her interest in alcoholic beverages, ready-to-drink (RTD) cocktail brand Courage + Stone is a true passion project for Aisha Tyler.
"I've always been a bit of a foodie, and I was a home-brewer for most of my 20s," Tyler tells me as we chat over Zoom. "As an extension of that, I got into unusual beers. I think it was just a natural progression of me becoming more curious over time about more complex beverages."
Actor, TV host and director – there is no limit to Tyler's talents. Perhaps best known for her roles in Criminal Minds and Friends, along with many years of co-hosting talk show The Talk in the US, Tyler added another string to her bow at the start of this year – her own line of bottled cocktails. After six years of research, testing recipes and finding the "perfect business partner" in David Kanbar, one of the co-founders of Bulldog Gin, Tyler officially launched Courage + Stone in New York and California in January.
The idea was born out of Tyler's personal love of spirits and cocktails, and a lack of premium RTD offerings to satisfy her needs.
"In normal conditions, I'm on a plane maybe 40 out of 52 weeks of the year and so I would always be in a different city visiting all these bars and restaurants, and having all these really extraordinary experiences," Tyler explains. "Then I would get home and I would want to recreate those cocktail experiences in my home. I realised at the time I didn't really have a properly built out bar of my own with all of the different elements I'd need to make cocktails from scratch. I'd have certain bottles, but I wouldn't have the bitters or other bits you need."
Tyler started building up her bar collection and "realised it was really fun for me", she says. But she also noted how not everyone would have the resources, time or space to create a similar set-up.
"I'd come home from work and I'd want a great cocktail, but I didn't want to make a big mess in my kitchen," she explains. This led Tyler to start batch-making stirred, spirit-forward cocktails to store in her fridge, such as Negronis, Manhattans and Martinis.
"It was just a very natural progression of fulfilling my own experiential need and then thinking 'I'm sure other people would want this too'," Tyler adds. "Then I spent about two years from when I started thinking about it to when I partnered up with my business partner, just making drinks at home, going out and tasting things when I was travelling, thinking about it, making notes and really prototyping."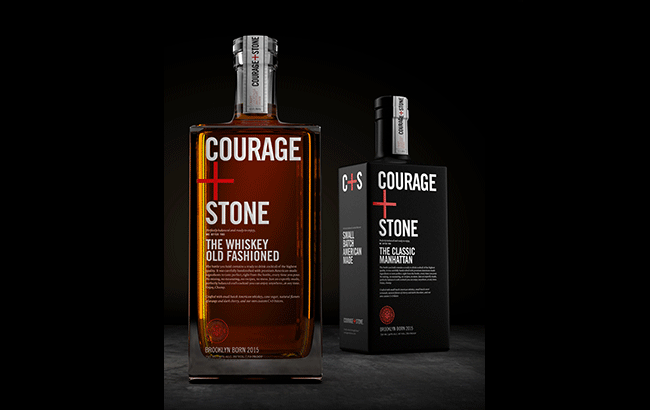 Extraordinary circumstances
Courage + Stone comprises two cocktails – Classic Old Fashioned and Classic Manhattan – which are made at Brooklyn-based New York Distilling Company in the US. The Classic Old Fashioned boasts notes or orange and dark cherry, while the Classic Manhattan has flavours of dark chocolate with a touch of cherry. Fine-tuning the recipes for each cocktail was a "really enjoyable" experience, Tyler says.
"It involved, to be frank – and I'm sure your readers will appreciate this – a fair amount of day drinking," Tyler laughs. "I was right in the middle of my research phase and I went to the old White Lyan by Ryan Chetiyawardana and just had the best time. I spent the whole afternoon there tasting their whole menu. It was very radical, that place. His stuff was so playful and wild, and it really opened my mind to what was possible in this space, and to see bartenders just excel with the flavours they're creating."
The brand's name was inspired by the phrase 'liquid courage'. But digging a little deeper into trademark rules, Tyler soon realised it wouldn't be possible to trademark a single word, such as 'courage'. "I wanted to pair it with something that sounded like it had historical provenance and strength – a name that could have been around a hundred years and wasn't trendy or ephemeral," she explains. With the approval of friends and family, Courage + Stone was born. "It calls to mind hard work and fundamental quality," Tyler adds.
After years of meticulous planning and a soft launch in 2019, Courage + Stone was finally ready for release. But just a few months after the official launch, the global Covid-19 pandemic struck.
"It's tough to launch any kind of business under these very extraordinary, singular conditions, really singular in my lifetime and in this century," Tyler says. "However, our product was serendipitously tailor-made for what's going on right now, which is people are able to get high-quality cocktails delivered to their home. People were really staying at home, and so we were able to fulfil a need and without it feeling leveraged or exploited – it was a way to connect with people in their homes because it was a product designed to be consumed at home, and we've done really well."
Also available in 40 US states through online shipping, the response to Courage + Stone has been phenomenal. Sales soared by 596% during the brand's second quarter compared with the first, and Tyler is confident the quality and premium feel of the brand has helped its launch exceed expectations.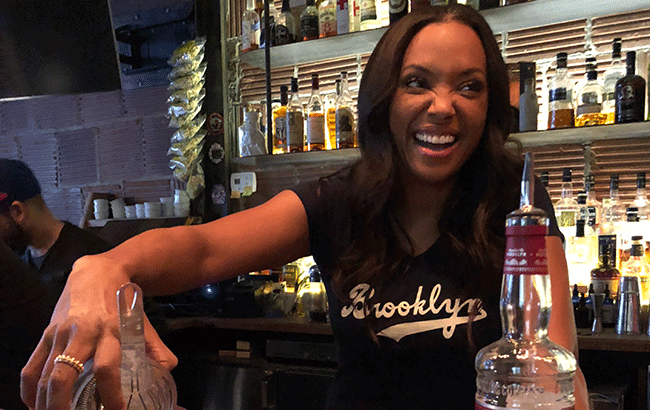 "People have a lot of curiosity about the craft cocktail space, and so much fascination about premium food and drink experiences, and recreating those experiences at home," Tyler notes. "What I remember when I was developing the idea is that this just feels like something that I would buy; it feels like a product I would want. I just think it was the right product at the right time."
Tyler speaks fondly of her experience as a bartender and the community that encompasses the on-trade. Every once in a while, she dusts off her shaker to bartend at special events, or for charity gigs – and has even got behind the stick at renowned New Orleans festival Tales of the Cocktail.
Amid the pandemic, Tyler felt compelled to support the industry through one of its most challenging eras. Lockdown measures in the US put in place to curb the spread of the virus saw bars up and down the country shuttered for months. In response, Tyler donated 30% of online sales of Courage + Stone to the United States Bartenders' Guild until 31 May.
Giving back
"In the United States, a lot of restaurants were able to pivot to delivery and pick-up, and still make a certain level of commerce," Tyler says. "But for bartenders, bars were closed and there was no real way for them to be able to stay open and so they were out of work for quite a bit of time. We just wanted to give back to a community that I spent so much time with when I was formulating this idea. I was in bars talking to bartenders, getting their opinions, getting their feedback, so I really wanted to make sure that we were giving them our support."
Charitable giving is immensely important to Tyler. As lockdown kicked in, she took to social media to host online happy hours to connect with fans and "drive focus on different charities". What started as a three or four-week initiative proved to be so popular that Tyler continued the project for three months. The weekly sessions involved Tyler choosing a cocktail, such as the Bee's Knees or a Boulevardier, to mix with viewers during the live stream, while highlighting a particular charity and then making a donation at the end of the session.
"They were really enjoyable, incredibly positive," she recalls. "It was a way to connect with people, to deal with a universal feeling of helplessness that we were all feeling, which was we were stuck at home, these terrible things are happening and I don't know what I can do, I don't even know where to start. So a big part of it for me was really finding and vetting a charity I knew was doing really good work and had a high rating on [charity-assessment organisation] Charity Navigator so people would know if they did donate money it was going to be used properly, and then amplifying their work."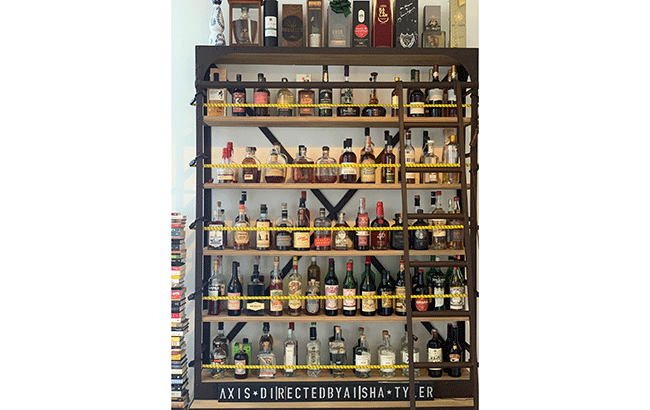 One of the live streams Tyler hosted focused on Black Lives Matter. It was important for Tyler to highlight to her viewers how commonplace systematic racism is across all areas of society, though many people may not realise it.
"When I did the live stream around Black Lives Matter, I talked about the fact that Jack Daniel's is a very famous whiskey, not just in the United States, but internationally," Tyler explains.
"But Jack Daniel learned how to make whiskey from a Black man, a man named Nathan 'Nearest' Green and he was a slave, and he taught Jack Daniel how to distil, and that became one of the best-known whiskey brands in the world. And nobody knew that the first master distiller of Jack Daniel's was Black – that was whitewashed from their history completely."
Tyler says it's difficult for her to comment on racial inequality in the spirits world as she has been able to "enjoy a sense of legitimacy" as a new businesswoman in industry because "I have this notoriety that when I walk into a room, people recognise me from TV". But she adds: "I think everybody in this business would agree there aren't enough people of colour in the spirits industry and also that our history has effectively been white washed, and in learning about it, that's been really important to me to talk about that stuff."
Tyler believes there is work to be done to create an industry that is "more welcoming for people of colour", both from a business perspective and consumer standpoint.
"I think a lot of people are like 'oh, you're a spokesperson'," she explains. "No, this is my company, I created it, these are my products, these are my formulations and they came out of a real passion and a real enthusiasm for this space." She also notes a "wholly incorrect perception" that Black people don't drink premium spirits – but things are changing, she adds.
"These people have always been there, but there's now a community of people of colour in distilling and brewing that are out there being more forward, being the face of this space and encouraging people to support those businesses, and encouraging people to get into this business and to just make the business more diverse," Tyler says.
"Like a lot of other industries, it's been dominated by white men for a long time. That's changing now, and there are very
few women in it as well, so as a woman of colour, I think it's really important for me to be the face of the company and to be really active and connected with it, and talking about it at length."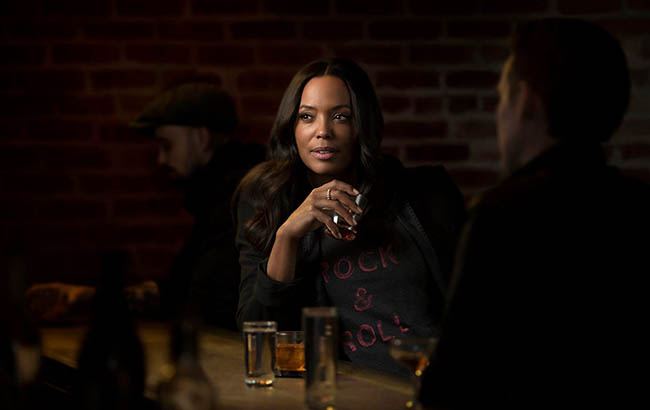 Tyler is already busy planning the launch of a third expression to join the Courage + Stone line up – a Gin Old Fashioned. "It's funny because when I was doing all my enthusiastic research I was drinking at a bar in Vancouver and I had a gin Old Fashioned and I flipped out, I thought it was the most delicious thing," she recalls excitedly.
Her interest having been heightened once again, Tyler started researching the Old Fashioned cocktail and discovered that the recipe doesn't specifically call for a particular brown spirit, but a spirit, a sweetener and bitters.
"I feel like for people who don't drink brown spirits or they're relatively new to brown spirits, this is a brighter, more summery take on that cocktail," Tyler explains. "We've been in formulation on that one for a little while and we've just locked the formula, so that's exciting." If all goes to plan, the cocktail will be on sale by the end of the year.
Export plans
For those not living in the US, Tyler hopes it won't be too long a wait until Courage + Stone is available to enjoy overseas. Canada and Australia are two markets Tyler is keen to expand to, given their burgeoning RTD scenes, as well as Europe.
Once the legalities of shipping internationally have been ironed out by Tyler and her team, "we're absolutely going to be expanding internationally", she insists.
Before then, Tyler hopes Courage + Stone will be in bars and additional brick-and-mortar stores by the start of 2021, building on the brand's existing presence in New York and California, including Bottles and Cases in Long Island, and K&L and Bottles Farm in LA. Then, international ambitions can be put into action. With that, she hopes, will come an opportunity to travel, host activations and meet both trade and consumers who have been drawn to the brand. "We definitely want to expand into hospitality," she insists, noticing a space for premium RTDs in hotel minibars, for example.
"After that, I don't know," Tyler continues. "It's been my baby for so long. It's really exciting to see people responding to it in the way they are, getting to talk about the product and talk about how it came to be, and talking about expanding in the spirits business but also expanding the people who want to be part of it.
"Hopefully, in my own small way I can bring in more women, more people of colour into this business and lead by example. I think that would be a really great thing to be able to do." And who can argue with that?