Top 10 best-selling spirits brands
By Nicola Carruthers
There were few changes among the world's biggest-selling spirits, however one newcomer stormed in with impressive volume growth. Here, we name the brands that sold the most cases in 2019.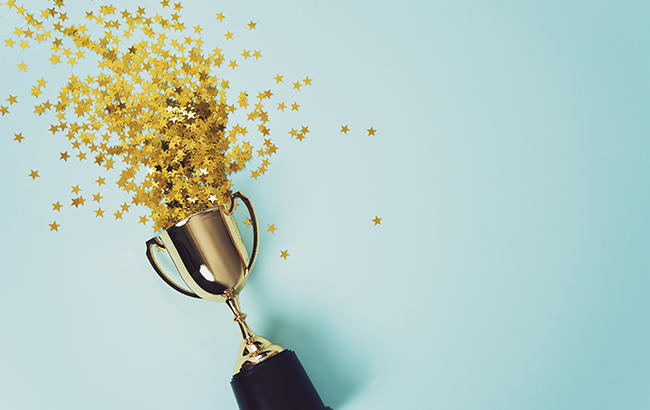 Total spirits volumes were flat, slipping slightly by 0.4% in 2019, according to figures from Euromonitor.
Indian whisky was a dominant force on our list of the world's biggest-selling spirits, occupying four spots on our rundown. There was also a newcomer to the top 10, a ready-to-drink brand that posted a near-300% growth increase during the last year.
The majority of the brands on our list were in growth in 2019, apart from three. The world's biggest‐selling brandy, Emperador, did not supply figures for this year's Brand Champions report, after selling 25.3m cases in 2018.
Following our recently published Brand Champions 2020 report – an analysis of the spirits brands selling more than one-million cases annually – we run through the world's best-selling spirits brands on the market today.
Read on over the following pages to discover the 10 best-selling spirits brands in the world according to their nine-litre case sales per calendar year.
Data is listed to one decimal place for ease of reading, but the percentage changes are based on the full data supplied to The Brand Champions 2020.
10. Bacardi
2019: 17.6m
2018: 17.1m
% change: 2.9%
Place last year: 10
Grabbing the title of Rum Brand Champion 2020 for the second year in a row is Bacardi, which grew by 3.9% to 17.8m cases. The brand remains the 10th biggest-selling spirit brand in the world and is one of two rums on our countdown of million-case sellers.
Ned Duggan, the firm's global senior vice president, said growth was boosted by the brand's evolving marketing strategy and its "innovations in the flavoured and premium rum segments".
During 2019, the brand launched a number of new products including a coconut‐flavoured variant, a spiced bottling and a lime flavour.
Bacardi also unveiled its Pass the Beat campaign in June last year with the release of the Make it Hot track by Major Lazer and Anitta. 
9. Johnnie Walker
2019: 18.4m
2018: 18.9m
% change: -2.8%
Place last year: 9
The only Scotch brand on our top 10 list was Diageo's blended whisky brand Johnnie Walker. However, the brand reversed its growth to report declining volumes in 2019, dropping 2.8% to 18.4m cases.
In Diageo's preliminary results for the year ending 29 June 2019, Scotch growth was driven by Johnnie Walker, which delivered a strong performance. The blended Scotch brand reported a net sales growth of 7%, benefitting from the successful launch of White Walker by Johnnie Walker, which was inspired by hit HBO show Game of Thrones.
In July last year, the brand "ramped up" it focus on Highballs with a new global campaign that aimed to make Scotch and soda "the next big drinks trend".
Johnnie Walker also released the third blend in its limited edition Ghost and Rare series, made using stocks from the closed Highland distillery Glenury Royal.
8. Tanduay
2019: 20.5m
2018: 20.1m
% change: 2.0%
Place last year: 8
The world's biggest-selling rum brand, Tanduay, has maintained its eighth place on our list. The brand rose its sales by 2% to 20.5m cases and reported five consecutive years of growth.
The Philippine rum brand continued to create an even bigger gap between it and competitor Bacardi.
7. Royal Stag
2019: 22.0m
2018: 21.6m
% change: 2.1%
Place last year: 7
Pernod Ricard's Royal Stag brand also witnessed five years of continued growth after reporting a small 2.1% increase to reach 22.0m cases.
French firm Pernod Ricard also owns the Blenders Pride and Imperial Blue Indian whisky brands.
Royal Stag is one of four Indian whiskies to make the top 10 list of the world's biggest-selling spirits.
6. Smirnoff
2019: 25.6m
2018: 26.0m
% change: -1.3%
Place last year: 4
Diageo-owned Smirnoff dropped down two places on our top list to become the sixth biggest-selling spirit brand in the world. The only vodka brand on our list saw its volumes dip by 1.3% to 25.6m cases.
The brand celebrated its 155th anniversary last year and marked the milestone occasion with a new campaign in partnership with the director of Snow White and the Huntsman. The brand also took note of the growing health-conscious movement sweeping the globe with the launch of Smirnoff Zero Sugar Infusions last May, a range of no-sugar, lower-ABV expressions.
5. Imperial Blue
2019: 26.3m
2018: 22.7m
% change: 16.0%
Place last year: 6
Moving up one place on our best-selling list was Pernod Ricard's Indian whisky brand Imperial Blue. The brand had a good year in 2019, growing volumes by 16% to 26.3m cases.
The brand has witnessed five years of consistent year-on-year growth. This year could see the brand reach 30m cases if it continues at this growth rate.
4. White Claw Hard Seltzer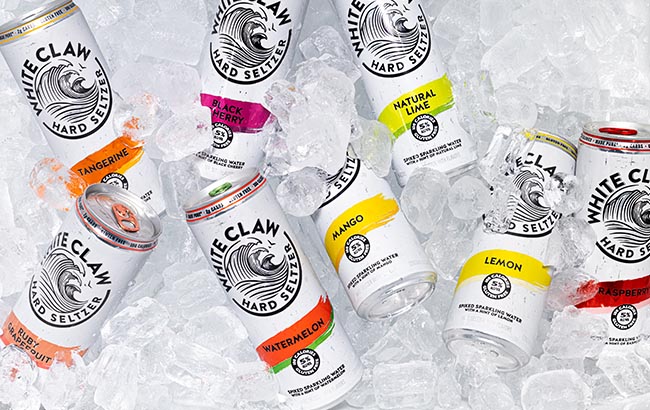 2019: 27.5m
2018: 6.9m
% change: 298.0%
Place last year: New entry
A new entry to this year's list, Mark Anthony Brands' White Claw Hard Seltzer took the third place spot and is the only ready-to-drink (RTD) product among our top 10.
White Claw started at 0.4m cases in 2016, but grew volumes to 27.5m in 2019 – a 298% increase on the previous year (6.9m cases). White Claw's enormous growth led to it being named the fastest-growing brand in our 2020 Brand Champions report.
Boosted by hard seltzers, the RTD category was the fastest-growing alcohol segment in 2019, according to the IWSR Drinks Market Analysis.
The hard seltzer, alcoholic sparkling water, category is a relatively new phenomenon, but one that is already valued at US$2.5 billion. In terms of volume consumption, hard seltzers is bigger than the vodka category in the US, the IWSR said.
3. Officer's Choice Whisky
2019: 30.6m
2018: 34.0m
% change: -10.0%
Place last year: 2
It was an unfortunate year for Officer's Choice, which slipped from the top spot as the world's biggest-selling Indian whisky. The brand dropped by 10% to below the 30m-case threshold for the first time in five years.
Produced by Allied Blenders & Distillers, the brand was 5m cases ahead of competitor McDowell's No.1 Whisky in 2018.
2. McDowell's No.1 Whisky
2019: 30.7m
2018: 29.0m
% change: 6.0%
Place last year: 3 
McDowell's No.1 Whisky inched past Officer's Choice to become the second biggest-selling spirit in the world and the top-selling Indian whisky.
The brand's 6% volume growth helped it overtake Officer's Choice, which dropped by double digits in 2019. McDowell's No.1 is owned by Diageo's Indian arm, United Spirits.
During the final six months of 2019, Diageo's net sales in India increased 2%. The firm's 'prestige-and-above' segment in the market rose by 5%. The growth was led by a "solid performance" from Indian whisky McDowell's No.1, which was "enhanced by the continued success" of its Platinum range.
1. Jinro
2019: 86.3m
2018: 78.0m
% change: 10.6%
Place last year: 1
Jinro soju retains the title of the world's best-selling spirit brand, growing by a healthy 10.6% to 86.3m cases. The only local spirit brand on our top 10 list, Jinro, has reported no declines in five years.
In 2019, the soju sold nearly three times the volume of cases than its nearest competitors, Indian whisky brands McDowell's No.1 Whisky (30.7m) and Officer's Choice (30.6m).
The brand could surpass the 90m-case mark in 2020.