Pernod Ricard to 'invest heavily' in gin
By Nicola Carruthers
French firm Pernod Ricard will "invest heavily" behind its recently acquired super-premium-and-above gins and will continue to look for brands that "are aligned to consumer trends", the managing director of The Gin Hub has said.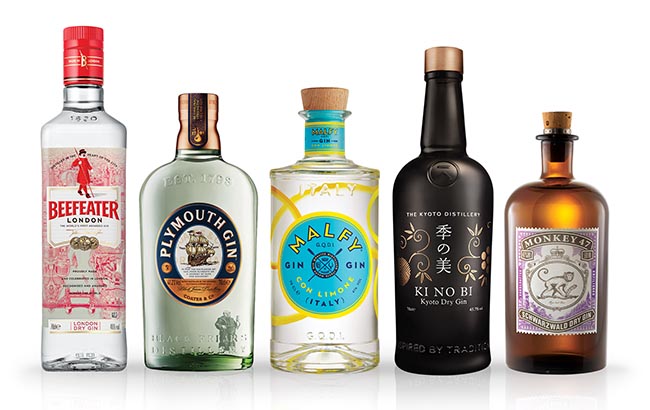 Pernod Ricard's portfolio of gins sits under its standalone business, The Gin Hub. The Gin Hub's portfolio of brands includes new additions Malfy and Ki No Bi, along with Beefeater, Plymouth and Monkey 47.
In terms of the firm's strategy for gin, Louise Ryan, managing director of The Gin Hub, told The Spirits Business last month that Pernod Ricard will look for brands that "complement the existing portfolio" and are "aligned to consumer trends for key markets for gin across the world". She added the brands must be "unique and can't be easily copied or imitated by others".
"In line with Transform and Accelerate, we will always continue to manage our portfolio of brands," she said. "In terms of M&A, we'll evaluate opportunities as and when they rise. We've got a bit of work to do to unlock the next phase of growth on Malfy, Ki No Bi and Monkey 47."
Ryan said the gin category has been "remarkably resilient" during the Covid-19 pandemic. She said: "If you look at the US it's been among the top three fastest-growing in the off-trade since Covid emerged. A new normal will emerge and gin will be very much a part of that. What's driven gin is the fact that it's gender-neutral."
Ryan noted the category "is still very, very small – low single digits in total share of spirits. There is a lot of head growth in gin as a category, that's why we chose to invest behind it".
Ryan believes the group has the "perfect lineup" of gin brands, which all play "distinct roles".
She said: "Beefeater is still our anchor brand in premium, made in London and Plymouth is our original craft brand. Now we've got a super portfolio of brands that can compete in all price bands and on flavour. The future is very bright for our portfolio. Our growth has been accelerating over the last 12 months."
The group's biggest gin brand, Beefeater, enjoyed double‐digit growth last year. Beefeater grew volumes to 3.4 million nine‐litre cases in 2019, according to Brand Champions data.
Acquisition spree
The past year has seen French firm Pernod Ricard invest in a number of super‐premium and ultra‐premium gin brands.
In June 2019, the group acquired Italian super‐premium gin Malfy from New York's Biggar & Leith. Then in March 2020, the firm made a "significant investment" in Japan's Kyoto Distillery, the producer of ultra‐premium gin Ki No Bi, followed by the buyout of ultra‐premium German brand Monkey 47.
The group's initial purchase of a majority stake in Monkey 47 in 2016 filled a gap in Pernod Ricard's portfolio for an ultra‐premium gin, according to Ryan. The acquisitions are part of the French company's Transform and Accelerate plan.
"We knew we needed to transform our portfolio of brands if we were going to accelerate in premium‐plus gin," Ryan explained. "One brand could only take us so far so it would make sense if we had a portfolio."
Ryan said Malfy came under the group's radar because it was "already very well established in 20 markets, had a super‐premium price point and very good geographical distribution". The brand also taps into the flavoured gin boom. Ryan said the firm has some "exciting marketing initiatives planned" for Malfy.
Meanwhile, Ryan said the investment behind Kyoto Distillery was due to Ki No Bi being a "pioneer in Japanese gin and it was doing incredibly well in the world's best bars".
Pernod Ricard will also build a "state‐of‐the‐art" distillery in the heart of Kyoto for the Ki No Bi producer, and is on the hunt for the right site. "We have plenty of capacity in the short term," Ryan added. "It's a work in progress".
Marcin Miller, co‐founder of Kyoto Distillery, Japan's first dedicated gin distillery, said the current site is "small and relatively cramped". Miller hopes to build a "destination distillery specifically designed to accommodate 'konwa' – the attainment of harmony through blending – which is the name we gave the proprietary production process we use for Ki No Bi".
There is no date set for the opening of the new distillery, Miller said, "but the time frame is two to three years from now".