Foxhole Spirits creates botanical rum
By Nicola Carruthers
English producer Foxhole Spirits has moved into rum with the launch of a botanical bottling, called Mad City.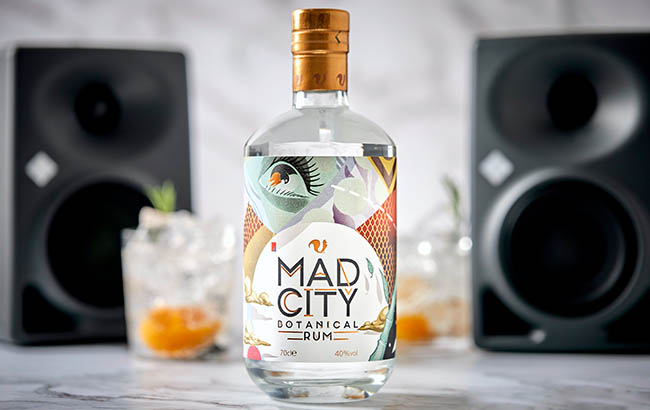 Mad City Botanical Rum is the third product in Foxhole Spirits' portfolio, following the launch of Foxhole Gin and Hyke Gin.
The new premium white rum is a blend of four Fairtrade-certified rums from Jamaica, Guyana, Dominican Republic and Barbados.
The rum's recipe also includes 25 botanicals, which have been sustainability sourced where possible, including coffee, coconut, papaya, cherry and hibiscus tea.
James Oag-Cooper, co-founder and managing director of Foxhole Spirits, said: "Our goal has always been to prove that using sustainably-sourced, surplus materials can create spirits better than those that use grown for, single-purpose materials. With Mad City we've been able to apply our skill working with botanicals to rum and demonstrate expertise in a different category.
"We believe that the style of Mad City, with no sugar added post distillation, puts it in a category all of its own. The result is fine and balanced, absolutely delicious, and thoroughly satisfying to drink. This isn't a flavoured rum, or a spiced rum. It's Mad City."
The resulting liquid is described as "vibrant and complex" with notes of soft mocha, citrus and tropical fruits on the palate.
The bottle's label has been designed by Bristol-based urban artist, Sled-One. The Art Deco-themed artwork is inspired by two areas in the English city of Bristol, Stoke's Croft and St Paul's.
The launch of Mad City will be supported by a digital marketing campaign focussed on the product's signature serves.
Bottled at 40% ABV, Mad City Botanical Rum is priced at £29 (US$36.40) per 700ml bottle. It is available to pre-order on Foxhole Spirits' website ahead of its launch on 23 July.
The past year has seen the launch of a number of botanical rums. In August, a distillery in the Netherlands launched what it claims is the world's first botanical white rum. Brewdog Distilling also launched Five Hundred Cuts Botanical Rum in October last year, followed by a Distiller's Cut edition.