Tequila Brand Champion 2020: Don Julio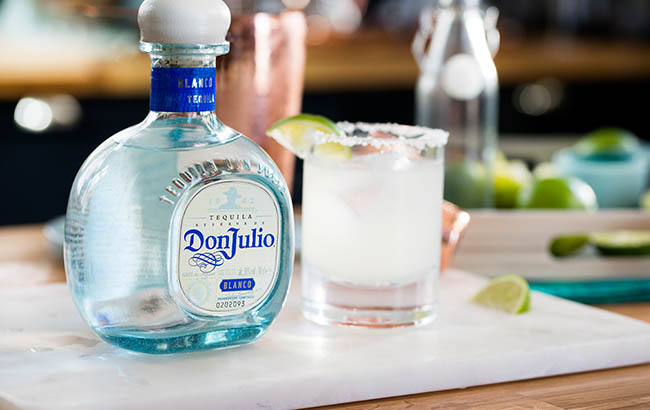 As high‐profile stars including Dwayne 'The Rock' Johnson and Bryan Cranston became the latest famous faces to enter the agave spirits world, rising global sales of Tequila and mezcal show the spirits remain hugely popular among consumers and trade alike.
According to figures from Euromonitor, global volume sales of Tequila and mezcal rose by 6.6% in 2019, a positive performance reflected in the million‐case‐selling brands as all but one posted growth for 2019. However, after registering a sales increase of 14.5% to reach 1.7m nine‐litre cases, it was Diageo‐owned Don Julio that was awarded the title of this year's Tequila Brand Champion.
"Don Julio is sold in over 40 countries, and is growing rapidly," says Monica Michel, global Tequila and Don Julio brand director. "It is a brand that has maintained the same process and quality since it was created by Don Julio Gonzalez over 70 years ago, integrating sustainability within our business, while redefining and perfecting the process that has transformed the Tequila category."
Since passing the million‐case‐selling mark, Don Julio has shown strong growth in the increasingly competitive category. Recent innovations, such as the brand's Lagavulin‐finished release in 2019, show that the Don Julio is eager to push the category forward, which has helped fuel its growth.
According to Diageo, the brand's volume growth in 2019 was also fuelled by increased brand awareness and a focus on authenticity. "Don Julio continued its social and digital media investment to drive awareness and strengthen its authenticity positioning," explains Michel.
The US and Mexico are core markets for the premium Tequila brand and, as Diageo eyes further growth for Don Julio, Michel says sharing the ethos of the brand with consumers will be key to attracting new drinkers to Don Julio.
She says: "Consumers are looking for strong and honest brands with meaning that care and contribute to their communities, consumers and the environment. Those values have been at the heart of Don Julio since the very beginning and will continue to be true to our values in the future."
Across the other top‐selling Tequila brands, Becle‐owned Jose Cuervo posted sales growth of 9% to retain its place as the top‐selling Tequila. Meanwhile, an 11.6% growth for Bacardi‐owned Patrón saw it climb the ranks and become the second‐best‐selling brand in this year's report.
The only Tequila brand to decline in this year's list was Beam Suntory's Sauza Tequila, which saw its sales decrease by 17% to 2.2m nine‐litre cases.
*The Brand Champions data is listed to one decimal place for ease of reading, but the percentage changes are based on the full data supplied. All brand data is supplied in millions of nine-­litre cases.
Tequila (figures: million 9l case sales)
BRAND
OWNER
2015
2016
2017
2018
2019
%+/-
Jose Cuervo
Becle
N/A
N/A
6.7
6.7
7.3
9.0%
Patrón
Bacardi
2.2
2.5
2.6
2.5
2.8
11.6%
Sauza
Beam Suntory
2.9
2.8
2.8
2.7
2.2
-17.0%
Don Julio
Diageo
0.9
1.0
1.3
1.5
1.7
14.5%
El Jimador
Brown‐Forman
1.1
1.2
1.2
1.3
1.4
6.0%
Hornitos
Beam Suntory
0.8
1.0
1.1
1.3
1.3
6.4%