Oxford Artisan Distillery gains organic certification
By Melita Kiely
The Oxford Artisan Distillery has relaunched two of its core spirits after being certified organic: Oxford Rye Organic Vodka and Oxford Rye Organic Dry Gin.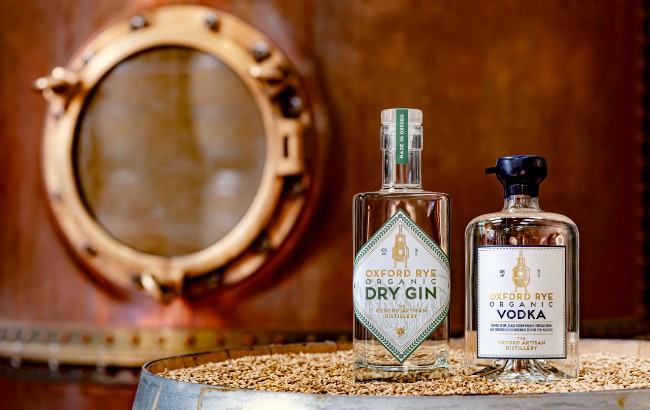 The Oxford Artisan Distillery has been certified organic, thought to be the first grain-to-glass distillery in the UK to receive the certification.
The most recent figures from HMRC at the end of 2019 showed there were 441 distilleries in the UK. Out of these, The Oxford Artisan Distillery was the only distillery cultivating, distilling and bottling its own organic heritage grains, the producer said.
The distillery has been working on achieving the certification with the help of archaeo-botanist John Letts, who has spent his career researching and resurrecting ancient polycultures of grain, growing genetically diverse fields, with zero use of herbicides, pesticides, fungicides or fertilisers.
According to The Oxford Artisan Distillery, it is the only distillery in the world using these heritage grains, which are all sustainably grown on organic farms within a 50-mile radius of the site.
Tagore Ramoutar, co-founder and managing director, said: "From the beginning, we knew we wanted to produce the finest spirits using organic, local grain. We wanted to have total seed-to-still provenance to produce organic spirits that not only taste incredible but are kind to the environment.
"Our goal from the outset has always been to be mindful of our ecosystem; to adopt an approach that supports the biodiversity in nature to make great tasting spirits. Every part of our landrace sustains agro-ecosystem – from microorganisms in the soil to insects buzzing and birds flying."
Gin and vodka relaunch
As a result of the organic certification, The Oxford Artisan Distillery has relaunched two of its core spirits: Oxford Rye Organic Vodka and Oxford Rye Organic Dry Gin.
The vodka (40% ABV) remains the same as before with the exception of its name, however the gin's recipe has been altered slightly and bottled at a lower ABV of 43% compared to the previous 46%.
Cory Mason, co-founder and master distiller, said: "Since [the] launch, our gin recipe has slowly evolved whilst retaining its key characteristics. Our 100% organic rye has allowed us to distil a slightly more delicate spirit whilst allowing the botanicals to shine through and retaining our traditional gin flavour.
"We still use the same 12 botanicals but the ratios have evolved to ensure it retains the distinctive bold taste as a juniper-forward gin with bright layers of citrus."
Oxford Rye Organic Vodka has an RRP of £34.95 (US$44) per 700ml bottle, while Oxford Rye Organic Gin is priced at RRP £39.50 (US$50) per 700ml bottle.