Monkey 47 marks 10 years with empty bottles
By Melita Kiely
Pernod Ricard is celebrating 10 years of Monkey 47 with the launch of six anniversary bottles to raise money for endangered primates – but they won't be filled with gin.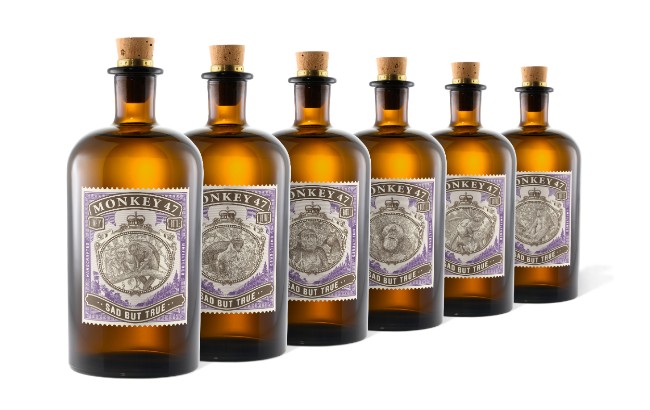 The launch is part of Monkey 47's new campaign, Sad but True, designed to raise awareness of how deforestation and poaching are affecting the world's primate population. As part of the campaign, Monkey 47 made a "significant" donation to the World Wide Fund (WWF) for Nature in Germany.
The anniversary bottles of Monkey 47 will not contain any gin, but all profits will be donated to other primate protection programmes around the world. The bottles will be priced at €25 (US$28) each.
Each bottle will be adorned with one of six primates facing extinction: Milton's titi, roloway monkey, western gorilla, Bornean orangutan, golden lion tamarin and proboscis monkey.
Alexander Stein, founder of Monkey 47, said: "There's never a bad time to do something good and what better time than our 10-year anniversary.
"A saying at the Black Forest Distillery goes that every bottle winds up empty at some point. So, we thought, why not sell them that way for a good cause? A rather unconventional idea was born."
The campaign went live on Friday 29 May, marking the week Stein sold his first bottle of Monkey 47 10 years ago. The bottles are available to purchase from monkeykiosk.com.
Pernod Ricard acquired the remaining stake in ultra-premium gin Monkey 47 in March this year for an undisclosed sum.
Louise Ryan, managing director of Pernod Ricard's The Gin Hub, said: "For the last 10 years, the Black Forest Distillery has never been afraid to break the rules and has grown from a small craft brand into a worldwide global success, whilst retaining its small-batch, craft identity.
"Could I ever have imagined launching a gin without the liquid? No, but this is a great way to raise awareness of this sad, but true, issue in a truly Monkey 47 way."