Hernö Gin addresses pink 'marketing gimmick'
By Nicola Carruthers
Swedish brand Hernö Gin has unveiled a London Dry expression, made with rose petals and strawberries, in a bid to highlight pink bottlings as a "marketing gimmick".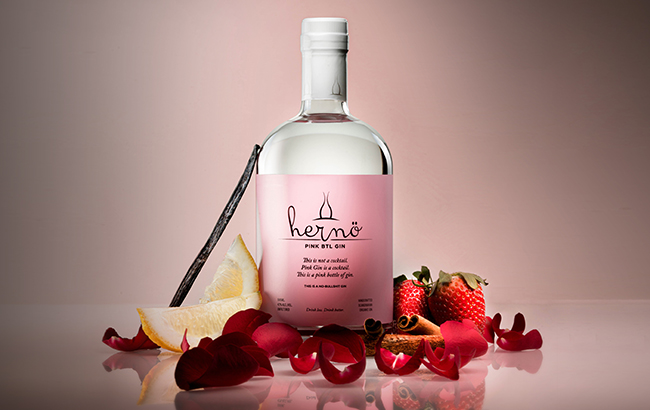 Launching tomorrow (8 April), Hernö Pink Btl Gin is described as a "pink bottle of real gin" as 'pink gin' does not exist as a product according to European alcohol rules, the Swedish distiller said.
Hernö said 'pink gin' is a classic cocktail created with gin and Angostura Bitters. As such, the launch of the new expression "is a statement to clarify the regulations and stay true to the tradition of gin".
The distiller also said that despite the absence of pink gin according to regulations, there have been many pink spirits launches marketed as gin.
"In many cases the predominant flavour is everything but juniper," Hernö said. "In many cases we're talking about pink, heavily-sweetened spirits missing the tradition and falling outside of the regulations of gin, aiming to tempt more consumers to drink more."
Jon Hillgren, founder and master distiller at Hernö Gin, said: "To use a marketing gimmick such as a pink colour to tempt more consumers, often younger people, to increase their alcohol consumption is not responsible as a producer. Furthermore, to dilute the concept of gin by breaking existing regulations will also harm the segment in long terms."
Hillgren added that "there is nothing about this [pink] phenomenon that is developing our business" and hopes to help people understand that the colour used to make these bottlings has no flavour.
The new Hernö Pink Btl Gin is said to contain more juniper than any of the brand's other products. The addition of rose and strawberries creates a "floral and more fruity gin". It is also made with organic botanicals, such as coriander seeds, cassia bark, black pepper, vanilla and fresh lemon peels.
After distillation, the only added ingredient is water from Hernö's own well to reach the desired strength of 42% ABV.
Hernö Pink Btl Gin is priced at £32.99 (US$40).