GlenAllachie debuts new Wood Finish whiskies
Speyside distillery GlenAllachie has launched the second batch of whiskies in its Wood Finish range and will mark the occasion with a live tasting, led by master distiller Billy Walker, next month.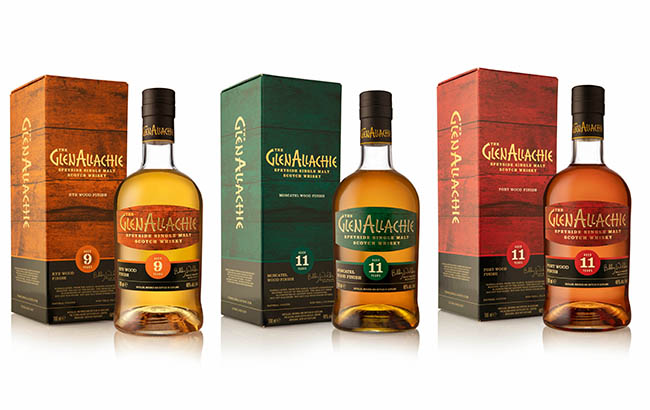 In June last year, GlenAllachie released its Wood Finish range, a limited edition series of single malts finished in a variety of casks, including Port, rye and Sherry.
The range has now been extended with a new trio of whiskies, comprising nine-year-old Rye Wood Finish, 11-year-old Moscatel Wood Finish and 11-year-old Port Wood Finish.
Walker will kick off the launch with an interactive Facebook live tasting on Thursday 7 May at 7pm BST. The event is the latest in a series of Isolation Tastin' sessions from GlenAllachie on Facebook.
The Rye Wood Finish (RRP £54.99/US$68) offers a "rich and spicy twist on The GlenAllachie's classic flavours of butterscotch, heather honey, raisins and dark chocolate". The single malt was first matured in premium American oak wood barrels before being transferred into Kentucky rye casks. The resulting liquid is said to have "bold and punchy" notes.
Meanwhile, the Moscatel Wood Finish (RRP £58.99/US$73) is described as a "fruitier style of whisky with a vivid and aromatic nose, typical of the Muscat grape". It was first aged in American oak wood barrels for more than nine years before being poured into Moscatel barriques for a second maturation period to "enrich the flavour profile".
Completing the trio is the Port Wood Finish (RRP £58.99/US$73), a whisky matured for more nine years in American oak barrels before being aged further into ruby Port wood pipes. The secondary maturation is said to have developed the flavour, depth and complexity and added a vibrant, rich colour.
Walker said: "From day one, we've spent a lot of time exploring the amazing array of casks here in the warehouses and also looking at how our spirit interacts with different types of wood. It's exciting to see how we can change and enhance the flavour profile of our spirit to create rich and full-bodied whiskies.
"This second batch of wood finishes represents the culmination of all those experiments, and we're excited about the range of new flavours we've created by giving our malt second maturations in rye, Moscatel and ruby Port barrels.
"It's a delicate process to make sure the different woods complement The GlenAllachie spirit rather than overpower it, but we're delighted with the results."
The new limited edition whiskies are available globally.