Kratena and Berg unveil drinks-inspired jumpers
Bartenders Alex Kratena and Monica Berg have partnered with Berlin-based artist Dennis Loesch to create a series of jumpers featuring "iconic" drinks brands.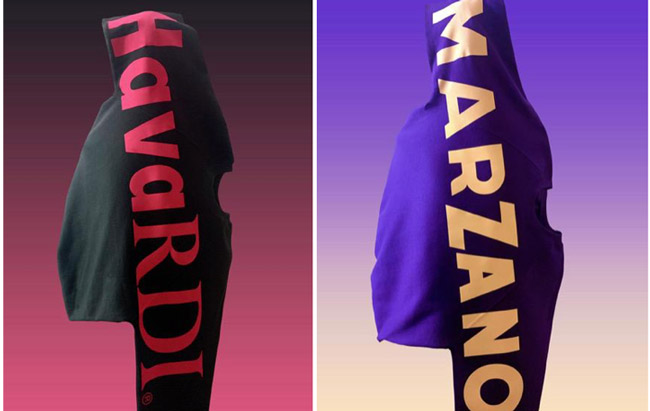 As part of the Evil Companionship series, Kratena, Berg and Loesch have created a range of jumpers adorned with slogans that blend together well known drinks brands, exclusively available from the duo's London bar, Tayēr + Elementary.
Tops in the series include combinations of Bombay Sapphire and Tanqueray, Bomberay Tenphire; Havana Club and Bacardi, Havardi; Martini and Cinzano, Marzano; and Belvedere and Grey Goose, Belvedoose.
Berg said: "We are big fans of Dennis, and it's super cool to look at drinks in a different context and allow ourselves to work within a very different creative discipline."
The Evil Companionship series with Loesch follows his recent Sweater Edition project, which featured tops bearing logos derived from famous fashion houses.
Kratena, Berg and Loesch have created 10 numbered and signed editions of each design. They are available to buy from Tayēr + Elementary for £200 (US$260).