Elixir Distillers revises Islay distillery plans
By Nicola Carruthers
Spirits producer Elixir Distillers has submitted an altered planning application for its Islay distillery, which now includes a more "traditional" exterior design.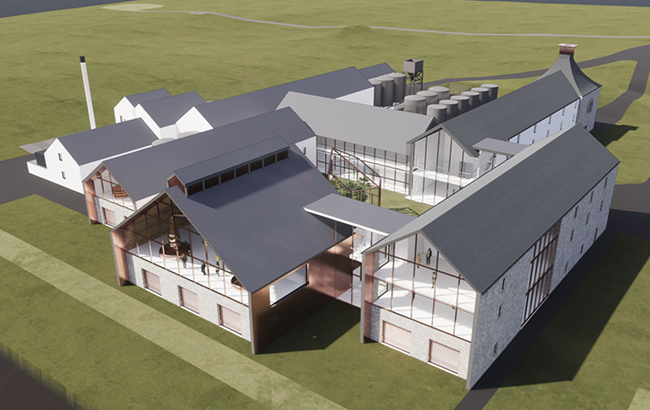 Plans for the site, which will be located outside the town of Port Ellen, were unveiled in April 2018.
Co-founded by Sukhinder Singh of retailer The Whisky Exchange, Elixir Distillers originally submitted a planning application to Argyll and Bute Council in November 2018, which gained approval the following month.
The producer has now submitted a revised plan to the council, which features an exterior that maintains the traditional look of the other south coast distilleries, along with "modern touches" that reflect the site's individual landscape.
The distillery's design will incorporate a floor malting capable of supplying 75% of the full one million litre annual capacity of the site.
In addition, the facility will have space for 16 washbacks and four sets of pot stills, as well as smaller stills. A separate "experimental" still will produce 200,000 litres annually to ensure "Islay stays at the forefront of Scotch whisky innovation".
The distillery will utilise "modern" technologies around distillation and heat reclaim techniques to "maximise flavour and energy efficiency and minimise the impact on the environment".
"I wanted to build a distillery on Islay because I have always loved the island, its people and its whiskies," said Singh. "I've been a regular visitor to the island for over 25 years and must have tasted close to 3,000 different Islay whisky bottlings.
"From a liquid point of view, we are determined to produce the greatest spirit possible. We want to create something that inspires the people of Islay and our customers, and enhances the reputation of Islay as a source of some of the world's greatest whiskies.
"Our hope is that our distillery becomes an integral part of the island community, and one of our key priorities is to work collaboratively with the local community to ensure everyone benefits."
The Scotch whisky site will also feature a visitor's centre with a multi-purpose educational facility that will focus on training and an apprentice programme.
Elixir Distillers will also submit an additional application next month to build eight houses for its distillery workers. There are plans to build accommodation elsewhere on the site, which will be submitted in a separate application.
Furthermore, the producer will launch a charitable fund, which Elixir Distillers will add to on annual basis from the moment it breaks ground on the new site. A board of trustees will manage the funds and what it will be used for. Members of the Islay community will be asked to become trustees.
Elixir Distillers will donate £1 (US$1.30) from every bottle of their 2020 Port Askaig limited edition release to the fund, which is predicted to raise an initial £15,000 (US$19,300). The producer will carry out further fundraising drives annually.