Diageo opens North America HQ in New York
By Nicola Carruthers
Smirnoff vodka owner Diageo has created 350 new jobs with the opening of its relocated North American headquarters at New York's World Trade Center.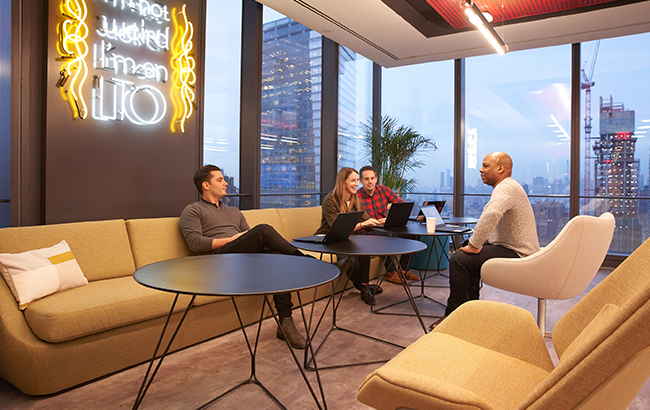 The office, which opened this week, has moved from its original site in Connecticut to 3 World Trade Center in Lower Manhattan. The move has created 350 new jobs for the city, while keeping 150 existing posts in New York.
The workspace was created to "promote flexibility and collaboration, and to enable agility and modern ways of working".
"As a company whose brands are part of a legacy more than 300 years in the making, we know from experience that embracing the power of change is core to our success," said Deirdre Mahlan, president of Diageo North America.
"This move represents a significant shift, not just in where we work, but how we work, enabling us to eliminate boundaries, be bolder, more future-focused, and closer to a nucleus of diverse consumers."
The new office features "bright, colourful and immersive spaces" that are influenced by the city's neighbourhoods, Diageo's portfolio of brands and its sky-high location.
The open-plan office comes with suggested 'neighbourhoods' for teams, and without designated seating.
The site incorporates "state-of-the art technology" with certain spaces designed for "higher-energy work", as well as sound-proof phone booths and libraries.
Atop the 41st floor is the "multi-functional" Bar Deco, which serves as the headquarters' "beating heart".
"Situating ourselves in the heart of one of the world's most exciting cities allows us to expand access to diverse talent pools and capabilities," said Laura Watt, executive vice president, human resources, Diageo North America.
"With our new space we sought to create an amazing experience for our people, and a place where they could do the best work of their lives, while celebrating life."
In addition, the site comes with commissioned design features, "wellness-focused" design such as sit-stand desks, "ideation rooms" to "maximise creativity" and sensory booths.
It will also feature an on-site Tech Café to provide employees with help from the tech team, a "spacious" nursing room with "best-in-class" equipment, zoom-enabled meeting rooms, energy-saving heating and cooling systems and relevant pop-ups.
Diageo's move to New York City follows a similar effort by the drinks group in the UK. Diageo's global headquarters will leave northwest London and relocate to the city's Soho area in spring 2021.