Spirit Master: Roe & Co
By admin
Ahead of National Irish Coffee Day next week, we explore an acclaimed Irish whiskey that would be perfect for recreating the classic drink.
Every week, SB celebrates some of the top scoring Master medallists from The Global Spirits Masters blind-tasting competitions.
We scoured the results of our Irish Whiskey Masters to find an expression that would be best suited for celebrating National Irish Coffee Day next Saturday (25 January).
The Irish Whiskey Masters, held in July 2019, saw 15 Master medals awarded to worthy entrants.
In the Blended – Standard round, Master-winning Roe & Co was praised for being "smooth, with all the complex fruit flavours working in harmony".
UK drinks group Diageo returned to the Irish whiskey category in 2017 with the launch of the Roe & Co brand. Diageo had exited the Irish whiskey category with the sale of Bushmills to Jose Cuervo's parent company in 2015.
The Roe & Co brand pays homage to George Roe, who was credited with building the golden era of Irish whiskey in the 19th century
Roe & Co's €25 million (US$28m) distillery, which kicked off production in June last year, is based in the renovated Guinness Power House in Thomas Street, in Dublin's historic Liberties district.
Bottled at 45% ABV, Roe & Co is priced at £30 (US$39) per 700ml.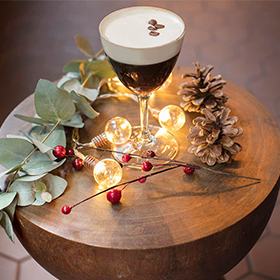 To recreate a Roe Irish Coffee, check out the recipe below.
Ingredients:
40ml Roe & Co
60ml Freshly brewed Americano coffee
10ml Porter syrup/sugar syrup
15ml Fresh lightly whipped cream
Grated nutmeg and three coffee beans
Method: Heat the Irish coffee glass with boiling water. Once heated, empty the water out and add 60ml of freshly brewed hot coffee and the syrup. Stir lightly. Pour in 40ml of Roe & Co and layer lightly fresh whipped cream on top. Garnish with three coffee beans and a light dusting of grated nutmeg.
To see the full list of medallists from our Irish Whiskey Masters 2019, click here.
If you're interested in entering your brand into The Global Spirits Masters, contact Rhiannon Morris – rhiannon.morris@thespiritsbusiness.com – for more details.