Seedlip debuts first advertising campaign
By Nicola Carruthers
Non-alcoholic 'spirit' brand Seedlip has unveiled its first advertising campaign, called Drink to the Future.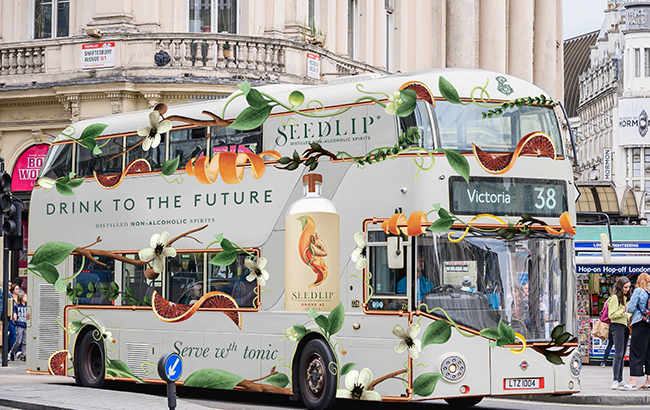 Created by London-based advertising agency And Rising, the initiative will launch on 13 January in London and Manchester. It will roll out across rail, underground, buses, billboards and digital.
The campaign features the line 'Drink to the Future', which sits above the Seedlip bottle, along with ingredients that are used to create the range.
The push seeks to encourage customers to look at their everyday habits and occasions and taps into "what the future means for the consumer".
The campaign launches as the brand seeks to "drive change in what and how we drink today and in the future".
Emma Wykes, Seedlip chief operating officer, said: "Since the launch of Seedlip four years ago non-alcoholic drinks brands have continued to flourish as they become progressively prevalent in consumers' consciousness.
"We know people are looking for greater range when it comes to non-alcoholic choices and we hope that with this creative we will inspire both new and existing Seedlip consumers."
Seedlip founder Ben Branson added: "To be kicking off 2020 with our first ever advertising campaign is incredibly exciting and a very proud moment as I look back at what we've achieved in just four years.
"We are still just scratching the surface of non-alcoholic 'spirit's' potential and this advertising campaign will take us another step closer to our aim of making sophisticated non-alcoholic options as relevant as their alcoholic counterparts."
Looking for non-alcoholic alternatives for Dry January? Don't miss our pick of 10 new alcohol-free products.