New non-alcoholic alternatives for Dry January
By Nicola Carruthers
As more producers seek to shake up the low- and no-alcohol market with new and innovative products, we present the latest zero-ABV offerings to join this fast-growing category.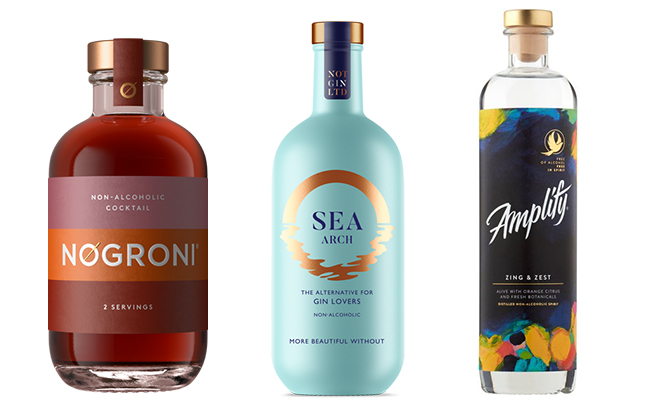 With drinks behemoths such as Diageo, Pernod Ricard and William Grant & Sons moving into the category in the past few years, it comes as no surprise that a number of distillers have crafted their own non-alcoholic offerings to meet consumer demand in the past six months.
Some of the products on our list take inspiration from their creator's coastal surroundings, while several producers have tapped into the ready-to-drink (RTD) market with canned and bottled alternatives.
As drinkers lower their alcohol intake after the festive period and participate in Dry January this month, we round up some new and interesting booze-free products for your drinks cabinet.
Click through the following pages to see the latest entrants to the non-alcoholic drinks category.
Looking for more non-alcoholic 'spirits'? Don't miss our pick of 10 products last year.
Feragaia
Price: £23.99 (US$29.20) per 500ml
Taking inspiration from the whisky style of drinking, Feragaia is distilled, blended and bottled in the Scottish Lowlands.
Feragaia contains 14 botanicals including seaweed, bay leaf and chamomile, and is hand-blended and cut with Scottish water. While it is described as a 'spirit', Feragaia does not contain alcohol during any part of its production process.
Amber in colour, the expression is described as having a "taste of clean complexity" and a "warming finish". It is recommended served on the rocks or with light tonic water.
Memento Green
Price: €30 (US$33) per 700ml 
The second offering from Italian non-alcoholic 'spirit' brand Memento, Memento Green is inspired by Mediterranean aromatic plants and is said to have a strong herbaceous aroma and floral palate.
Green myrtle was used to give balsamic notes, melissa is said to add fresh, citrus flavours, laurel contributes a "strong and vigorous" character, while orange blossom brings a bittersweet and balanced character.
Recommended serves with Memento Green include Scent of Yoga, which is made with decaffeinated tea, sugar syrup and turmeric dust, and Fairy's Healing, made with aloe juice and elderflower syrup.
Amplify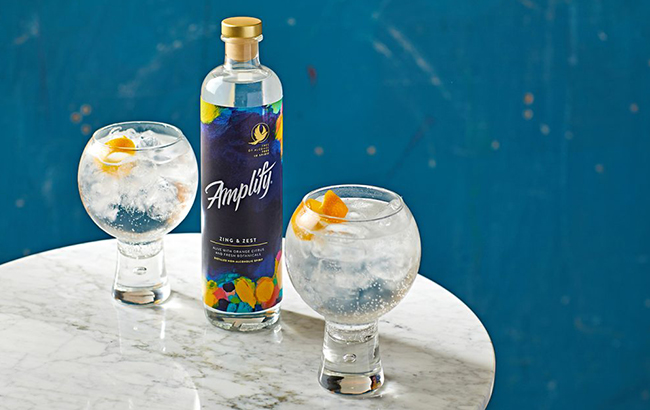 Price: £15 (US$19.40) per 500ml 
Launched in October 2019, Amplify is seeking to "refresh the alcohol-free 'spirit' sector" and has positioned itself as "spirited, carefree, adventurous, sociable and uncompromised".
Amplify is distilled with ingredients such as juniper berries, coriander seeds, angelica root, lemon peel, lemongrass and ginseng root. These botanicals provide "vibrant, punchy orange and citrus" notes.
The expression is recommended served with Fever-Tree Mediterranean Tonic and garnished with a twist of orange, and in cocktails.
Amplify is available in Morrisons stores in the UK and online at Master of Malt.
Sea Arch
Price: £24.99 (US$31) per 700ml
Described as a non-alcoholic "gin alternative", Sea Arch was inspired by Devon's coastline and is "calorie-free, sweetener-free and sugar-free".
Sea Arch is made with 11 botanicals that are twice-distilled with alcohol in a copper pot still with spring water. The alcohol is then removed to create an alcohol-free 'spirit'.
The expression is said to have a "base flavour of juniper" and notes cardamom, blood orange and grapefruit, leading to a "long finish" and hints of samphire and sea kelp.
It is available to purchase via notginltd.com and wisebartender.co.uk.
Highball Cocktails
Price: £2 (US$2.60) per 250ml
Described as the UK's "first" range of 0% ABV RTD cocktails, Highball Cocktails is said to offer "authentic, sophisticated alcohol-free companions to some of the world's greatest cocktails in single-serve bottles, cans and on tap".
The range consists of six variants: Classic G&T, Pink G&T, Cosmopolitan, Mojito, Italian Spritz, and Ginger Dram. Each bottling is said to contain less than half the calories of a regular cocktail.
The collection is available to buy through online retailer Dry Drinker.
Pentire Adrift
Price: £26.80 (US$34) per 700ml
The English coast also inspired the launch of alcohol-free botanical 'spirit' Pentire in October last year.
Former surf instructor Alistair Frost founded the brand in Port Isaac, Cornwall, UK, as a "celebration of the plant life found on our surrounding headlands".
The brand's first release, called Pentire Adrift, is flavoured with rock samphire, sea purslane, sage, and sea rosemary. It is free from added sugar, artificial colours and artificial flavourings.
Zero Zero 24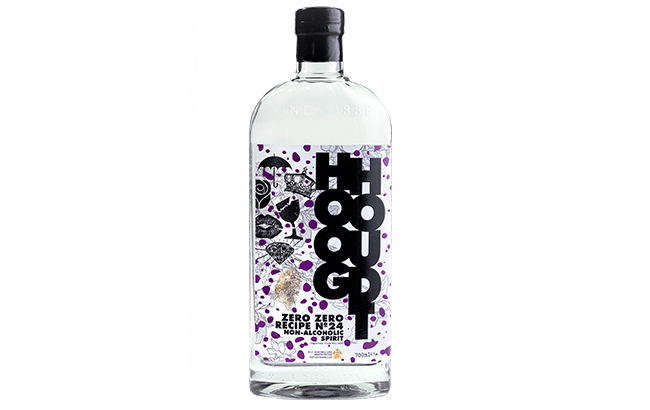 Price: €24.95 (US$28) per 700ml in the Netherlands
Hailing from Dutch distillery Hooghoudt, Zero Zero 24 marks the producer's first foray into the non-alcoholic 'spirits' category.
Zero Zero 24 is a herb distillate made with juniper, elderflower and lavender. It takes cues from Rijke Jenever No 24, a recipe produced by Hooghoudt in 1914.
The expression is recommended served with sparkling water or tonic water and garnished with grapefruit, which is said to "bring to life the juniper berry and lavender flavours – with a hint of elderflower".
Seedlip Nogroni
Price: £10 (US$12) per 200ml bottle, which provides two servings
Said to be the "world's first" non-alcoholic 'spirit' brand, Seedlip has continued to up its booze-free game with a ready-to-drink bottled Negroni.
Aptly named Nogroni, the expression is made with Seedlip Spice 94, Aecorn Aromatic and Aecorn Bitter.
It is said to be "complex, bitter and citrusy", with hints of chinotto orange, grapefruit, allspice and gentian.
Three Spirit The Livener and The Nightcap
Price: £24.99 (US$30.80) each per 500ml
The latest additions to non-alcoholic drinks brand Three Spirit's range include The Livener and The Nightcap.
Three Spirit was developed in response to the rise of the "semi-sober consumer" and for those who seek "exciting functional alternatives that offer more than just flavour". It is said to "replicate the positive effects of alcohol" using plants.
The Livener is described as "fiery and fruity in flavour" and is designed to "liven the senses". The variant is made with guayusa, schisandra berries and "energising plants".
The Nightcap is designed to "sip and savour" and combines "aromatic plants, bright spices and tree saps". It features lemon balm, valerian and hops combined with "complex notes of oak and vanilla for a calm, dreamy feeling".
Eden Nil
Price: £1.50 (US$1.95) per 250ml can
Scottish distiller and brewer Eden Mill jumped on the booze-free bandwagon with its new canned ready-to-drink range.
The range has been created with input from the Secret Herb Garden in Edinburgh and expert botanists. It contains non-alcoholic distillate made from water, juniper, coriander, lemon balm and cardamom.
The two expressions currently available in the range are: Love Gin & Rose Lemonade, and Original Gin & Tonic.
The range is available from Eden Mill's website and Eden Mill retail shops, in addition to the Radisson Red Sky Bar in Glasgow.