Flo Rida to open distillery in Florida with VG Spirits
American rapper Flo Rida has become an equity partner of vodka producer Victor George Spirits and is planning to open a distillery in Florida by 2021.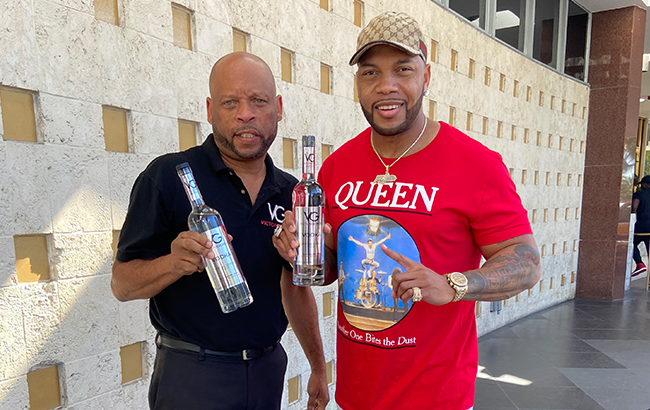 Tramar Dillard, who is known professionally as Flo Rida, has teamed up with Victor G Harvey, CEO of Victor George Spirits, to build a 13,000-square-foot facility in Sistrunk Boulevard in Fort Lauderdale. It will open in late 2020 or early 2021.
The site will house a 4,500-square-foot distillery, as well as a cigar bar, wine bar, lounge and restaurant.
Victor George (VG) Spirits produces VG Vodka and plans to introduce additional lines including whiskey, gin, Tequila and speciality liqueurs.
"Super excited to join the VG family as an equity owner and brand ambassador," said Flo Rida. "I have known Mr Harvey for years and I've seen his grind, hard work and enthusiasm in building his brand.
"I look forward to introducing VG Vodka to the world, developing new products through the construction of a distillery in historic Sistrunk and empowering the community."
Described as "clean and smooth", VG Vodka is made with "all-natural ingredients" and uses a patented combination of filtration and oxidation methods that remove congeners and free radicals from the spirit.
Harvey, who has known the rapper for more than 12 years, said: "Flo is an amazing businessman and I watched him build his company from the ground up. I knew it was only a matter of time before we did something together and VG Vodka seemed like the perfect fit."
Harvey said the project will create a large number of jobs for the community in south Florida.
The partnership between Victor George Spirits and Flo Rida will kick off with a series of events during the week of the Super Bowl (2 February).
VG Spirits will launch in Atlanta, Washington DC, Las Vegas and New York in spring 2020 with plans for a US-wide launch in 2021.
The collaboration with Victor George is not the first time Flo Rida has dabbled in the spirits world. In 2015, the singer signed a multi-year deal with Empire Rockefeller Vodka.