Bushmills debuts 27YO whiskey and redesign
Irish whiskey brand Bushmills has released a 27-year-old bottling finished in Bourbon barrels and unveiled a new design for its range.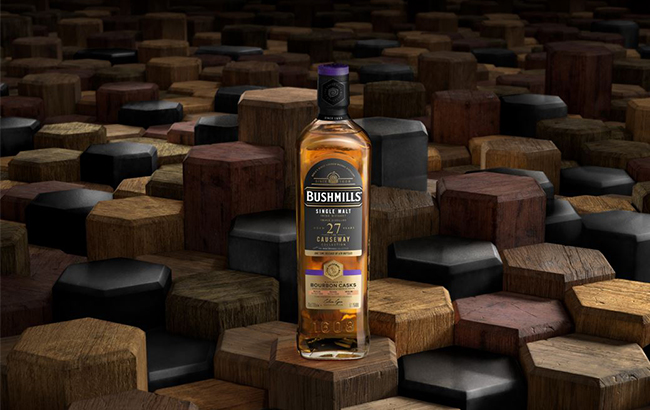 The travel retail-exclusive 27-Year-Old Bourbon Cask has been launched as part of The Causeway Collection.
The single malt was distilled in 1994 and matured in third-fill Bourbon barrels for six years. It was then recasked into first-fill Kentucky Bourbon barrels, where it spent an additional 21 years maturing.
The expression is bottled at cask strength (52.1% ABV) and is non-chill-filtered. The whiskey offers notes of crème brûlée, cinnamon spice and tropical fruits.
Colum Egan, Bushmills master distiller, said: "All the whiskeys used in The Causeway Collection have been expertly created and cared for by craftsmen steeped in a unique whiskey-making tradition passed from generation to generation for more than 400 years here at The Old Bushmills Distillery.
"This 27-Year-Old Bourbon Cask is a really special single malt. Maturing it for 21 years in first-fill Bourbon barrels gives our single malt beautifully intense vanilla notes that evolve into creamy crème brûlée over time, complemented by gentle waves of cinnamon spice."
The expression is available to buy exclusively from The Irish Whiskey Collection at The Loop, Dublin and Cork Airports and online at theloop.ie. Only 678 bottles of this single malt are available, priced at RRP €650 (US$745) for 700ml.
Ray Hernan, CEO, Aer Rianta International (ARI), said: "I am delighted to give passengers the opportunity to purchase this extraordinary whiskey as they pass through our stores and online.
"At ARI, we are committed to innovation and ensuring that we are providing travellers with special, premium purchases they can only find at our airports. We are delighted to be once again collaborating with Bushmills to bring another innovative, first to market to ARI exclusively. I'm sure this very special 27-Year-Old Bourbon Cask will be a huge hit with our customers."
New design
The Irish whiskey brand has also revealed a new bottle and pack for its range, spanning 10-, 12-, 16- and 21-year-old whiskeys.
The new design is inspired by the Giant's Causeway nature preserve, located near the Old Bushmills Distillery in County Antrim.
The new bottles are broad shouldered and angular, with embossing on the side to honour the brand's 1608 heritage and pot still.
Egan added: "I am proud to put my signature to our new single malt bottles. The result of thorough reflection and considerable work by our marketing and Old Bushmills Distillery innovation teams, the new packaging certainly provides a stage for our single malts befitting of Bushmills' status as the pioneer of Irish single malts and worthy of our generations of master whiskey makers.
"These designs underpin our Bushmills character and quality while delivering a strong and confident appeal to the new generations of single malt explorers worldwide."