Jessica Alba teams up with Cointreau
Orange liqueur brand Cointreau has partnered with actor Jessica Alba to launch a cocktail kit for making Cosmopolitans.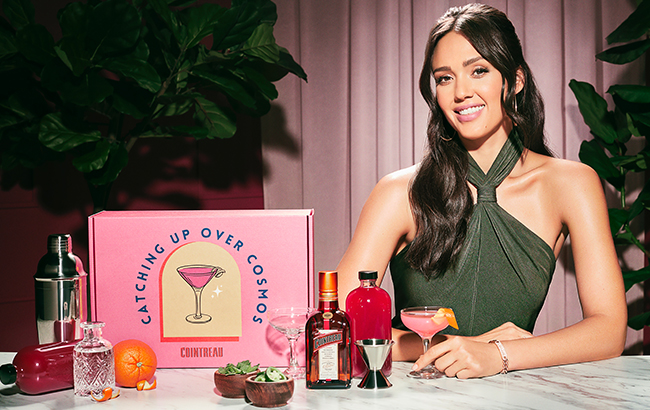 The brand is marking the festive season with its new Cointreau Catching Up Over Cosmos cocktail kit in partnership with Alba.
The kit, which is available exclusively on US delivery service Sourced Craft Cocktails, contains everything needed to make a Cosmopolitan and the Uptown Spice, a spicy twist on the classic vodka-based serve.
Alba said: "The holidays are right around the corner and I'm looking forward to celebrating with friends and family while I sip a Cosmopolitan – one of my favourite classic cocktails.
"That's why I'm excited to partner with Cointreau to help bring the holidays to life this year with the Catching Up Over Cosmos cocktail kit, making it even easier to shake up a delicious Cosmopolitan or two."
Each kit contains a 375ml bottle of Cointreau, a 375ml bottle of vodka, pre-batched bottles of the two cocktails, mint, jalapeño and an orange for garnishes, a jigger, two cocktail glasses and a recipe card.
"The holiday season is always a time where friends and families reunite, whether in-person or virtually, and what better way to celebrate than with the Cosmopolitan in hand," said Ian McLernon, president and CEO at Rémy Cointreau Americas.
"The Cointreau Catching Up Over Cosmos cocktail kit, inspired by Jessica Alba, makes it even easier for our clients to mix up a Cosmopolitan of their own or gift it to a friend."
The Cosmopolitan cocktail kit is available for purchase at www.sourcedcraftcocktails.com/CointreauCosmos and retails for RRP US$75.00.
French drinks group Rémy Cointreau saw organic sales increase by 52% in the first half of its 2021 fiscal year.