Fok Hing Gin name deemed offensive in 'landmark' ruling
A complaint that the name of gin brand Fok Hing could cause 'serious or widespread offence' has been upheld.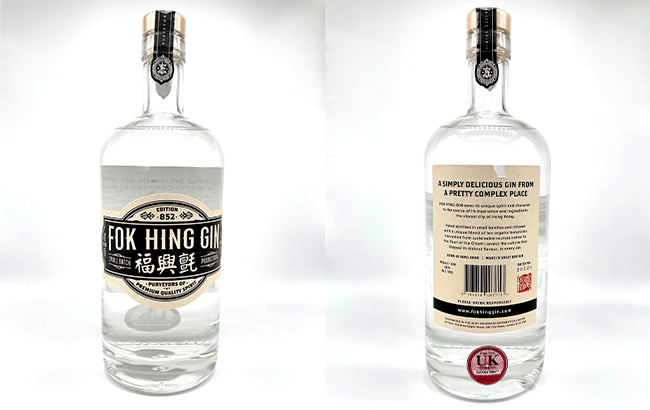 A member of the public brought the complaint against Fok Hing Gin, owned by Hong Kong-based company Incognito Group Limited, to the alcohol industry's Independent Complaints Panel.
"The name of the product Fok Hing Gin is clearly intended to shock and be pronounced as an offensive term – marketing comments I've seen online include 'Fokthehaters' and those who don't like the name name(sic) can 'fok off'," the complainant stated.
The grievance was related to rule 3.3 of the Code of Practice for alcohol marketing operated by UK watchdog the Portman Group, which says that 'a drink's name, its packaging and any promotional material or activity should not cause serious or widespread offence'.
According to Incognito Group, the brand name is an English romanisation of the traditional Chinese phrase meaning 'fortune and prosper'. Incognito Group said the gin was inspired by Fuk Hing Lane, a street in the Causeway Bay district of Hong Kong.
Furthermore, the gin producer said the complaint reflected a 'personal and assumptive' reaction to the name.
The Independent Complaints Panel reviewed the brand's packaging and wider marketing activity. It said that the story of Fok Hing's name was 'unclear' from the packaging materials, and that some of the marketing was 'inconsistent' with the company's claim that the name was not wordplay for swearing.
The panel ultimately determined the name did breach the code, a decision that was deemed a 'landmark' ruling, as it is the first time since the introduction of the rule on serious or widespread offence that such a decision has been made.
"It is not appropriate for marketing materials to purposefully link a name to profanity and no responsible marketing should cause serious or widespread offence," said Nicola Williams, chair of the Independent Complaints Panel.
In response, Incognito Group said: "Through consultation with the Portman Group, we have agreed to update the reverse label to be more descriptive of the details that inspired our brand, and look forward to introducing our UK fans to a little bit of Hong Kong history whilst they enjoy Fok Hing Gin during the forthcoming festive season and beyond."
Meanwhile, the complainant commented: "I welcome the fact that Incognito Group participated and co-operated with the enquiry, however, I am in no doubt that their explanation of both the product name and promotional activity was to an extent fabricated and a cynical cover story prepared in the event of a complaint – they knew exactly what they were doing in naming and promoting the product in the way they did."