Yamazaki 55 to debut in GTR
House of Suntory is launching Yamazaki 55, its oldest release to date, in global travel retail (GTR).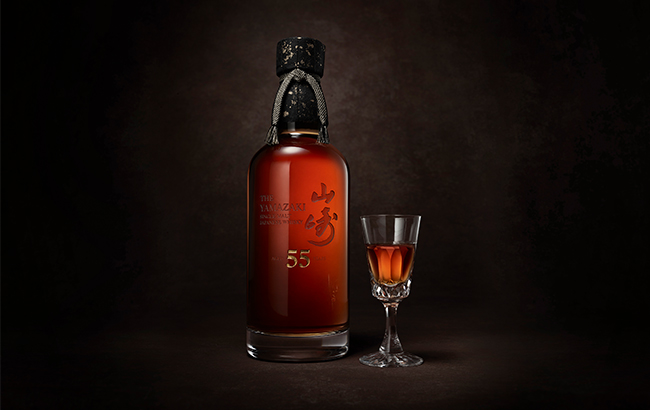 Suntory first unveiled the 55-year-old whisky in June 2020, launching 100 bottles into the Japanese market.
In September this year, the limited edition Yamazaki 55 was released in markets around the world.
Now, it will be sold in GTR in cities across the globe for RRP US$60,000.
Manuel González, marketing director GTR for Beam Suntory, said: "We are extremely proud to have the opportunity to offer travellers something as unique and exclusive as Yamazaki 55, the oldest aged expression from the House of Suntory.
"This highly limited edition product will be showcased in some of our best House of Suntory locations, and it will be amplified by an integrated activation campaign."
Bottled in 2020 at 46% ABV, the expression was produced in tribute to the legacy of the founding family of Japanese whisky, and celebrates the 'Japanese Shōwa era' of the 1960s, corresponding to a time when emperor Shōwa reigned.
The bottling is a blend of single malts, featuring components distilled in 1960 under the supervision of Suntory's founder Shinjiro Torii. The liquid was then aged in mizunara casks, followed by further maturation in white oak casks in 1964.
Yamazaki 55 was crafted by Suntory's fifth-generation chief blender Shinji Fukuyo, and third-generation master blender Shingo Torii.
Fukuyo said: "Throughout the process of blending Yamazaki 55, I used as inspiration the passage of time and 'Wabi-sabi' – the Japanese belief that imperfections can help to ultimately contribute to perfection.
"While I often view other extra aged whiskies as art, I consider Yamazaki 55 to be more like a Buddhist statue: calm and mysterious, requiring time to truly enjoy the inner beauty."
On the nose, the Yamazaki 55 boasts sweet aromas of fruit and sandal wood, while the palate presents both sweet and slightly bitter flavours followed by a woody note from the mizunara cask. The finish is rich and lingering, with a smoky, wood-infused fragrance.
The whisky will be available in GTR in London, UK; Paris, France; Hainan, China; Hong Kong; Taipei, Taiwan; Amsterdam, the Netherlands; Seoul, South Korea; Istanbul, Turkey; Delhi, India; Singapore; and Dubai, United Arab Emirates.
Beam Suntory is pledging US$5,000 to The White Oak Initiative for every bottle released in the 100-bottle collection, amounting to a US$500,000 donation overall.
The White Oak Initiative is a group of organisations working to ensure the long-term sustainability of America's white oak forests.
In August of last year, a bottle of Yamazaki 55 set a new record for the most expensive Japanese whisky sold at auction, fetching HK$6.2 million (US$795,000) at Bonhams Hong Kong.
The whisky joins Yamazaki's portfolio of whiskies comprising Yamazaki 12, Yamazaki 18 and Yamazaki 25.
Earlier this year, the recipe for Yamazaki 25 was reformulated.