Don Julio promises $100,000 to small businesses
By Kate Malczewski
Diageo-owned Tequila brand Don Julio has launched a grant programme to support small businesses founded by Hispanic entrepreneurs.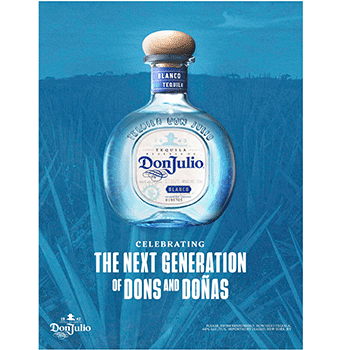 The initiative is part of the Tequila Don Julio Fund, through which the brand has promised to donate US$1 million to charity.
The new programme was created in celebration of Hispanic Heritage Month (15 September-15 October), and to honour Don Julio González, who founded the Tequila brand in 1942 when he asked a local businessman for a loan of 20,000 pesos to open a distillery.
Through the scheme, up to five entrepreneurs will be awarded US$20,000 to funnel into their businesses.
Hadley Schafer, brand director for the Tequila, said: "We're excited to carry on Don Julio González's legacy and spirit by offering devoted entrepreneurs the same opportunity that was given to our founder nearly 80 years ago.
"We hope to empower this next generation of dons and doñas to continue their devotion to their own craft to achieve their goals."
Don Julio has partnered with Rhuigi Villaseñor, founder of ready-to-wear fashion line Rhude, to promote the programme and mentor the winners.
The Tequila brand has also teamed up with the Association of Latino Professionals For America (ALPFA) to help select the recipients and distribute the grants.
In addition to the monetary support, Don Julio will also take the winners on a celebratory retreat to Los Angeles, give them exposure on the brand's digital channels and in marketing campaigns, and provide ongoing mentorship in the form of a five-year membership to ALPFA.
Jennifer Paulino, director of business development and partnerships at ALPFA, commented: "As an organisation dedicated to the impact of the Latino community through the advancement of Latino leadership in both the corporate and small business spaces, we find great pleasure in partnering with Tequila Don Julio to bring forth the vision and devoted spirit that not only Don Julio González left as his legacy but one that many Latinos across the US and the world possess."
Applications are open until 15 October 2021. Interested small business owners can learn more at www.donsanddonas.com.
Last week, Diageo revealed it will invest more than US$500m in expanding its Tequila production.