Amaro Montenegro debuts anti-drink driving campaign
Italian liqueur Amaro Montenegro has partnered with motorcycle manufacturer Ducati Corse on a campaign to raise awareness of the risks of drinking and driving.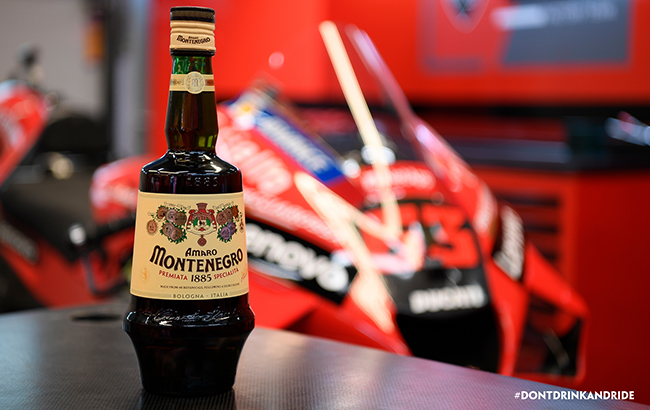 Amaro Montenegro has unveiled the Don't Drink and Ride campaign with the racing department of Ducati Corse.
The campaign seeks to highlight the growing importance of road safety and discourage alcohol use while driving.
Amaro Montenegro is the 'team spirit partner' of the Italian motorcycle brand.
The campaign features three video clips: The Breakup, The Picture and The Nightmare. Each clip offers 'ironic' scenarios of the bond between the motorcyclist and his bike, encouraging viewers to follow the safest route and park their bike before meeting with friends.
The campaign also includes a 'hero' film that depicts the quiet moments between races, showcasing teammates and friends at a bar enjoying a Amaro Montenegro and tonic water.
Marco Ferrari, CEO of Gruppo Montenegro, said: "It is a privilege to partner with Ducati Corse on such an important campaign. We strongly believe it will bring to life a shared passion for bringing people together.
"We are ambassadors of the team spirit, the human connection that always makes a difference, in sport and in life. As a spirits brand, it was imperative to be vocal about responsible drinking and we wanted to send a clear message in a compelling and engaging way.
"We feel our 'Don't Drink and Ride' campaign is the perfect response to it. Leaving your bike at home to enjoy a good time with friends really is the only option."
Luigi Dall'Igna, Ducati Corse general manager, said the campaign is part of the company's social responsibility goals.
He continued: "It is a serious message and a key concept for Ducati to sensitise the motorcycle universe and our community of enthusiasts to a conscious and off-road use of alcohol."
In September this year, herbal liqueur producer Mast-Jägermeister SE named Gruppo Montenegro as its exclusive distributor in Italy,