The Lighthouse: Glenmorangie's new distillery
Single malt Scotch producer Glenmorangie has opened The Lighthouse, the brand's new multi-million-pound innovation distillery.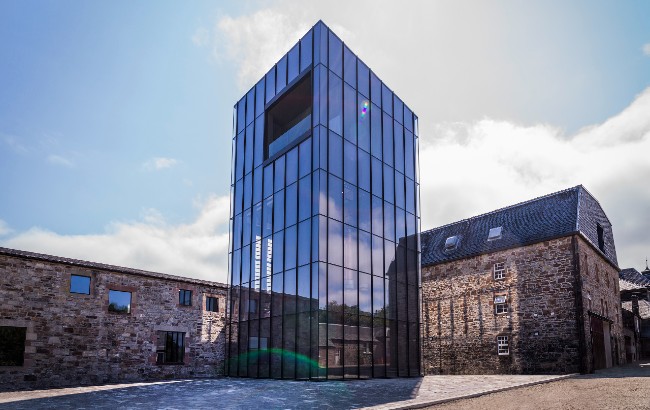 Located on the same site as the original Highland distillery, The Lighthouse is a 20-metre-high glass still house, designed for innovation and experimentation rather than yield.
The still house is home to two custom-made stills, built to the same specs as the brand's original 'giraffe-high' stills. However, the new stills have certain additional features that can be used to alter the spirits character by making the stills behave as if they are taller or shorter than they are.
Adjacent to the still house is the brew house, which has also been built in keeping with the main distillery. Here, Glenmorangie will experiment with mashing and brewing. The brew house will include a custom-designed mash tun that will be able to make different clarities of wort.
Meanwhile, above the still house sits a sensory laboratory that overlooks the Dornoch Firth. It will give the brand's director of whisky creation, Dr Bill Lumsden, and his team space to assess their experiments after each six-hour spirit run. The sensory lab also includes a tasting room and a terrace.
To ensure The Lighthouse ties in with Glenmorangie's sustainable goals, it will be partially powered by biogas, which will be generated in Glenmorangie's anaerobic digestion plant.
Lumsden said: "The technology in [The Lighthouse], particularly in the still house, is not revolutionary, but I can't think of any other still house in the Scotch whisky industry where you have split condensers, copper and stainless steel, you've got a water-cooling jacket on the neck, you've got a purifier on the lyne arm; essentially, we can recreate any style of distillation that we want in that.
"New make spirit in the Scotch whisky industry is usually categorised, so Glenmorangie's classic flavour profile is floral and fruity, whereas others might be waxy, sulphurous, peated, all these things. So The Lighthouse will allow me to create the full spectrum of spirit styles.
"The necks of Glenmorangie are the tallest in the Scotch malt whisky industry, but by using, for example, the water cooling jackets on the necks to increase the rate of reflux, it's almost like metaphorically, I will be able to double or treble the height of the stills.
"I can't off the top of my head think of any other malt whisky distillery that has a built-in water cooling jacket on the neck of the stills – probably if you looked it'll be somewhere in the world, but this is the first time I've seen it."
Limited edition Glenmorangie Lighthouse whisky
To celebrate the opening of The Lighthouse, Glenmorangie has created a limited edition whisky: Glenmorangie Lighthouse.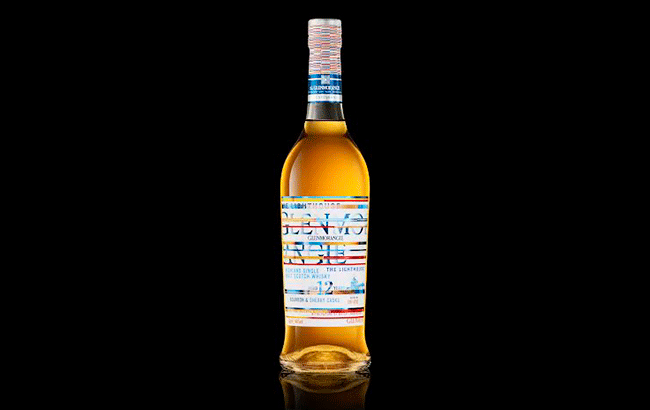 The whisky combines liquid matured in Bourbon and Sherry casks, whose staves now adorn the walls of The Lighthouse.
Bottled at 48% ABV without chill-filtration, only 3,000 bottles of Glenmorangie Lighthouse will be available to purchase exclusively from the distillery visitor centre for £85 (US$117).
Tasting notes include aromas of vanilla, red apples, honeycomb and a 'whisper' of oak. On the palate, flavours of honey, almond, milk chocolate, apricot, fudge, baked oranges, honeydew melon come through, leading to more orange, vanilla and oaky notes on the finish.
---
Melita Kiely, editor of The Spirits Business, was given a preview of The Lighthouse in August. She sat down with Dr Bill Lumsden to learn more about the new facility, and his plans for the site.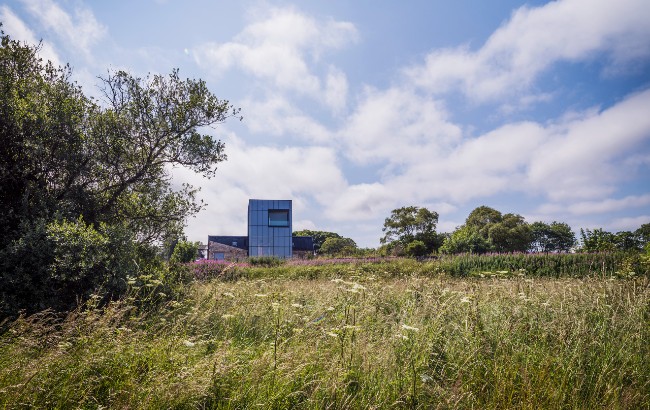 How did the idea for The Lighthouse come about?
I went to the former CEO, Marc Hoellinger, six or seven years ago, and I was playing a little bit of a game with him and I said, Mark, I'm bored, I need a new challenge, I want to do something else. I said, off the top of my head, if you give me £25 million I will go and build a completely new malt whisky distillery, and I guarantee you I will make spirit even better in quality than Glenmorangie. I explained to him how I would do this.
He thought about it and said, Bill, I like your idea, but he said to start a completely new brand – and that's what I was talking about doing, it was going to be a completely standalone brand, separate from Glenmorangie or Ardbeg – he said it takes many, many, many years to successfully establish a new brand. So he said, how about I give you this much, and you do something at either Glenmorangie or Ardbeg. So that's where the idea came from. And it took two or three years to refine my thought process to plan it all out, and that's when we got to The Lighthouse. And it was kind of a no-brainer to site it at Glenmorangie distillery so we could label the output from that as Glenmorangie.
What was the inspiration behind the name, The Lighthouse?
Once we started working with the architects from Paris, a company called Barthélémy Griño, who'd been involved in the design of Louis Vuitton boutiques and things like that, and we met with them several times, they came back with this idea of a tower. When we looked at it and saw that it was a tower beside the sea, we thought that it looked like a lighthouse, and I honestly can't remember who it was who first said the word 'lighthouse' but that's where it came from. We were originally going to have a big lamp at the top but we decided to have the laboratory at the top of the building so you would get that magnificent view. And that is the laboratory where only myself and my team will analyse the spirit.
What will you do first at The Lighthouse?
We will proof the system by testing all the equipment; we'll run the stills and distil, and make sure the condenser and the purifier and all these things are working. The next thing I will do is persuade Eddie [Thom], the distillery manager, to give me one full wash back from the big distillery, so 48,000 litres of wash, and I'll actually run that through the stills. What I'll be trying to do is just to make classic Glenmorangie spirit. Once I've done that, I'll use some classic lightly peated malted barley, the malted barley we use in the big distillery to make Glenmorangie, and I will use that to test the brewing side of the kit. So we'll mill it, mash it and ferment it, and then we'll put it through the stills. If we get all of that done in two months, we'll be doing well.
Only once I've satisfied myself that the distillery is capable of making classic Glenmorangie spirit, then I'll start to do lots of different things. I have a 12-point, confidential plan of the first experiments I will carry out at the distillery, and while we're doing that we're all going to be just getting to know the plant and learning how it works.
So once we go into 2022, I will be seriously doing things that will create actual products. Quite when these will hit the market depends, and obviously if I'm planning on making and calling it single malt Scotch whisky – which I may not always be doing in there – then it's going to be a minimum of three years before that's launched in the market. In reality it's probably going to be longer than that.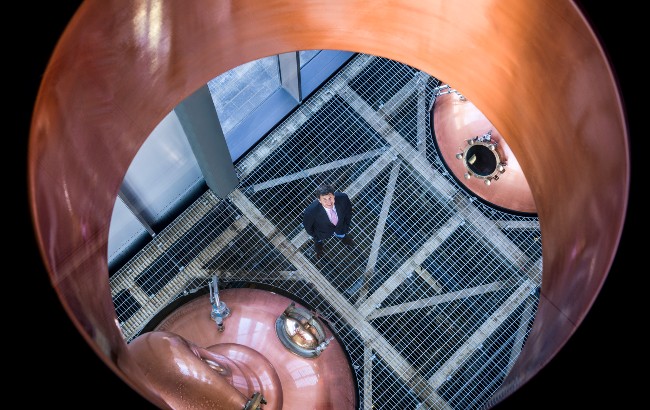 You said you won't necessarily be making single malt Scotch. What else do you plan on creating?
Obviously, there's a lot of things out there in the world of whisky. There's single malt Scotch, there's blended Scotch, there's single grain Scotch, Kentucky Straight Bourbon, and all these good things. It's highly likely that I will be looking to make my own version as a homage to some of these other categories of whisky. But I can't say too much because there's a lot of confidentiality in there.
What is the full capacity of The Lighthouse?
If The Lighthouse was only used to distil classic Glenmorangie, we have the capacity to do up to one million litres of alcohol [annually]; it's about a sixth of the main distillery. The main distillery has six pairs of pot stills, and we can do just over six million. I don't honestly believe I will ever be using it for that purpose, if I do then something's gone wrong. But nominally it can make that.
What do you anticipate the output will be in first year or two?
Again, it's a little bit difficult to say because we won't really know until we've started to use the brewing plant, which is a bit different. It'll be a few hundred thousand litres.
You're known for being experimental with your whisky creation. How does it feel to have this new space?
It's very, very exciting. I used to say to people when they came to Glenmorangie that this is not a malt whisky distillery, this is my big experimental laboratory. So now I actually do have a genuine experimental laboratory where I can try lots of different things.