Ronnaporn Kanivichaporn shines spotlight on Thai bar scene
By Kate Malczewski
With his outgoing personality, former actor and TV presenter Ronnaporn Kanivichaporn has helped to revolutionise Thailand's bar industry. And he has many plans up his sleeve for the future.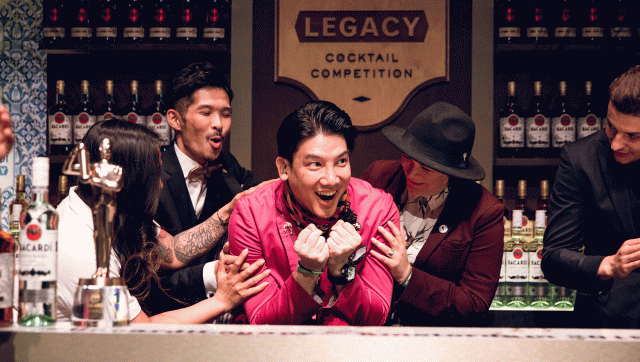 *This feature was originally published in the June 2021 edition of The Spirits Business magazine. 
For Ronnaporn Kanivichaporn, cocktail competitions have been "the fast pass to get to the roller coaster". The Thai bartender is a veteran of two of the biggest contests in the world: he won Diageo World Class Thailand twice, and in 2019 became the first person representing an Asian country to become global Bacardí Legacy champion. "Winning the competition is like a special ticket," he tells me in a Zoom interview. "You don't have to wait in line – people already know you, so you go fast pass."
Kanivichaporn made his mark on the Bacardí contest with his Pink Me Up cocktail, a rum-based serve laced with cherry tomato, olive brine and a touch of orgeat syrup for nuttiness. But just as crucial to the win was his charismatic performance. Wearing a bright-pink blazer to match his drink, he impressed the judges and audience with his sense of humour and assured presentation in a high-pressure final round.
In some ways, it was a moment he'd been training for long before he decided to enter the competition in 2018. Before bartending, Kanivichaporn built a career as a performer in Thailand. He studied acting and directing at school, modelled, sang in a boy band and worked as an actor and television host.
"I preferred to be a TV host more than an actor," he says, "because with hosting, you can be yourself."
His foray into the realm of cocktails began when he started working events as a celebrity bartender through a friend's catering company. Then, in 2011, he landed a gig as the emcee of Thailand's first Diageo World Class competition. "I got a chance to listen to the comments from the judges, I got a chance to test the drinks," he explains. "The first year was fun." So fun, in fact, that he returned to host the event in 2012 and 2013.
With each year on the World Class stage, his interest in cocktails grew. He joined the seminars and masterclasses put on for competitors and dreamt about the drinks he would make for each challenge. "Finally in 2014, I decided to join World Class in Thailand, and I'm lucky enough to have won the competition and represented Thailand in the global final."
By then, Kanivichaporn was dedicated to bartending. He won World Class Thailand again in 2017, and ready for a new challenge, he turned his gaze to Bacardí Legacy.
Taking first place in the rum brand's competition in 2019 "really changed a lot of my life", he says, citing opportunities to travel – before the pandemic – and share his drinks with people around the world.
Bangkok fixture
Bacardí Legacy may have helped him gain notoriety on the international stage, but Kanivichaporn was already a fixture of Bangkok's bar community. Together with five friends, he opened Backstage Cocktail Bar in the Playhaus hotel in 2016; in 2017, he and four partners launched the speakeasy Find the Locker Room, followed by Find the Photo Booth in 2018. Along with acclaimed venues such as The Bamboo Bar, Tropic City, Vesper and Teens of Thailand, his three drinking dens have contributed to the city's burgeoning cocktail culture.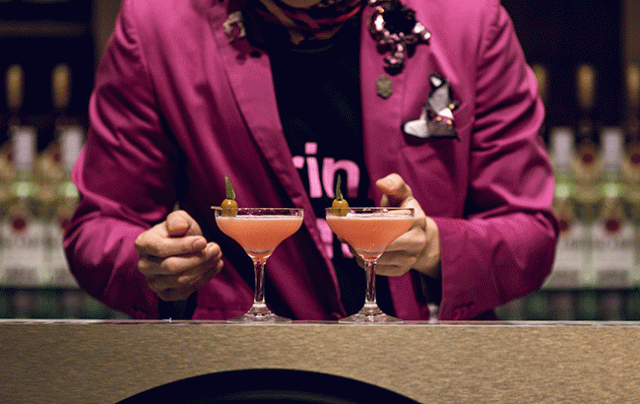 "In 2011, we still had only one proper cocktail bar in Bangkok, maybe two," he says. While that's changed, he explains that "drinking culture is not part of daily life" for many people in Thailand, with people preferring bottle service for special occasions.
At his theatre-themed bar Backstage, Kanivichaporn aims to change that, converting drinkers to cocktails with playful serves inspired by popular films. He highlights one favourite based on animated comedy Shrek, with vodka, mezcal, kiwi, spinach, onion brine, hazelnut and a silkworm garnish. He says the overall concept of cinematic cocktails has proven a hit with customers thanks to its "easy to understand" nature.
This year, Backstage is celebrating its fifth anniversary. The drinks are key to the bar's success, of course, but Kanivichaporn thinks its atmosphere is the most important factor: "Once an actor has left the stage, they go backstage to the dressing room, and they can relax. We would like all our friends, our guests, when they come to our Backstage, to just relax and be themselves. Our service is the thing that makes you feel at home."
However, like so many venues, Backstage had to stop service for most of the past year. When I spoke to Kanivichaporn in May, Thailand was in the midst of its third lockdown to quell yet another wave of Covid-19, and all of his bars were closed. This lockdown has been especially tough, he says, because the opening of a new bar – his fourth in Bangkok – has been put on hold. He has a culinary-inspired concept nailed down, as well as a location, but is waiting until the lockdowns are over to start the lease.
Still, he admits: "I feel I lost two years with nothing to do. It's really, really tough for us. It made me feel useless – not good for my mentality."
Cocktail deliveries
To keep his spirits up in the face of the pandemic, Kanivichaporn has turned to delivery cocktails, coming up with a new menu each week and prepping the serves in the kitchen of a friend's restaurant. "It's a way to survive now," he says. The operation comes with a distinct set of challenges since alcohol advertising restrictions in Thailand make it tricky for him to promote his drinks, but he's found workarounds on social media that have allowed him to drum up business.
Cocktail deliveries have given him a creative outlet while Backstage, his "playground", is closed – and he's had time to think about the future. Down the line, he wants to add two more bars to his empire: a more formal, "omakase-style" place, and a casual spot for everyday drinking. In other words, "one bar to serve my passion, and another bar that serves my pocket".
After cocktail competitions gave Kanivichaporn a "fast pass" to the international cocktail scene, the ride has stalled. He has big plans for when it's back up and running, but until then, he's resolved to make the most of it. "Once you get onto the roller coaster, it depends on you," he says. "What you're going to do with it, how you're going to enjoy it."