Must-attend events at Tales of the Cocktail 2021
The annual Tales of the Cocktail festival returns next week, combining the online element that was so successful last year with some of the traditional in-person events that TOTC is renowned for. Here's a preview of what's in store.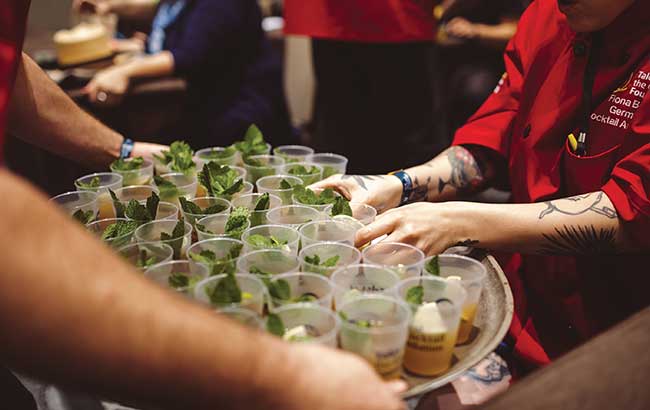 After more than a year of tumbleweed rolling down the streets formerly buzzing with nightlife, 2021's Tales of the Cocktail (TOTC) festival is exploding onto the scene in its hybrid in‐person and online format.
Returning for its 19th year, TOTC is offering an array of fun‐filled events celebrating the hospitality industry after the hardship it has faced during the pandemic. Whether you're attending with the intention of mingling with industry experts or tuning in from home, the free festival is not to be missed. Back with its signature initiatives, the digital conference will offer a virtual career fair in response to widespread industry shortages, and its staple Spirited Awards – to name a few. Similar to 2020's format, the TOTC festivities will be hosted in part‐digital format, with some in-person events, all designed to satisfy the industry demand for the vibrant, jam‐packed programme that has become a must‐attend festival in the drinks trade's calendar.
Taking place from 20 to 23 September, with two introductory conferences on Sunday 19, the festival will offer more than 60 online seminars with 250 industry leaders, and in-person events in cities around the world, including Tales' host city, New Orleans.
This year, TOTC is looking to shed light on both the recovery and resilience of the industry, reflected in its Spirited Awards, which will look different from previous years.
"For 2021, we made the decision not to focus on awards for bars and bartenders, which did not feel equitable or beneficial, given the circumstances of the pandemic," says TOTC Foundation CEO Eileen Waymer.
"Instead, members of the Spirited Awards regional committees conducted a series of roundtable discussions, identifying voices in each Spirited Awards region that have shaped the way the industry has adapted to Covid‐19, and will present emerging themes poised to push the spirits community forward."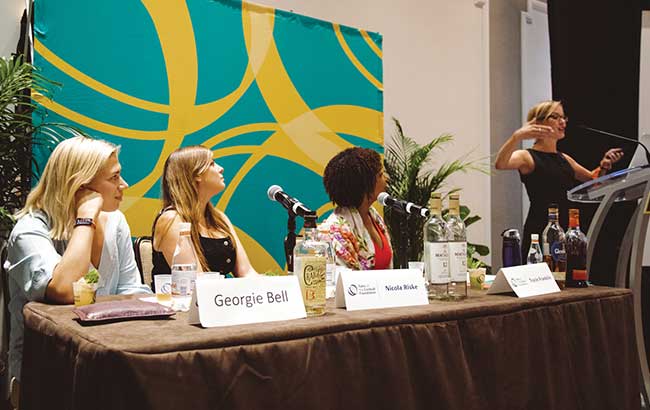 The festival will also aim to deliver a timetable reminiscent of past events, with the return of its signature scheduling, including "world class education, interactive programming and networking opportunities to the global drinks community in a digital format, and in‐person events in key areas", according to Waymer.
Accessible to all
TOTC 2021 will be accessible in all time zones, following the success of its global events in 2020 when more than 100 countries tuned in – more than 6,500 attendees globally – and Waymer wishes to "surpass that number this year". Content is also free to all, and she notes this "opens up the aperture of who can attend".
She says: "We have always had a global audience in person in New Orleans each year, but providing resources on a digital platform certainly helps share this content much more widely, and creates opportunities for dialogue and collaboration."
Waymer is also keen to highlight the prominence of various awards being presented at the 2021 Spirited Awards this year, co‐hosted by bartenders Franky Marshall and J'Nai Williams, with winners to be announced for the Helen David Lifetime Achievement Award, Pioneer Award, Timeless US Award, Timeless International Award, and the five awards in the writing and media categories.
The virtual ceremony will be broadcast on Tales' digital platform on Thursday 23 September. While previous in‐person awards ceremonies may have laid more of a focus on splendour, this year's TOTC awards will look to acknowledge exceptional educational services: "I have to extend a deep and heartfelt thanks to our education committee for their tireless work to ensure education presented at Tales remains really special and enriching," Waymer says.
"It is an immensely challenging time, and we are so grateful that so many have taken precious time to create and curate such incredible education."
Anticipation for this year's online conference is high, but TOTC is planning on reverting back to its in‐person format in July 2022 in New Orleans, with "events popping up in cities around the world", while being mindful of health and safety requirements.
"We cannot wait to reconvene with our friends and colleagues, and celebrate in our incredible city with the vibrant hospitality community here, and reflect on the incredible progress in the industry," says Waymer.
"The sense of community Tales cultivates is unlike anything else our industry has ever experienced – Tales connections spark business partnerships, marriages and lifelong friendships. 'Meeting at Tales' is something we believe in so much that we partnered with our official mixer of Tales of the Cocktail, Q Mixers, to create an entire campaign on the topic this year."
The intimate Q Mixers Mix virtual brand event will take place each day from Monday to Thursday during the festival, and it will provide the opportunity to ask questions and get to know the hosts with a happy hour theme. It's just another event at TOTC seeking to quench the thirst of attendees for the fundamental interaction and liveliness that many consider to be the bedrock of the cocktail industry.
We have compiled the must‐see events to attend or tune into during the 2021 TOTC festival. For more details and the full line‐up, visit talesofthecocktail.org.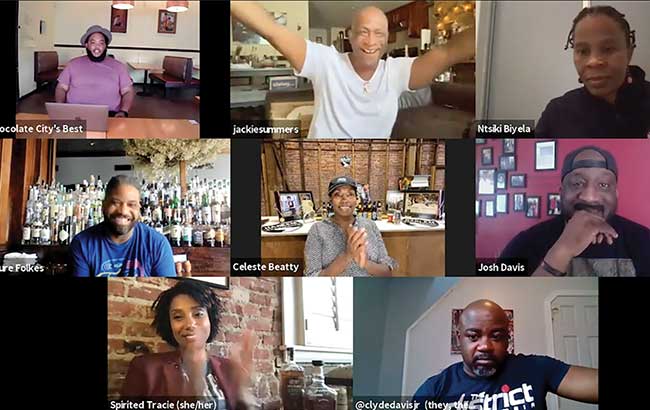 Sunday 19 September
DAY OF SERVICE
11am‐2pm CDT
In‐person
TOTC's team and local volunteers will prepare, pack and deliver food to community fridges for at‐risk community members.
DIVERSITY DISTILLED CAREER FAIR
12pm‐5pm CDT
Virtual brand event
This digital career fair presents employers reviewing resumés, posting job listings and providing an insight into post‐pandemic hiring practices.
Monday 20 September
TOAST TO TALES
10.30am‐10.45am CDT
In‐person and live‐streamed
One of the few in‐person events on the menu, Toast to Tales is hosted at the Sazerac House in New Orleans, kicking off the excitement for the festivities.
THE MOTHERS OF SPIRITS: THE UNWRITTEN HISTORY OF WOMEN IN THE INDUSTRY
12pm‐1pm CDT (pre‐recorded)
The speakers on this seminar will discuss the role of women in the spirits industry, travelling through the ages to uncover the history of women in brewing and distilling, and the future of an inclusive industry.
A WORLD CLASS WELCOME
1pm‐1.30pm CDT
Virtual brand event
2019 US Diageo World Class national finalist Lauren Paylor will share the line‐up of events for the week and offer advice for those interested in applying for the 2022 season.
GOLD SLICK: EXTRA VIRGIN TERRITORY – EXPLORING OLIVE OIL IN COCKTAILS AND BEYOND
2pm‐3pm CDT
In‐person brand event
This 'oil‐saturated' affair, brought to attendees by Zucchi Extra Virgin Olive Oil, explores the application of olive oil in cocktails, with presenters harking back to the history of the liquid and presenting cocktails infused with oil. The talk will be followed by a happy hour in which Italian wines and antipasti will be served.
MALORTIGRAS
4pm‐8pm CDT
In‐person brand event
Get involved with liquor brand Jeppson's Malört's Tuesday bash, located at Pepp's Pub in New Orleans. The session offers a cocktail-making contest, games, prizes and a raffle.
Tuesday 21 September
CREATIVE SUSTAINABILITY: NURTURING AND MAINTAINING HUMAN DEVELOPMENT
8am‐9am CDT (pre‐recorded)
Four speakers, including bar owner Ryan Chetiyawardana and Aecorn co‐founder Claire Warner, explore the structures that surround creativity and sustainability in this seminar, advising participants on how to maintain this as part of their business.
THE RISE OF NON-ALCOHOLIC 'SPIRITS', HOW THEY'RE MADE AND HOW TO USE THEM
9am‐10am CDT (pre‐recorded)
This event covers not only the new category of 'spirits', but also the 'arms race' that has developed alongside the sector's growth. Join John deBary, creator of a line of alcohol‐free botanical drinks, national education manager Laura Lashley and more in exploring the ins and outs of non‐alcoholic spirits.
FOLKTALES OF THE COCKTAIL: REDISCOVERING THE MYTHOLOGY OF HOSPITALITY
5.30pm‐6.30pm CDT
Live on the TOTC digital platform
An in-depth look into the myths that form the cultural backbone of hospitality, and the ways that stories from Anansi to Zeus have changed the relationship between guests and hosts and certain traditions.
Wednesday 22 September
KETEL ONE BOTANICAL PRESENTS: SPRITZ O'CLOCK
10am‐10.30am CDT
Virtual brand event
Join Botanical Spritz Society personalities Joe Witkowski, Johnny Caldwell and Taneka Reaves for Spritz O'Clock, where they are providing all the inspiration for elevating your Botanical Spritz garnish game – just in time for your next summer soirée.
SOCIALISING SAVES LIVES
12.30pm‐1.30pm CDT (pre‐recorded)
This talk explores new research that has revealed just how critical alcohol consumption was to 'humanity's success', looking into the social aspect of drinking and the no‐ and low‐alcohol trends on the rise. With an emphasis on mental health research, Claire Warner and Diageo's global cocktailian, Lauren Mote, offer a presentation that builds to the question: can socialising save lives?
WHAT IS THE REAL VALUE OF BAIJIU IN OUR COCKTAIL INDUSTRY AND HOW DO WE UNCOVER ITS TRUE POTENTIAL?
2.30pm‐3.30pm CDT (pre‐recorded)
Deep dive into the world of the Chinese spirit with industry experts, including Ming River founder Derek Sandhaus and World Baijiu Day founder Jim Boyce. The seminar will explore baijiu's value in the spirits sector and how people are looking to grow it globally.
COCKTAIL QTS PRESENT QUEER HOUSE PARTY
7.30pm‐8.30pm CDT
Virtual brand event
This fun‐filled interactive celebration features live performances and 'iconic queer throwdowns'. A party that brings the best drag, performers and DJs together is one not to miss, and is accessible to all online.
Thursday 23 September
CANE TO COCKTAIL
8am‐9am CDT (pre‐recorded)
From crop to bar top: this presentation draws back the curtain on the world of rum and its journey, both in agriculture and in the on‐trade. Speakers include National Rums of Jamaica CEO Martha Miller; Don Benn, operations manager and master distiller, West Indies Rum Distillery; and Adrienne Stoner, Midwest on‐premise marketing manager for Maison Ferrand.
HOW EVENTS DRIVE TRAFFIC: A WORLD CLASS INTERACTIVE PUB QUIZ
12pm‐1pm CDT
Virtual brand event
Join Diageo's World Class engagement manager Jaime Pennella for a quiz, testing your knowledge on the company's portfolio, followed by learning about events driving success in bars.
DAME HALL OF FAME INDUCTION CEREMONY
3.30pm‐4pm CDT
Live on the TOTC digital platform
Celebrate the accomplishments of women, womxn, non‐binary individuals and the trans community by attending this event to recognise the achievements of industry members who haven't been celebrated in traditional awards programmes.
SPIRITED AWARDS
4pm‐5pm CDT
Live on TOTC digital platform
The 15th annual Spirited Awards ceremony will celebrate the winners from categories such as Best New Cocktail or Bartending Book and the Pioneer Award, commending the work of people in the sector during the past year. Broadcast live from Jewel of the South in New Orleans, the event will be hosted by Franky Marshall and J'Nai Williams.