Glenfarclas reveals 105 competition winner
By Nicola Carruthers
Bristol-based bartender Dan Jones has been named the winner of the second Glenfarclas 105 Cask Strength Cocktail Competition.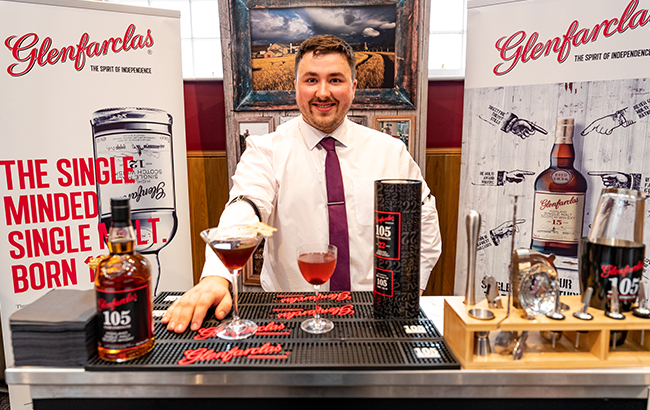 Eight UK finalists went head-to-head in the final, which was held at The Scotch Whisky Experience in Edinburgh earlier this week.
The competition, which was open to UK bartenders, was first held in 2019 and was cancelled last year due to the pandemic.
Bartenders were asked to submit their ideas for a signature cocktail serve using Glenfarclas 105 Cask Strength, and in keeping with the theme of 'family, community and independently sourced ingredients', using a maximum of six ingredients.
Entrants were asked to submit a video of themselves making their proposed cocktail, which was judged by an expert panel of professionals. Judging was based on knowledge, presentation skills, cocktail-making techniques, ingredients and appearance.
The eight finalists were then tasked with making a second cocktail for the final, following the theme of 1836 – the year the Glenfarclas Distillery was established. Each finalist was given 10 minutes to make their two cocktails.
Winning drinks
Jones, who works at German restaurant Klosterhaus in Bristol, stormed to victory with his two serves: Never Far From Home and Darwin's Rob Roy.
Jones was inspired by his family in Essex for his cocktail, Never Far From Home, using ingredients that his mother grew in her allotment. The Highball combined Glenfarclas 105, homemade rhubarb and citric syrup, homemade straw tea, rose water and marmalade tincture.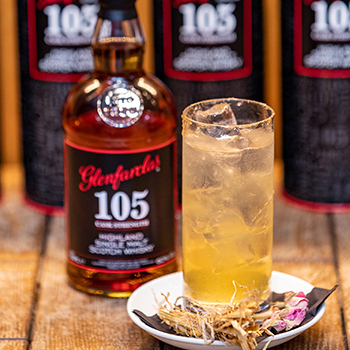 Meanwhile, his drink Darwin's Rob Roy takes its name from Charles Darwin who sailed around the world until 1836. The cocktail, a modern twist on the classic Rob Roy serve, showcased an evolution of drinking.
It was made with fat-washed Glenfarclas 105 using olive oil and zest, Belsazar Rose Vermouth, sugar syrup, homemade truffle and orange bitters, balsamic vinegar, and garnished with a crostini and cherry gel.
"It feels pretty surreal, it was the first competition that I've entered where I've gone through to the final," said Jones on winning. "I spent a lot of time perfecting these cocktails."
Judges praised Jones' knowledge of the brand, the inspiration behind the drinks and his presentation skills.
The other competition finalists were: Alexandru Sandu of The Beachcomber in London; Charlotte Barker from Milroy's of Spitalfields in London; Nikki Estrada of The Tippling House in Aberdeen; Mandy Genewein from Swift Shoreditch in London; Cal McMillan of Tiki Bar & Kitsch Inn in Glasgow; Andrea Morciano, The Connaught in London; and Alexander Targowski from the Edinburgh Student Union.
The judging panel for the final consisted of: Tim Webster, business development executive at Pol Roger Portfolio; George Grant, sales director for Glenfarclas; Louise Gallagher, business development manager, Pol Roger Portfolio; Nicola Carruthers, deputy editor at The Spirits Business; and Kevin Carr, bar manager at Ralph and Finns in Glasgow and the winner of the inaugural Glenfarclas 105 Cask Strength Cocktail Competition.
Gallagher added: "Dan was a worthy winner, he took a lot of time to prepare and practice, he was very cool and calm, and his knowledge was superb. He made a lot of homemade ingredients, which showed his passion and commitment to winning the competition.
"We hope to see the competition return in 2022 without restrictions."
For winning the competition, Jones will receive a two-day experience at the Glenfarclas Distillery in Ballindalloch, and a special edition bottle of Glenfarclas 105 Cask Strength 22 Year Old.