Ex-Moët Hennessy exec debuts drinks firm
Jim Clerkin, the former CEO of Moët Hennessy North America, has co-founded a new company that will develop 'digital-first' alcohol brands, called Demeter & Co.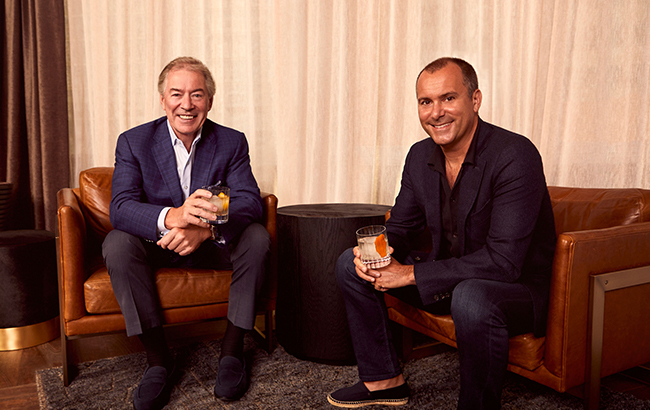 The US-based firm is the brainchild of Clerkin, who also previously served as CEO of The Jim Beam Company in Canada, Mexico and the US, and Jeff Menashe, founder and CEO of Demeter Advisory Group, an investment bank for the drinks sector.
Demeter & Co aims to shake up the industry's method of building premium global brands.
The company said it will focus on building international brands that are informed by consumers and the cultural landscape.
Clerkin and Menashe are seeking to develop the framework for building brands using their combined knowledge.
Menashe said: "There's such a newness in terms of the cultural mood, how people connect to each other, consumer expectations of how brands need to speak to them and how brand communities want to be part of a larger movement. It presents so much opportunity in the adult beverage industry to build global brands that make a positive impact.
"As of now, no one is fully leveraging the opportunity at scale across a portfolio of brands, as it is tough to do from the traditional approach to building brands. It requires a real posture to continuous learning as well as making positive impact."
Menashe previously acted as a mergers and acquisitions (M&A) advisor to Clerkin as he explored opportunities to expand Moët Hennessy's portfolio. They are also both involved with US alcohol e-commerce platform Reserve Bar, where Clerkin is chairman of the board.
Clerkin explained: "We saw an immediate opportunity to mix up the industry's approach to developing global adult beverage brands, through a digital-first lens and by celebrating the real boldness and expressiveness of their consumers.
"The way our two world's combine and complement each other, and the speed at which we can move compared to big committees and corporate organisations allows us to take a new approach that will mix up how our industry develops global brands."
Breaking the mould
The new firm has partnered with the biggest alcohol distributor in the US, Southern Glazer's Wine & Spirits (SGWS).
Wayne Chaplin, CEO of SGWS, added: "We are always looking for new and evolving adult beverage brands that not only connect and appeal to a diverse consumer, but also break the traditional mould when it comes to choice and experience.
"Clerkin and Menashe are mixing up the rules when it comes to brand relevancy. By identifying new products that reflect cultural movements, this dynamic pairing will set a new standard for how global brands are built with a 360-consumer lens."
Furthermore, the new company claims to have the only team in the industry that combines entrepreneurs, corporate brand stewards, as well as investment banking, and digital and field marketing across the US and globally.
The firm has hired 10 professionals, including Jacques Mantz as its chief financial officer, and former Moët Hennessy global chief financial officer and chief operating officer; Stoli Group's former CEO Rudy Costello as its head of sales; Richard Hurst as its head of strategy, and former head of strategy/M&A for Moët Hennessy Americas; and Linda King as its accounting director, and former senior accounting manager for Campari America.
Demeter & Co will launch its first brand in the US in late September 2021. The company said it will bring the UK's leading no-and-low alcohol 'spirits' brand to wholesalers and the direct-to-consumer channel, though it did not disclose the brand's name.
Furthermore, Clerkin and Menashe are seeking to 'bring a fresh take' on the fast-growing Tequila category to the US.
Clerkin previously served as chair of trade body the Distilled Spirits Council of the US, and is chairman of the board of Tequila-based seltzer brand Onda.