A drink with… Laura Davies, Penderyn
The distillery manager for Welsh whisky maker Penderyn tells us how she learned the ropes from the late industry legend Dr Jim Swan, and discusses the producer's plans for expansion.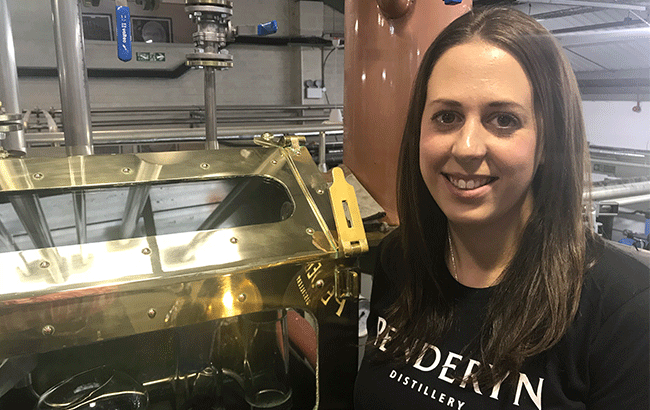 *This feature was originally published in the July 2021 issue of The Spirits Business magazine.
When did you join Penderyn, and how has your role changed since you started?
I joined the company early in 2012 as a trainee distiller. At that point the company was an awful lot smaller than it is now, and we were producing probably about a quarter of what we're producing currently. We also weren't mashing ourselves; we were buying in wash from Brains brewery in Cardiff to put through our stills.
My role then was not quite as diverse as it is now. Over the course of 2013 and 2014, we embarked on a two-phase expansion plan, which took the company production up to 400,000 litres of alcohol per year. My role progressed, then in 2016 I became distillery manager.
What made you want to work in whisky?
I never really set out with the idea of working in whisky, being from Wales without much of a whisky industry here. But I graduated from university with a chemistry-based degree and was applying for technology and chemistry-based jobs. I was invited to an interview at Penderyn. I walked into the boardroom and had the usual interview questions, and then our managing director said to me, 'Do you know much about whisky?' I said no, and he said, 'Well, this is Dr Jim Swan. He's a world expert in whisky, I'm going to leave you to it for 10 minutes.' And off he went.
It was the most terrifying moment of my life, but Jim was absolutely wonderful, and just completely put me at ease. That was my introduction to the business.
Unfortunately due to Covid we couldn't really have a grand opening or anything, but commissioning is well under way on that site. And the visitor centre is open, and people are having tours and masterclasses. The site is going fabulously, and it's really a joy to see, considering all the work that has been put in. It's fair to say a few years ago when we sat in meetings and the idea of having extra distilleries was first suggested, it was like, 'oh, that would be quite fun'. But we never actually thought it was realistic – yet here we are.
That should be next summer, right in the heart of Swansea, on a heritage site in Hafod-Morfa Copperworks – a beautiful building that is in the process of being renovated. That will be both a production facility in its own right, as Penderyn is, but also a visitor centre that will allow us to reach an awful lot more people.
Our flagship distillery is not very easy to access if you don't drive, and, of course, people don't really want to drive to a whisky distillery. This distillery in Swansea will be really accessible. Our site in Llandudno is going to produce maybe about 100,000 litres of alcohol a year. I anticipate that the one in Swansea will be bigger than that.
How have you seen Welsh whisky evolve during your time with the company?
So when I first started, we were the only Welsh whisky for many years, and although we had a good following, we were having to work quite hard to convince people that it was as good as Scotch. I was doing trade shows and I was having to constantly say the same thing – 'we don't use age statements' – then explain it. It's become a lot easier now.
What else does Penderyn have planned for the coming months?
For the rest of this year we will be focusing mainly on making plans for the new sites, and will also have our usual kind of bottlings and special releases, single cask bottlings for specific importers. So that will be our main focus for the next few months.