Walking Dead claims Sexton as official whiskey
By Alice Brooker
As The Walking Dead approaches its final season, the horror series has named Sexton Single Malt as its official whiskey.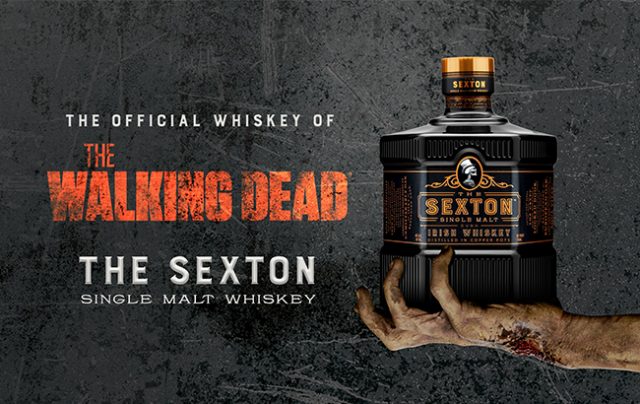 Walking Dead broadcaster AMC Networks and Irish whiskey Sexton have agreed to partner for all three instalments of the show's final season, running through late 2022.
The collaboration will feature cocktail experiences, behind-the-scenes content and customised retail offerings drawing on the whiskey's "celebrate life" tagline.
"A season-long partnership like this gives us so many meaningful opportunities to interact with and excite fans of The Walking Dead," said Kim Granito, executive vice-president of The Content Room for AMC Networks.
Granito added: "The Sexton Single Malt is a brand that is perfectly aligned with the spirit and escapism of this series, and we're excited to collaborate across all 24 of these final episodes in a variety of ways that delight this highly engaged and vibrant fan community."
Sexton has also created a 'cinematic' advert, produced by creative agency Dead As We Know It and directed by RSA Films' Jake Scott, which will air during each of the series' eight episodes.
The campaign focuses on the shortness of human life and the need for enjoying it. Presenting Sexton Single Malt as one of the 'joys of living', the ad juxtaposes the bleak representation of life depicted in The Walking Dead with the whiskey.
For the cocktail experiences, the brand has teamed up with US-based Cocktail Courier to produce The Walking Dead Cocktail Kit.
The kit features a recipe for a cocktail called Live for Today, which combines apéritif liqueur, grapefruit, blood orange and Sexton Single Malt – crafted from Irish malted barley and aged for four years in oloroso Sherry butts. The kit retails at RRP US$64.99, and will be available from 22 August at cocktailcourier.com.
Lander Otegui, senior vice-president of marketing for Sexton owner Proximo Spirits, said: "The Sexton Single Malt and The Walking Dead share a fan base that values a life well lived. Our motto, 'You have a single life. Drink a single malt' encapsulates that spirit."
As part of the collaboration, fans will be able to 'unlock' exclusive series content from Sexton whiskey bottles, such as discount codes for merchandise.
Next year, whiskey fans can look forward to the release of a limited edition bottle commemorating the partnership, as well as contests and recipes.
Otegui concluded: "As the official whiskey of The Walking Dead, we are excited to connect with the show's monumental and loyal followers over the highly anticipated final season, and offer them fan-focused experiences and limited-edition retail merchandise unique to our partnership."
In 2018, Sexton Single Malt Whiskey won a Master medal for its bottle design in The Global Spirits Masters Design & Packaging Masters.