US debut for Mezcal Campante
By Melita Kiely
Mezcal Campante is the latest brand to join the growing agave-based spirits scene in the US.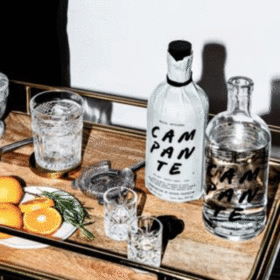 The small batch, premium mezcal is made from a blend of Espadín and Barril agave, grown in the valleys and mountainsides of Oaxaca, Mexico.
To make the mezcal, Espadín and Barril agave is harvested, and the piñas (the 'hearts' of the agave plant) are placed in an underground oven, built from river rocks.
This is covered with the region's fertile soil and left to burn and caramelise for a number of days.
The cooked piñas are then ground by a tahona (a large stone wheel) pulled by two oxen.
The mash is then transferred to large wooden vats and left to ferment until master mezcalera Raúl Rodríguez Reyes decides it is ready to be distilled twice.
Tasting notes include aromas of vanilla, chocolate and caramel, with orange blossom, butter, smoky tones and hints of citrus on the palate.
The mezcal is bottled at 40% ABV and costs RRP US$64.99 per 750ml bottle.
Shirley Leigh-Wood Oakes, chief executive officer and chief marketing officer, Sociedad Mezcalera, said: "Our vision for Mezcal Campante is to bring to market a super smooth, easy-to-drink mezcal that is perfect whether it be on the rocks, straight up, or in a cocktail.
"Blending the traditions of Mexico and mezcal making with today's culture, we have created a drink to celebrate all the small and major moments of life."