St James Bar hires head bartender
By Alice Brooker
Acclaimed London-based St James Bar has appointed Stanislav Andruskevic as its new head bartender.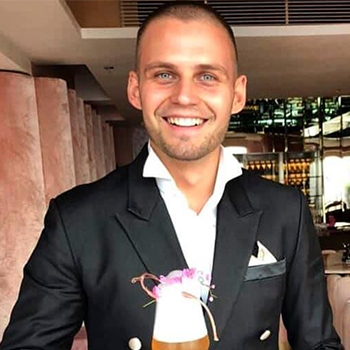 Andruskevic previously worked at Bangkok's Sky Bar at Lebua Hotel & Resorts before being hired by St James Bar, located in the Sofitel London St James hotel.
The 28-year-old moved to London in 2012 to develop his skills in mixology, and gained experience in bars such as London's Oblix at The Shard and Mayfair's Annabel's Members Club.
Kostas Bardas, bar manager at St James Bar, said: "I am pleased to have Stan join me and the team at St James Bar. I am sure his enthusiasm and overseas experience will elevate our five-star offering even more."
St James Bar's recent appointment arrives alongside the launch of its new menu, named Imagination. A follow up to its Passport menu, Imagination claims to use a scientific, sustainable and abstract approach towards cocktail making.
The bar experiments with flavours using 'fire, earth and air elements', producing serves from the Sweet Child (Michter's US*1 Rye, donut cordial, crème de peach, tobacco liqueur, candy floss), to the Van Gogh (Tanqueray No.10 gin, yuzu butter, Italicus liqueur, unicorn cordial, white port, effervescence, husk ash).
The menu is available now from the venue, which is open 5pm-11pm from Thursday to Monday.